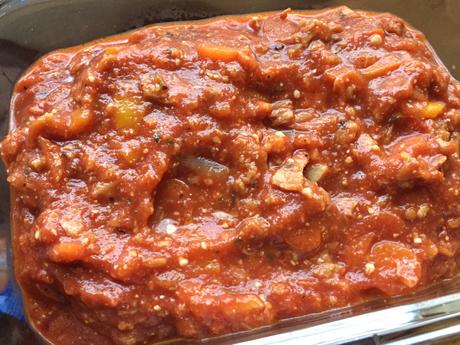 I LOVE pasta – I could literally eat it every day and never get tired of it – BUT it's hard for me to stick with one actual serving – so I decided to try something different. Before I started this blog 8 years ago – I was a SUPER picky eater – like I ate very few veggies, ate pretty much the same thing all the time. If you would have told me I would bake a spaghetti squash and make a vegetarian pasta sauce to go with it – I would have told you you were crazy! It took me a while to warm up to spaghetti squash – at first I didn't like the texture so much, but after trying it a half a dozen times, now I love it!
So, I baked a whole spaghetti squash in an 8×8 square pan at 375 degrees for 1 hour. Let cool until you are able to cut it in half and scoop out the seeds. Then using a fork, shred the cooked insides and you end up with strands that look like spaghetti!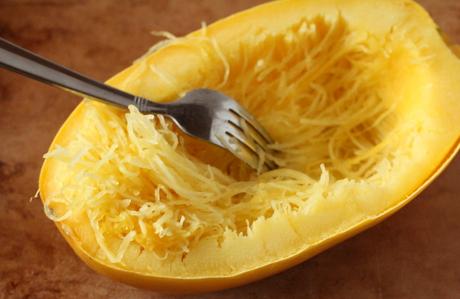 There are a bunch of recipes where you can make things and then put them back into the shell – like Kevin from Closet Cooking – he made lasagna stuffed spaghetti squash!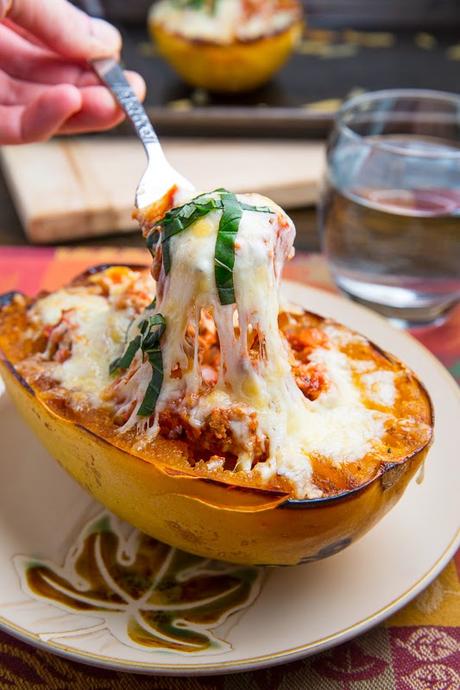 photo credit – Kevin @ www.closetcooking.com
Or this recipe from Nutmeg Nanny – for sausage and pepper stuffed spaghetti squash.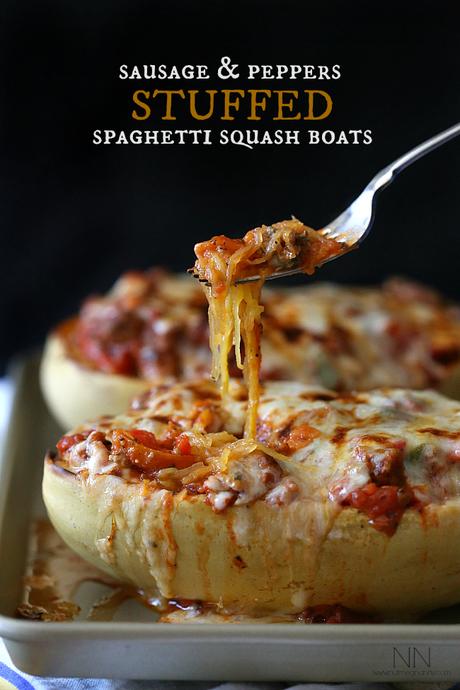 Photo credit www.nutmegnanny.com
Or Dara from Cooking Canuck – made this Pesto Chicken Stuffed Spaghetti Squash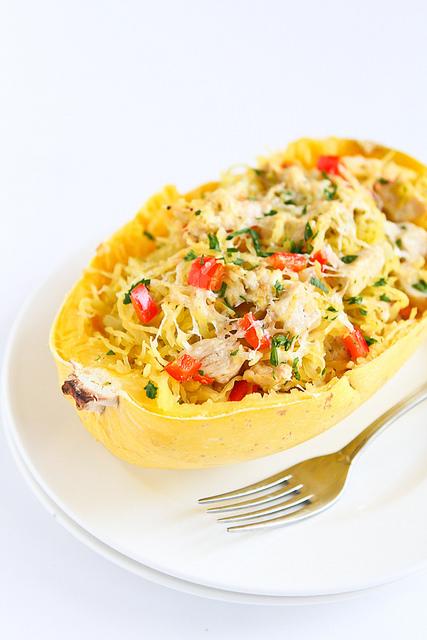 Photo Credit www.cookingcanuck.com
To make it easier for bringing lunches to work, I thought I would cook a squash and make a vegetarian sauce to go with it – I used Boca Crumbles – they come frozen in place of ground beef. You can find them in the vegetarian section of the grocery store.
Veggie pasta sauce
A quick and easy veggie packed sauce made with vegetarian crumbles in place of ground beef.
Servings Prep Time
4 5 minutes
Cook Time
20minutes
Servings

Prep Time

4 5 minutes

Cook Time

20minutes
Ingredients
3

cloves

garlic

sliced

1/4

cup

white onion

diced

1/4

cup

green bell pepper

diced

4-5

small

baby bell peppers

diced (I used red and yellow)

1

cup

boca crumbles

(you can add frozen)

2

small

carrots

diced small

2

8 oz.

cans

tomato sauce

1

pinch

crushed red pepper flakes

1/2

teaspoon

salt

1/2

teaspoon

black pepper

1

tablespoon

Parmesan cheese

1

teaspoon

ground oregano

(or more to taste)
Instructions
In a medium sized skillet, add the garlic, onion and peppers and cook on low heat until they begin to soften. Add the carrots and cook for another 3-4 minutes. Add the boca crumbles and spices and Parmesan cheese and cook on low heat for about 20 minutes - until the carrots are cooked through. I cut them up super tiny - so you hardly know they are there! Serve over spaghetti squash or regular pasta
Recipe Notes
Have you used spaghetti squash in place of regular pasta - what's your favorite recipe using spaghetti squash - I would love to hear it!