My dinner tonight was delicious! I've seen a lot of recipes for pasta with chicken and sausage sauce over pasta – I've made a few variations myself, but this was my best one yet. The sauce isn't super thick, which I really liked because it coated everything really well.
I had leftover chicken breasts, but if you make this from uncooked chicken, just cook the chicken breasts first and set aside.
The chicken sausage I used is fully cooked, just slice it into circles – this is the one I used from Aldi Foods.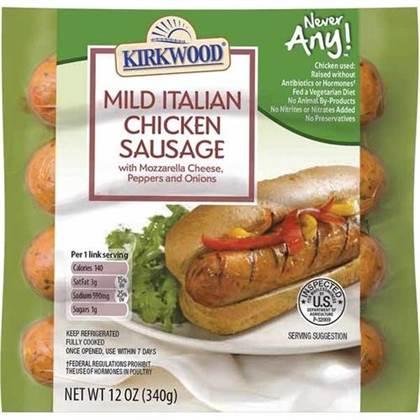 Cajun pasta with chicken and chicken sausage
Slightly spicy - great sauce with chicken and chicken sausage over pasta!
Servings Prep Time
6 15minutes
Cook Time
10minutes
Servings

Prep Time

6 15minutes

Cook Time

10minutes
Ingredients
Instructions
Cook pasta for 10 minutes, drain and set aside. In a large skillet, add 1 tablespoon butter and melt over low heat. Add the onion and garlic and cook for a few minutes. Add the chicken broth, the can of tomato sauce, the Cajun seasoning, pepper and cook for 5- 8 minutes until sauce thickens slightly. Add the heavy cream and cook for another 2 minutes. Add cooked chicken and chicken sausage and cooked pasta. Stir until well combined and cook for another 10 minutes until heated. I had leftover chicken breasts - if making from uncooked chicken, cook chicken first.
Recipe Notes
If you make pasta often like I do, this is a great variation of what to make with pasta - I love using different shaped pasta to mix it up and make it fun!