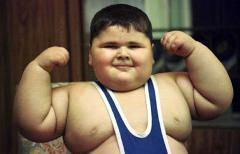 Research these days is giving more alarming news rather than something relaxing. Unfortunately, we have to take the blame because it is our extravagant lifestyle that is causing so many problems. There is no proper diet to follow and almost everything is done in an erratic way especially youngsters. The latest British research on health only adds to the mounting woes. Young children who watch too much TV should prepare themselves to face obesity and it is a life long risk they are playing with.
According to the EC-funded project, playschools and of course moms at home should curb the toddlers from watching TV. This statement is backed by the fact that there is a growing number of obesity cases in young children and increases the risk of young children starting school extremely overweight, the reputed British newspaper
Daily Mail
reported.
The study also reported that obesity among pre-schoolers is at alarming levels.
Yannis Manios, who is currently coordinating the project, said:
"We need a new approach to prevent obesity... We found that many countries are lacking clear guidelines on healthy eating and active play."
"However, there is good evidence linking sedentary behaviour, such as television watching, with subsequent obesity."
In Britain, more than one-fifth of the young children start school in an obese condition. These figures are official. To add fuel to the fire, it is confirmed that nearly 40% of the pre-school girls in Spain are classified obese.
The study which was conducted over a period of 4 years also asserted that more than one in every eight children are obese in Northern Europe while it dramatically increased to more than 25% in Southern Europe.