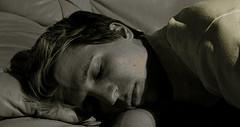 I've been going through these academic exams of late and couldn't write here. But these exams have forced me to put up late in the night and burn the midnight oil. Nevertheless, I'm losing on some sound sleep for so long now that one good sleep has made it to the top of my wishlist! Oh and did you know that deep sleep or REM sleep helps consolidate memory! Lets find out more.
Losing out on sleep and studying that extra hour doesn't really help. Now, what you want to do well in an exam is good memory of what you have learnt. To have good memory, you should sleep well, Sound sleep for about 6 hours at least for teenagers and 8 for 55+.
Sleeping well not only helps in consolidation of memory but also makes your body to work efficiently the following day. Your immune system too becomes stronger plus most of all, you'll look good! (That is what we want. Don't we?).
Added to this, We don't see dreams when in REM Sleep, So you can save yourself from tons of nightmares and rarely good dreams however marred by stress and anxiety.
Lastly, Who doesn't love sleep, So manage your time properly and do the thing you love: Sleep Well!