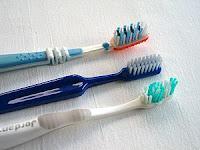 It's that nerve-wracking time of year again: a message from the dental practice – patients often receives a text and an email these days – tells you that the overdue date for your dental check-up is fast-approaching. Of course, there is little you can do to fool the dentist if you just spend one week of every year paying attention to those seemingly insignificant small bits of white, calcified structures we use to break down food with.
However, re-acquainting yourself with healthy living in the week before a dentist's appointment is always a good habit to get into – and should mean that next year's trip to the dentist is far less daunting.
Even if you aren't time-rich, the following suggestions are easy to fit into busy working days.
Stop thinking about throwing away that manky old toothbrush with the loose bristles away and actually do it. You're a grown up now so, if you haven't already, start thinking about investing in an electric toothbrush. Dentists report that electric toothbrushes clean more thoroughly and give patients more confidence than old-school manual ones do. Plus – most have a timer to let you know how long to brush your teeth for; a super form of time-management.

Make sure that brushing your teeth is the first thing you do each day – the British Dental Health Foundation advises that you should brush before breakfast. And if you're in a hurry and find that you leave the house with a piece of toast in your hand each morning then don't be unduly concerned – bread's low acidic level mean's that toast is better than most food is for your teeth's health. Fruit tea has an even lower acidic level; making it the ideal morning drink.

Stick to only eating three times a day – this will save you time and help save your teeth's health. The British Dental Health Federation points out that "it is better for your teeth to eat three meals a day, instead of having seven to ten snack attacks". Those who can't resist snacking at work should keep raw vegetables and nuts close to hand and keep sugary snacks and drinks far from their reach.

Treat yourself – for one week only – to some junk food before that visit to the dentist. A typical hot dog from a burger van has an acidic pH rating of 6.2 – a level which is better for your teeth than highly-acidic pasta. This is an example of how lazily eating out rather than cooking at home can you save time without compromising your oral health.

Don't rush to brush your teeth as soon as you have eaten your evening meal. Leave the brushing until the last thing at night – this will offer maximum protection to your teeth as when you sleep you produce less saliva and will therefore be more vulnerable to tooth decay.
And it's always psychologically to do something good for your health just before you turn in for the night after a day of healthy living!
James Christie writes for Ethicare – a dental practice which serves the community of Wandsworth and provides expert cosmetic dentistry treatments including Invisalign clear braces and Inman Aligner