On the ninth day of Christmas my true love gave to me...Dancing, This one was easy too. "Nine ladies dancing"
Dancing is so much more than just something you do at a club, wedding reception or school dance.  It's been around since prehistoric times. Back then it was used as a part of ritual and storytelling. Today it is still used as self expression, art, tradition, worship and celebration. I'm sure there are some categories I may have left out. There is dance in just about every culture in the world. It can be as conservative as the geisha dancing in Japan all the way to exotic dancing in strip clubs. It is really one of the things that ties us together as humans.
Dance is of course a very good exercise.Many stars who have joined the cast of "Dancing With the Stars" have lost a lot of weight.
Kelly Osbourne - 40 pounds
Jane Seymour - 20 pounds
Jennie Garth - 10 pounds
Lil Kim - 20 pounds
Kristie Alley - 30 pounds
Marie Osmond - 31 pounds
Erin Andrews - 10 pounds
I love the show "Dancing With the Stars". I am so thrilled that ballroom dancing has come into the forefront of American culture. This is one of the best dances from this past season, they scored a nine and two tens:
Dancing was a big thing during the Golden Age of Hollywood.  Fred Astaire, Gene Kelly, Ginger Rogers, and Donald O'Connor come to mind. One of the most famous dance scenes from the golden age of Hollywood is of course "Singin' in the Rain" with Gene Kelly:

I love to dance. I used to take dance lessons. Here are pictures of me in two of my many costumes. The first one I posted before. Both are from the same show. The left one was "Just a Giggalo" by David Lee Roth and the second one is "Girls Just Want to Have Fun" by Cyndi Lauper. You can tell the one of the left was before the show and the one on the right was after the show. I'm not smiling in the right one because I'm tired and my face is all sweaty and my make up is runny!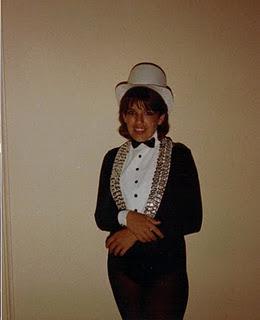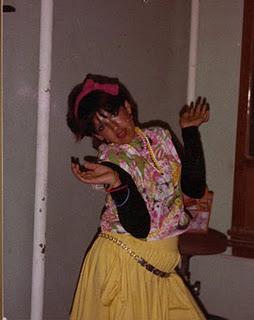 I started off with tap and then moved on to Jazz. Both of the above pictures are from my Jazz days. One of the biggest regrets of my life was dropping out of dancing. That was about the time I started packing on pounds. As I got fatter it got more difficult to dance in public because at one point I couldn't move very well. I thought I looked like a total dork dancing at my highest weight. Now I can move quite well. I am not afraid to get on the dance floor now. Too bad my husband isn't a dancer.;)