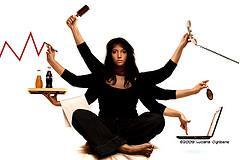 It is the same pitiable state for every man working in any company as a respected officer - Multitasking! The E-mail inbox is always full, the blower is always buzzing and the boss passes on orders as if they were words of advice, which every man can give you in limitless quantities! You get distracted often, leading to frustration, anger, it blows your mind out of proportions and your workplace is shambolic!
I know it would be very tough to complete things on time without multitasking, but they often lead to half-hearted efforts and you rarely accomplish your tasks the way you want em' to.
Recent research studies have asserted that Multitasking is stressful and the human brain is designed for Monotasking only! Unlike computers, which have several processors, we humans have only one, the brain which cannot perform several tasks together! Hence juggling between tasks often, mostly proves ineffective.Let us imagine a telecon between an officer and his boss. The officer presents his plans to his boss, mind you there are several other tasks that are haunting him while he is on the telecon. So there are very less chances he is concentrating on the telecon and should the boss ask any question or raise a doubt, he has to come all over again and explain everything from the beginning. So, why the multitasking I say?
Multitasking causes time pressure and thus it proves to be very stressful. Several officers feel the same way and some complain that they pose as potential relationship breakers!
Prioritization of work is very important to avoid multitasking! Here are more blog posts I've written to manage your time properly and avoid multitasking,
10 Proven Ways to Improve Your Time Management
Turning Procrastination into Perseverance
I hope those tips help! Its best if you start monotasking from this moment itself!