Feb 8, 2012 by Tatianna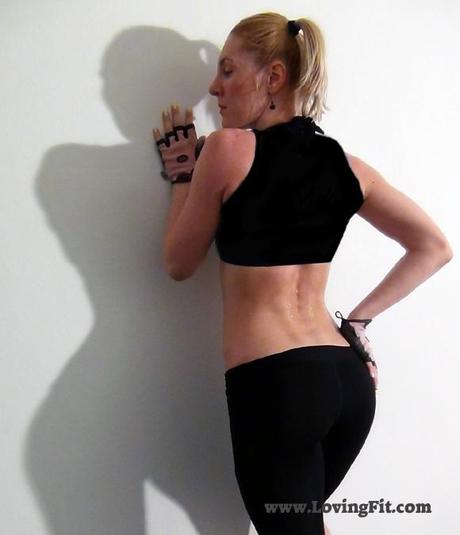 Today's workout was the first workout of this week for me and it was focused on the lower body such as legs, butt and thighs. This routine was a combination of circuit and interval training. I was using 40 lbs and leg me just tell you, at this point I can barely feel my butt!
I was really exited to train today because I took 3 full day's off and I felt fully recovered. I would like to mention, if your body doesn't fully recover but you push your self to workout anyway, your body will break down muscle so in the end your efforts will be useless. Recover. Then train hard!
In today's routine I was using my timer, my 40 lbs VersaFit bag
( you can use dumbbells, kettlebells or you can make your own bag that will look like mine, Cube Dweller Fitness has an instructional video on how to make a bag like this easy and under 15 bucks

).
Always remember to warm up your body before starting a workout, I have a video of my basic warm-up routine that you can follow along.
Workout Explanation
This routine is divided into 2 parts. You will go through both parts, take a quick 1-2 minute break and you will repeat the whole thing one more time. First part has 3 exercises, but it is NOT A TIME CHALLENGE, it is a proper form challenge. So don't be speeding through just to finish faster, take your time and watch your form. Second part of the workout is an interval training cardio.
Part one
Weighted Walking Lunges ( I was using 40 lbs ) – ( 2 front lunges and 2 back lunges counts as 1 set ) – complete 20 sets ( 80 walking lunges total )
Bag Swing – 20 reps
Rolling Bridge – 15 reps
Part 2
Set your timer for 2 intervals. First interval is 10 seconds and it's your rest interval, second interval is 35 seconds and it's your max effort interval, for the total of 6 rounds. There are 3 exercises and you will go through them twice.
Surfer
Push Kicks
Low Squat Side Step
Now take a quick break and repeat both parts one more time.
At the end I did an extra exercise – calf raises with my 40 lbs VersaFit bag, 3 sets of 20 reps – because we shouldn't neglect our calves

.
My scores for IT
First round
1) 12, 11
2) 13, 11
3) 20, 20
Second round
1) 10, 10
2) 12, 11
3) 20, 18
PS – I update daily on Facebook.