Oct 26, 2011 by Tatianna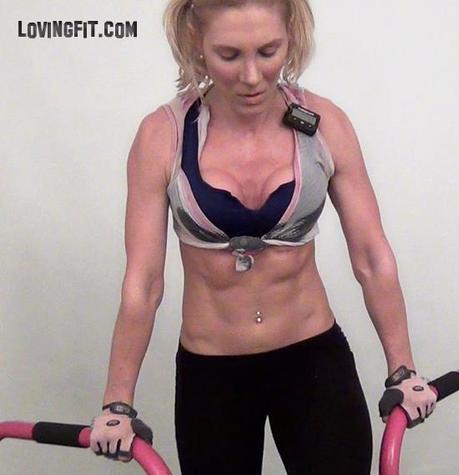 Today's workout routine was a butt kicker. It was a circuit training with 10 exercises and 2 rounds. In the beginning I wanted to go a little bit crazier and do 3 rounds, but after the second round I was so drained that I knew if I kept pushing, I would sacrifice my form. So I stopped at 2, if you are brave then you can do 3, I would like to see that

.
In this workout I used my timer Gymboss Max, an 8 lb medicine ball, two 10 lb dumbbells, my pink Lebert, a mat and of course my own body weight.
You can substitute pink Lebert with either a pull-up bar, or two chairs and a broom stick.
Lean Body All Over Workout Video
Workout Recap & Variations For Beginners
Workout Explanation
 
Set your timer Gymboss Max as a stop watch, complete the following 10 exercises for the total of 2 rounds.
 
Backward Lunge, Pulse & Jump-up – 15 reps on each leg
Side To Side Lunge – 20 reps ( every side lunge counts as one rep )
One Leg Bridge – 20 reps on each side
Dips – 20 reps
Medicine Ball Twist – 20 Reps
Abs Pulses – 15 reps
Advanced One Hand Surfer Burpee ( to closed grip push-up )- 15 reps
Lebert Push-up & Knee to Lebert – 15 reps
Low Jacks – 30 reps
Parallel Row – 20 reps
Good Luck and please press the "Like Button" above the post!
It took me 29 minutes and 42 seconds to complete this routine. Beat me!
PS - If you came to my site on Monday morning and saw a very strange ( vulgar ) post, it was NOT me who wrote that ( just thought I would let everyone know ).

PHP FreelancerPHP Freelancer