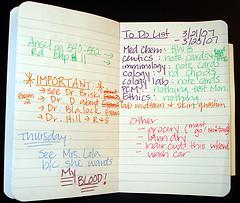 No person on this planet is spared from the necessary evil called 'stress'. I call it necessary evil because evidently you try to beat it which makes you do many good things like practicing meditation, breathing exercises and more. While you're at it, your performance too improves. In a way, it proves that almost everything has its own pros and cons. Likewise, we too invite stress due to an imbalanced lifestyle rather than it getting to us no matter what. That is when you have to identify your stress sources and tackle them head on. How?
Lifestyle varies from person to person, a teenage student would have a lifestyle that is completely incomparable to a doctor's. Their habits vary, time management is different, work ethic varies, the food they eat, the music they listen to, the TV shows they watch and so on. So I cannot generalize the sources of stress of everyone. I feel it'd be much better if I tell you how to identify your stress sources by giving my own example. Here it is;
Improper Sleep-Wake Cycle - I really have to manage my sleep time coz I don't follow a sleep schedule. If a TV show I'm watching is entertaining, then I watch it until it's finished, even if it crosses my 'go to bed' time. As you know, lack of sleep is one of the major reasons people find it hard to tackle stress. This is where I too have succumbed.
Work at the Hospital - Being a medical student, I get postings and duties in various wards. It always keeps my mind gushed up and stress is inevitable. Alas! Can I catch a break? Nope, no chance at all! 'Keep up the duty, son' is all they say. For the icing on the 'stress' cake, I have to do this right from the word go, from 9 in the morning!
Lack of Sleep - Of course its because of that poorly managed sleep time of mine. No matter at what time I go to sleep, I have to wake up early in the morning to be able to get to work! "C'mon bud, let's get going", Gosh!!
Talking to People - It does mess up my mind. I go out of sorts sometimes. I must admit that I'm a short-tempered man and I lose my cool quite easily (which is very very bad!) and get intimidated when people start arguing. Usually, I keep myself cool and I rarely get angry but they do cross limits on certain occasions and then it's all bad.
Irritability - I get irritated too, quite easily. I mean there is nothing I can do when things go out of sorts.
 These things don't happen daily but I'm confronted with stress all the time. It gets aggravated over a period of time and if I don't take proper measures, I could be a psycho by now maybe or one with manic depression maybe! So what do I really have to do to keep it from blowing out of all proportions, These;
Good Food - I don't sleep good, that's already a lot of stress! Food is the factor, where I try to neutralize things, I eat only good food, exclusively stressbusting food sometimes but rarely, very rarely junk food! Great, what next?
Wake up early - I did mention that I wake up early, but what I do immediately relaxes me a lot. See what I do after I wake up.
Good Bath  - I take a bath everyday and it has been so since day 1 of my life (Hope mum bathed me everyday when I was little, I guess she did!). Be it hot or cold bath, I relish every moment, I sing sometimes, Wow, just knocks the stress out of me!

Look how happy that baby is! A good bath can really help!

TV - What I watch on the TV helps me bust stress easily. I don't delve into stressful shows, watch only lighthearted ones and sports most often.
Good Music - I usually listen to Rock 'n' Roll and in fact it proves to be stressbusting to me. However I adjust myself to occasions and listen to soulful, classic rock and jazz music too. It helps!

It's quite simple, I made a list of what I generally do on weekdays chronologically and found out what made me stressed. Accordingly I follow the above means to beat it, as simple as it can get! Go ahead and start doing it now and make sure you tell me about it. I'd be glad to listen to and give advice if needed.

Hey, make sure you are subscribed to my blog 'cause my next post's gonna be How to identify stress sources and analyze them so that you can beat stress effectively by suitable means for you. See ya there!