I consider myself a pretty active person but I do sit in an office all day, I have to make an effort to leave my office and move around. Some days I am really good at that, others, no so much. Even with yoga and my workouts I don't always get 10,000 steps because I am not a runner.
That is the one thing I really don't love about the Fitbit, it is really geared to runners. I did 5+  mile bike ride on Sunday night and it wasn't even 2500 steps and we were biking hard and up hills. And the elliptical doesn't translate exactly either. I know I am burning lots of calories but do need to make an effort to get out and walk more.
Notch is a great sight that connects with my Fitbit to provide an infographic and it's very interesting. Look at my data: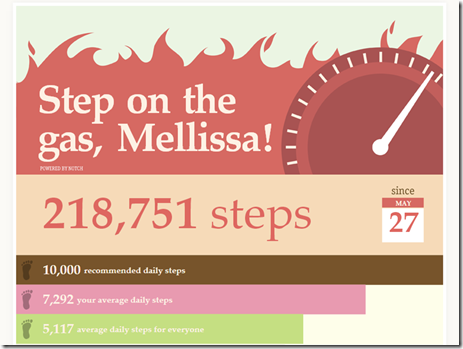 I average about 7,300 steps a day, better than others but still not the 10,000 I want. Must get out of my office more and move around. Another focus- change up the cardio for Best Body Bootcamp. That will mean more steps!
Workouts this week:
Sunday: 5+ mile bike ride
Monday: Best Body Bootcamp
Tuesday/Wednesday: Traveling, no workouts
Thursday: Yoga Sculpt
Friday: Best Body Bootcamp
Saturday: Plan is to do Best Body Bootcamp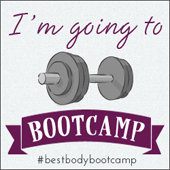 Disclosure: I am participating in the Verizon Health and Fitness Voices program and have been provided with a wireless device, fitbit and six months of service in exchange for my honest opinions about the product.
The winners of the Designer Whey Sustained Energy Protein Powder were: Stephanie B, Hyedi, Kayla, Mo, Danielle, Alexa and Jess. I will email you all. Enjoy!