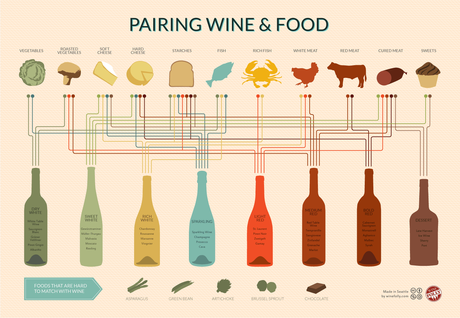 Wine and food pairing are difficult for those of us who are just beginning to learn about wines. I must admit that I did not drink wine in my youth; however, as I have matured and my pallet has changed I find that I enjoy a good bottle of wine with my meals. Choosing a wine to accompany your meal is a matter of individual taste; however, there are a few food pairings that you should avoid with each wine because the food will actually damage the taste of the wine. For example, fish and goat cheese should never be paired with a red wine and red meat tends to alter the taste of white wines. I have learned a few tips along the way (through trial & error as well as a little research) about how to pair red wine with food.
When planning a meal, remember that wine is like the rest of your meal – – you drink lighter wines at the beginning of your meal and progress to heavier wines at the end. For this reason, red wines are typically not paired with appetizers. You may use a red wine with cheese as an appetizer; however, you will want to choose cheeses that are stronger in flavor such as Feta, Muenster or Roquefort. Keep the red wine to something lighter such as a Beaujolais or Zinfandel. This will keep your guests from becoming overwhelmed by a heavy wine before the main course is served.
Red wines are extremely well suited to red meats and pasta with red sauce. For a beginner, this would be your best choice because most of these dishes will compliment a red wine very well. Just remember that garlic, vinegar and over-whelming spices do not compliment any wine.
Seafood and pasta with cream sauce are not paired with red wines; however, there are a few pork dishes and poultry that you can pair with red wines. You must be careful though in choosing to do this and I only would go with a Beaujolais if trying to pair a red wine with poultry or pork. I am still learning so I usually stay with a red meat main course until I have learned more about pairing foods with wines.
I have learned that fresh fruit or fruit desserts do not pair well with any red wine. Chocolate is my safest bet while learning. Since this is the end of the meal, you can choose a heavier red wine such as a Merlot or a Port to pair with the chocolate dessert.
Pairing foods and wines is an ongoing lesson and I have made some blunders but learned from my mistakes. I keep a wine journal for this reason and continue to update it with what I learn.
Sources: WineIntro.com