It has been so nice to not have travel the past few weeks, I've been extra motivated and dedicated to my workouts. With only one more week left in Best Body Bootcamp I am definitely loving all the variety. This week was all about full body workouts that mixed strength and cardio. Moves that really got my heart rate up followed by lunges and bicep curls.
In addition to Best Body Bootcamp I really focused on yoga. I got to sculpt twice and even did a session at home in front of the fireplace, although there were a lot of dog interruptions for that one.
Sunday: Cardio and BBB
Monday: Off
Tuesday: Yoga Sculpt
Wednesday: Cardio and BBB in the morning, Yoga in the evening
Thursday: Yoga Sculpt
Friday: Cardio and BBB tonight
Saturday: Probably some light cardio
While I am in town next week I will be taking it a bit easier, I am having a minor medical procedure and need to back off just a bit. I can still workout but no super high intensity workouts for a few days. That will be hard to do but I know it's best for my body. With those easier workouts I will be doing a bit more yoga at home and get to try a few new to me products (Disclosure: Manduka sent me these yoga towels but all opinions are my own). I already own a Manduka mat that I LOVE, it's heavy duty but is so great to practice on.
When I am doing heated yoga I like to have towels down, I've used Yogitoes for years (and they are now owned by Manduka) but I just tried a new to me line:
The eQua Yoga Towel and Hand Towel 
These are super soft and absorbent and dry very quickly. Main difference between these and Yogitoes are no little bumps on the back of the towel. I thought that would make this slippery but this stayed put on my mat and really was dry within a few minutes after class.
They also have the smaller version to use as a hand towel. I actually may end up bringing this to Greece.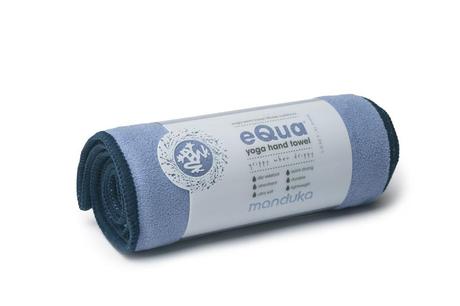 A special towel just a traditional hot yoga class when you are sweating buckets. Super plush and really does soak up all the sweat!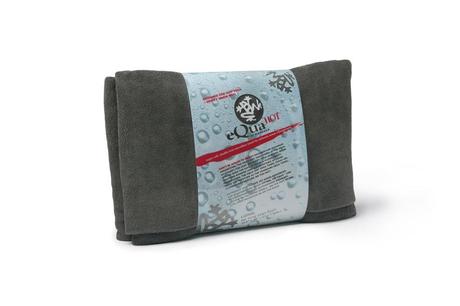 And the yoga block. When I practice at home and don't have mirrors around me I tend to use a block. Just to make sure I have stability and can get into the postures properly.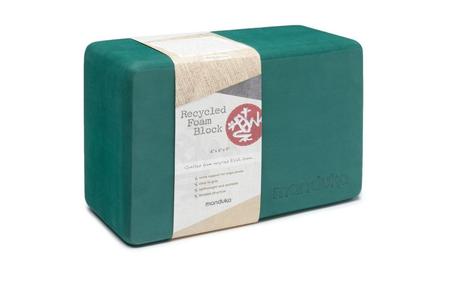 I set up my yoga area in our downstairs family room, turn on the fireplace, put in a DVD or pull up a class online and focus on relaxing. It can still be a great workout but it really does help me de-stress. My goal for next week is to get a few new to me classes in. At least one at the studio and a few at home.