I really try to work with companies that I would buy products from personally and that I would want to support. Sometimes you start working with a company and they make a few change you may not agree with. But… I do give them a chance to make changes for the positive and give them time to fix they things they may not have done well.
I have been working in a marketing function for the past 10 years and I understand how hard it is to start a new company/brand/project and have things not go quite as planned. When Ellie first started they were pv.body, they focused on sending you a subscription of workout clothes from top brands. Sounds amazing right? It was, and things feel apart pretty quickly. It went from backorders to not fulfilling customers orders and a whole other laundry list of issues. Pv.body became Ellie and they focused on building their own brand of clothes where they could control the quality and produce enough to meet customer demand.
Ellie launched with their own clothes and sent out the first shipment at the end of February. I agreed to test the new line because I am empathetic to trying to turn a company around and make your customers happy. I wanted to give them a chance to succeed and they did. I was shipped exactly what I ordered and in the sizes/colors I wanted in a timely manner. Ok, that's a pretty good start.
I choose the Electric Love Capri and the After Dark Tank. The tank was designed for the gym, running or yoga and I have worn to a yoga class and one of my normal pretty hard gym workouts. It stood up great, I did wear a sports bra underneath and I loved that this was long enough to not creep up.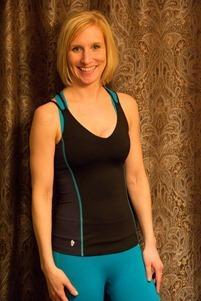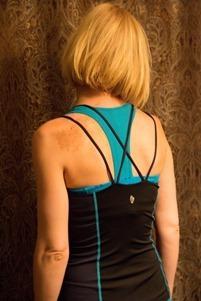 The Electric Love Capri's were more like leggings on me since I have a very long torso and pretty short legs for someone who is almost 5'8". Even though they were long I loved them. I am drawn to bright colored workout clothes and these fit that bill. They were VERY bright and I got so many compliments on them at the gym and yoga.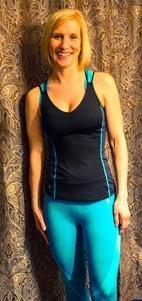 My first experience with the Ellie line was very positive, I hope that they are able to deliver great customer service and produce fashion forward quality clothes. Hopefully they have turned this around. March is an all black collection and I can always use some basics to update my gym wardrobe.