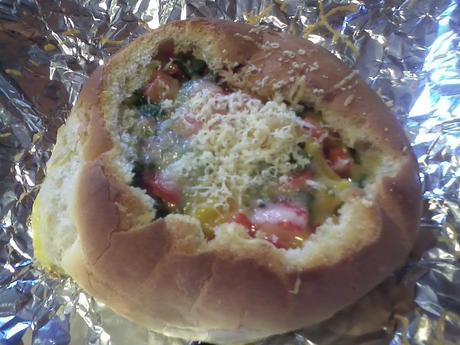 Holy cow my breakfast was delish today! I had an idea about taking a soft roll, cutting off the top, scooping out the inside bread and filling it with veggies, ham and egg and a little cheese. The rolls I used I found near the deli at my local grocery store (near the bagels) and were only .33 cent each – score!
When I weighed the bread it was a little over 3 ounces, so I wanted to scoop enough of the inside part to weigh 2 ounces. I looked up the calories for 2 oz. roll and most of the calories were averaging 150 calories – so that's what I started with.
Print Breakfast bread bowl – pretty awesome breakfast for 335 calories
Serving Size: Serves 1
Calories per serving: 335
This would be a great idea for a brunch - everyone could customize their bread bowl!
Ingredients
1 soft roll
1 oz. ham
1 tablespoon diced poblano pepper
2 green onions, diced
2 baby red peppers, diced
1 egg + 1 egg white
splash of skim milk
salt and pepper to taste
1 tablespoon grated parmesan cheese
Instructions
Cut the top off of the roll and scoop out as much of the inside as you want.
In a small skillet, I sauteed the poblano and red pepper and green onions for a few minutes.
Place the hollowed out bread shell on a cookie sheet covered with foil (spray the foil first with cooking spray)!
In the bottom of the bread bowl, place 1 oz of deli ham
Next, add all the veggies
In a small bowl, whisk the egg, egg white a splash of milk until well combined. Add a little salt and pepper as well to the eggs.
Pour the eggs into the bread bowl and grate a little parmesan cheese on top.
Bake at 375 for 20-25 minutes or until the eggs are set.
Let cool for a few minutes and remove from the cookie sheet - and eat!
Schema/Recipe SEO Data Markup by ZipList Recipe Plugin2.0
http://www.slim-shoppin.com/breakfast-bread-bowl-pretty-awesome-breakfast-for-335-calories/
I forgot to spray the foil with cooking spray – so some of my bread on the bottom stuck to it

I seriously could eat this every morning for breakfast and never get tired of it. You could also do this for so many other things – fill it with pizza toppings, veggies, pizza sauce and cheese, fill it with sloppy joe's, you could fill it with black beans, taco meat, veggies, avocado and salsa – I can't wait to try some of those!
*****
And in weight loss news, I'm finding that it's getting easier to not even think about all the decadent food always at my office. I swear – no one would ever go hungry there! Today for a luncheon was leftover sushi and Chinese food, Garrett's popcorn (caramel and cheese).
Instead I had my own bag of lite microwave popcorn and it was fine! koo-dohz!!
I haven't walked to or from work the last 2 days because it has been in the single digits – a little too cold for me!
What is your favorite breakfast you could eat all the time?