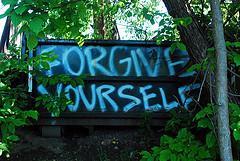 Everyone at some point in their lives have made mistakes; You, me, your friends, a country's president and the list goes on and on, no one is spared. Some mistakes are committed unintentionally while some are done intentionally, attributed as wrongdoings. Nevertheless, when such things happen, self-confidence and morale come down drastically. It starts to become extremely difficult to deal with any situation you face, your performance is affected badly and your relations with your friends and family may get strained.
It is high time that you start to get the better of yourself and overcome your past deeds. The mind usually has two sub-personalities, the critic, which is always in the hunt to criticize and insult and the protector, which gives you the good conscience. Usually, the critic plays the upper hand and has the last laugh, because of which, we just cannot overcome the faults we have committed and it keeps on clinging to our minds. It's okay if you are wracked by guilt, shame and remorse, but you just have to stop punishing yourself.
Punishing yourself won't do any good, it is important that you learn from your mistakes and commit yourself to the point that you'll never do it again rather than punishing yourself which will affect you and the people around you. From ages, this has been the toughest thing to do, people just can't stop punishing themselves.
One thing is for certain, every person has his own share of good and bad qualities, even the deadliest of criminals and even Dalai Lama for that matter. Follow these tips whenever you are troubled with the mistakes you have committed and are unable to forgive yourself.
Sometimes, unknowingly, you embellish your friend's bad deeds in a gossip and your friend may not take it in the best stride. Apologize first, if it isn't working, think about why it happened and make sure that it will never happen again. Write down all the negative consequences because of it and all the positive consequences you can get because of that. One would be that you shouldn't have said anything in the gossip. Likewise, make a list of both the positives and negatives and strive for the positives.
You show great progress when you are loved or cared for more during the rough patch. Spend time with a person who loves you, even if it is within the family. Ask them to tell you all the good qualities you have, mind you it is not flattery, it is just a fact. You'll feel great.
See the situation, as though you were seeing it through an innocent child's eyes, without contamination from greed, anger, jealousy etc. Understand why it happened, the situations leading to the incident. Are there other factors too that are involved? Is it your mistake partially or completely? If it is your mistake completely, how would you react the next time?
List out all the good qualities you have along with the bad qualities you have or had. Once you are overcome by remorse, there is a significant decrease in your bad qualities and an increase in your good qualities.
Don't hurt yourself more by listening to music that may aggravate your pain. Remember this, the mistake happened, you were overcome by guilt and remorse, you learnt from your mistake and you are better prepared to tackle similar situations. So, there's no point in hurting yourself anymore.
Talk more to people who like you or appreciate you, they will be happy to listen to you. Talk about various things and then bring it to the mistake you have done. Don't seek for an advise, No, never, because you are strong enough to tell yourself that it will never happen again.
Divert your mind; I know it's difficult but diverting it for a long time will at least stop you from punishing yourself. It is good that you feel the guilt and remorse and follow the tips mentioned above. You can do this by laughing around with your group, going out to places, doing freelance maybe and many more which you think can divert your mind.
These tips maybe very common but let me tell you that these are certainly effective and should deliver the goods. I would be glad to hear your opinions on this and would love to share my thoughts on your opinions. Good luck and be happy.