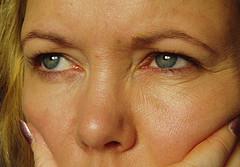 The experts always stress on the fact that focusing on basics and simple little things will make things fall into place.
The same applies to looking younger too; some natural things or activities rather, which we unknowingly ignore can contribute to you looking 10 years younger starting right this instant. Let's know how...
Here's the secret, to look younger you don't need cosmetics, facials, make-up or any other thing.
What do I need then?
Fresh supply of oxygen or pure air and a good amount of red blood flowing to your face, that's the real secret. If these two factors are accomplished, you may even look 20 years younger. So how can you do that? Here are 6 amazingly healthy, natural and non-harmful ways to do it;
Maintain a Good Posture


Do you get it why? Simply because enough blood flows towards your face, it's that simple. Research has proven it too. So what if you slump too much? Simple, walk with your hands on your hips, with a straight head for 10 minutes a day, problem solved.




Walk for 20 Minutes a Day


Walking simply gets you going, works every muscle in your body. So, when you walk for 20+ minutes a day, you are working your face muscles too that demand fresh oxygen supply and what happens next? The wrinkles start to disappear and you'll look much younger.




Gobble Down Blueberries and Nuts


If possible both of them, if not either nuts or blueberries will suffice. You know what, Go for walnuts, 13-20 per day and you know what other advantages it brings with it? Reduced heart disease risk (by 45%), reduced blood pressure, reduced blood sugar, belly fat is gone and the best of all you'll look younger by 5-6 years at least. Guaranteed. But you'll have to give some time for the results to kick in, say 2-3 weeks.




Get Active


Hiking, singing in a choir group, join a ballet group, cycling or anything that makes you active. And hey, don't do things that won't make you happy, say you're cycling to keep you active, but if it ain't making you happy abandon it now! Do things that'll make you happy, that is another secret to look younger!




Hang with a Buddy


Have fun with your bud, laugh around, shoot pool, bowl if you want and try to be happy.
Research proves that doing so can make you look at least 8 years younger or more. So why wait, pick your bud and have fun!




Spend Time with your Love!


Research suggests that going on a date can make you look younger by 8 years at least. Spend time with your loved one, drink some wine or champagne, eat dark chocolate...Phew there are just so many ways you can look younger instead of going for those harmful cosmetics.

There are several such natural ways to look younger, in fact a good night's sleep too can work wonders.
What's Your Say?
Would you still rely on cosmetics given the time for the results to kick in? Also what would you do, if your time schedule did not permit you to do any of these? I want answers, Let me hear them in the comments section below.
Bookmark, Share and Print
Please share it if you think it would help others too.
Free E-Mail/RSS Subscription
Join 100+ Other Smart Readers and Get Free Updates to your Inbox!