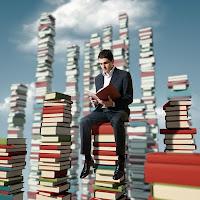 Doing nothing to beat stress, doesn't necessarily mean laziness or not to move a muscle in your body. In this context, it means with very little effort, you can easily manage stress, at workplace, at home or wherever you want.
Stress, if left unmanaged for a long time can have hazardous impacts on your health. Thus, by doing nothing or by working your ass off, Stress has to be managed and put under check.
Personally, I tried these ways on myself and they have worked wonders. I'm pretty sure that they will be effective for you too. So, let's find out what they are and how to implement them, of course you can add more too, in the comments. Here goes;
Listen to Music


It hardly requires moving a limb, all you have to do is plug in your headphones or speakers and let the beats rock your atmosphere. Wow, I remember the times when I tried it; RAPTURE! It just reduces all the clutter and stress in your brain and lets you start active and fresh again.




Read a Good Book


About a fortnight ago, I started reading 'To Kill a Mockingbird' by Harper Lee. You know, it started working wonders; the childish attitude in the book, the raw humor and the innocence of the children, Wow it just took all the negative energy away from me and you know what, I felt so energized and happy to get back to work again.
STRESS = GONE WITH THE WIND!


'To Kill a Mockingbird'. I read the latest cover edition




Creative Visualization


Dream! Take your mind away to some place, to a place where all the people are happy and enjoy every moment of their lives. Alternatively, you can also try imagining how great it'd be after completing your work successfully, the rewards and accolades you'll get. Wow, do that and in both cases you'll feel great to get back to your work!


Take your mind away from work for a few minutes!




Body Stretch to Feel Relaxed


Stretch all the muscles in your body and see how great it feels. You feel relaxed and most importantly all the stress is gone. You also have a better control over your emotions and then you can get back to work in a better mood.


The Body Stretch




Peaceful Imagery


All you have to do is sit and look around. Yes, decorate your walls with some cool peaceful posters, nice quotes or anything that will make you calm and kick the stress out of you.
Seriously, this can work wonders, I have a poster of Liverpool on the wall and whenever I look at it, a load of stress is taken off from my head, I think about all the glory days of Liverpool, particularly Istanbul 2005 and BAM, all the stress is gone!


The 'This is Anfield' Poster in my room.




Here's some Peaceful Imagery for You
Your Thoughts?
So, Would you agree with the tips mentioned above? Would you like to add more? Do you have your own unique ways of beating stress? Let me know!
Bookmark, Share and Print
Please share it if you think it would help others too.
Free E-Mail/RSS Subscription
Join 100+ Other Smart Readers and Get Free Updates to your Inbox!