by Nina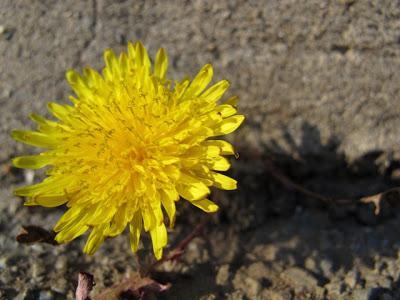 Tough Weed by Melina Meza
My sister in law, who never suffered much from headaches before, found that menopause brought on debilitating migraines. Other women find that normal, tension headaches become more frequent with hormonal fluctuations. In fact, although the most common complaint women in the US have during periomenopause and menopause is hot flashes, in Japan, where hot flashes are less common, women complain much more frequently about headaches.
Baxter and I have already written on the blog about migraines and other headaches, both on how to prevent them (see Preventing Migraines and Other Headaches, Part 1 and Part 2) and how to practice when you have one (see Yoga and Migraine Headaches). Unfortunately we don't know of any special techniques for treating hormonally triggered headaches (in the book
The Woman's Book of Yoga and Health
, in the chapter on menopause, Patricia Walden simply recommends her standard headache practices for headaches experienced during menopause). However, I thought it might be helpful for those of you who are suffering from hormonally induced headaches if we provided links to our earlier posts on headaches in a central post on menopause.
In my sister-in-law's case, it wasn't yoga that helped her with her migraines (she doesn't practice yoga). Eventually, she realized that it was her diet that was triggering the migraines, and that diary was a trigger. Many of us assume that because we didn't have food sensitivities when we were young, that we must not have them now. But personal experience has taught me that many of us do develop new food sensitivities during periomenopause/menopause. So if you're suffering from headaches, it may be time to practice yoga for healthy eating. To do this, use mediation and mindful asana practice to help you tune into your body and observe how your eating habits affect your health. See Meditation and Healthy Eating and Got Mindfulness? among other posts on this topic.
And if you are having trouble avoiding the foods that turn out to be triggers for you, try using yoga for stress management to help you resist temptation and make better food choices. See Healthy Eating, Stress and Self Control for some ideas.
Take good care of yourselves, dear friends.