by Nina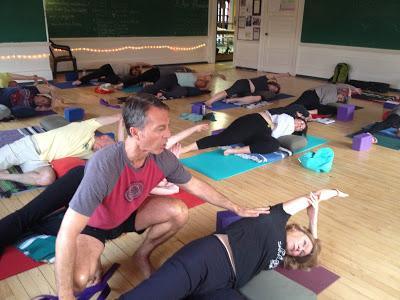 Baxter and I are pleased to announce a new feature on the blog: a list of yoga teachers who have been certified by the two us as Yoga for Healthy Aging teachers. You can find the list of these teachers (which we expect to grow—we're still waiting for some of the written tests to come in) on our Certified Teachers page.
These yoga teachers all attended our Yoga for Healthy Aging intensive, passed a written test, and did a teaching demonstration that we approved:
Susan Bronson

Nora Berklich

Joan G. Manuel 

Carol Mermey

Liz Moss

Nina Rook

Susan Urquhart-Brown
For those of you who are interested in receiving certification yourself and could not attend our 2015 intensive, we will be having another intensive at Namaste Berkeley in 2016. We will be announcing the date in the near future.
Honorary Mention goes to Bayle Emlein who, while not a yoga teacher, passed her written test and the teaching demo just for her own edification.
Subscribe to Yoga for Healthy Aging by Email ° Follow Yoga for Healthy Aging on Facebook ° Join this site with Google Friend Connect