by Krista Wood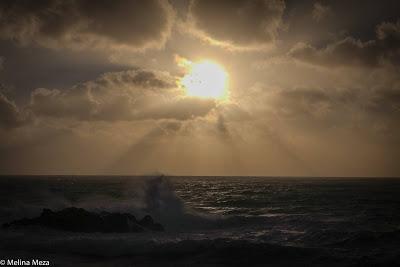 Beams of Light by Melina Meza
Around 1990, at the age of twenty-four, I was diagnosed and treated for depression. Depression was just becoming a topic of discussion in mainstream along with the top antidepressant at the time, Prozac. Thankfully, I responded well to medication, and a year and a half later was able to stop taking it. I was doing well for a while but two years after being off anti-depressants I began to experience my first bouts of anxiety. I would lay awake at night drenched in sweat, gripped with fear, my heart pounding, and I didn't know why. I made an appointment to see a doctor, was given a clean bill of health, and told I was suffering with anxiety and that I should try not to let stress get the better of me (though I was not given guidance on how to accomplish this). The only bit of comfort I received was that though the symptoms were frightening, they would not kill me. Luckily, this initial episode was short lived and I was anxiety-free for a few years. 
Around the age of thirty-one or so, however, my anxiety came back with a vengeance. One day heading to work, I began to feel out of sorts. I began to sweat and felt unable to breathe deeply. I pulled off to the side of the road and rolled down the driver-side window to get some air. Though this particular episode passed quickly, the attacks began to occur more frequently and my symptoms got progressively worse, including, profuse sweating, tingling in my extremities, tunnel vision, dizziness, and inability to catch my breath. After a particularly intense episode I found myself in the emergency room, followed with a visit with my family doctor who promptly put me on anti-anxiety medication. Though it helped, I didn't like how it made me feel; I felt disconnected from my surroundings and my anxiety seemed more intense after the medication wore off. 
It was during this time that someone suggested yoga and gave me a video to try. My initial reaction, like many people's, was there is no way I can do yoga; I can't twist my body in those crazy poses, and, besides, how was it going to help with my anxiety? Still, I decided to give it a shot. The tape was "Yoga for Beginners" by Patricia Walden. I didn't know why or how it worked, all I knew is I began to feel a sense of calm when I practiced. So I continued practicing along with this tape every day for months, gradually adding additional yoga tapes. Then I began going to yoga classes, and it was during this time that I was introduced to meditation and pranayama. Wanting to deepen my practice even more, I purchased books such as Light on Yoga, The Heart of Yoga, and The Women's Book of Yoga and Health, to name a few. 
Since that introduction to yoga back in 1997, I continued to practice yoga and also added in complementary modalities, such as acupuncture, and all have worked wonders in helping me manage my anxiety and panic attacks. I say "manage" because, though few and far between, there are still days when the anxiety tries (and sometimes succeeds) in rearing its ugly head. However, instead of feeling helpless and out of control, my yoga practice enables me to bring myself back to a state of calm. 
The practice of sama vritti (equal breathing) and extended exhalations (where the exhalations are longer then the inhalations) are beneficial whenever I'm feeling anxious. My daily practice includes asanas and meditation, whether sitting in the classical sense or a walking meditation. My practice may be for 15 minutes or an hour. There are days when I favor a more physical practice and days when I feel the need to sit and just be. Yoga has taught me to be in the present moment; it has given me the tools to work with, not against, my anxiety. It is because of this I decided to embark on a yoga teacher training in 2011 so that I could share the benefits of a yoga practice with others. I now teach weekly yoga classes, one of which is geared toward others facing the same challenges as me. I can so relate to the struggles of others living with anxiety (the frustration, the helplessness, the fear, the anger) and to be able to share what has been beneficial for me and to see it help them is an incredible feeling.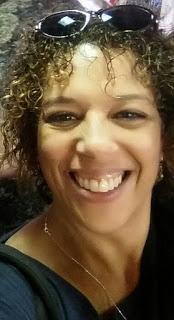 Krista Wood lives and practices yoga in Rockaway, New Jersey. After many years of practice and experiencing firsthand the therapeutic benefits of a consistent yoga practice, Krista wanted to share this with others so she decided to embark on a teacher training. She completed her 200-hour training in 2011 and 500-hour training in 2015. She continues to broaden her knowledge about yoga's effects on mental health, addiction, and trauma, and is currently in the process of achieving her 700-hour Yoga Therapy certification. She teaches a mixed level hatha class at Purple Om Yoga, www

.purpleomyoga.com

in Denville, NJ. She teachers her small class geared toward those with anxiety in Rockaway, at 77 W. Main Street. See kristawood.com for information about how to contact Krista.
Subscribe to Yoga for Healthy Aging by 

Email 

° Follow 

Yoga for Healthy Aging

 on Facebook ° Join this site with 

Google Friend Connect