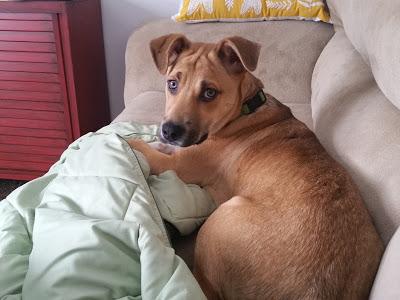 I have been seriously considering getting another dog for at least a year now. But with Charlie's fear-aggressive issues toward other dogs, I was skeptical whether we could make it work. Fortunately, Charlie has done great with all the work we've done to get her ready... and it finally happened!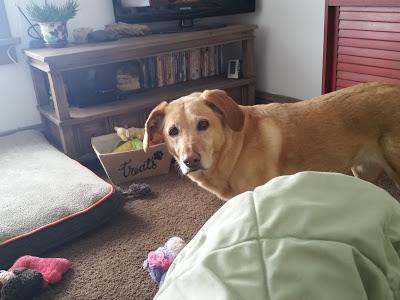 I had been searching rescue sites for the past couple of months and after filling out applications and being approved for several organizations, we found a good match for Charlie this week. On Thursday, we drove 3+ hours to Milwaukee to visit a puppy from Rescue Gang.
We spent some time at the foster's home introducing the dogs and learning about our new puppy. Charlie seemed to take to him fairly well and after careful consideration, he came home with us!
It's crazy how so much time went into this process and then is seemed like it was happening so fast. I couldn't believe we had a new puppy!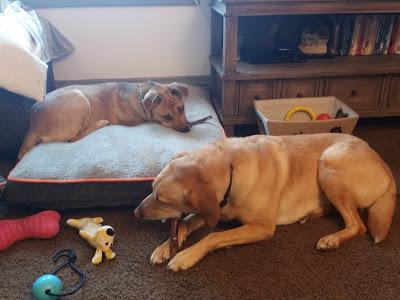 Both dogs are doing great and every day they get more comfortable with each other. Jake is very good at watching Charlie for cues when she's had enough and is respectful when she gives him a growl/nip to stop playing.
VIDEO (snacking on bully sticks together):
But for the most part, Charlie is loving playing with another dog. It's so much fun watching them chase each other around the yard and playing tug with toys in the living room. And Jake seems so happy to have a "big sister" to look up to. He follows her on walks and shadows her every move.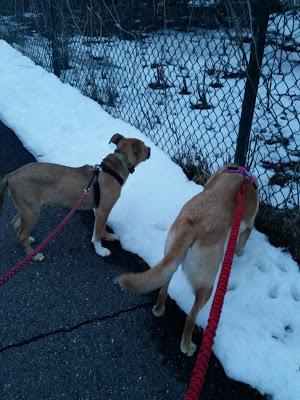 Our first walk together... it was already starting to get a little dark out.
Jake and his four other litter-mates were found abandoned in an empty field in Texas when they were 4 months old. Their mother was missing and they were all starving. After being scooped up by a rescue down there, they were shipped up to Wisconsin. Jake received treatment for ringworm and giardia and is now all better. He's slowly putting on weight and getting to a good size. He appears to be a Black Mouth Cur/Lab mix and I'm seriously considering having one of those DNA tests done to see what he actually might be.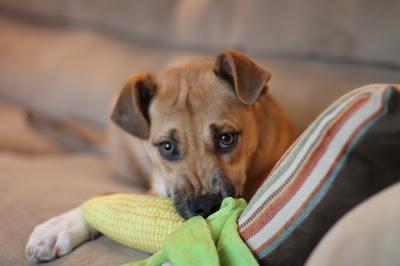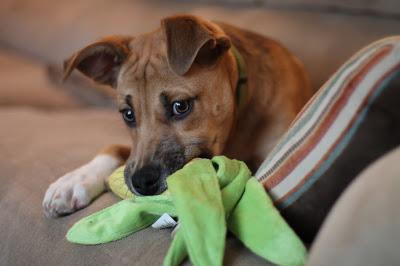 In the meantime, he's pure cuteness. He's bringing so many smiles and laughter into the house. It's fun experiencing all the puppy nuances again and seeing him bringing out the puppy in Charlie too. I don't even mind the fact that after leaving him alone for 2 minutes on his first night home, he ate my cellphone. All things are forgiven when learning the "rules" of having a puppy again.. like, if you value something, put it away.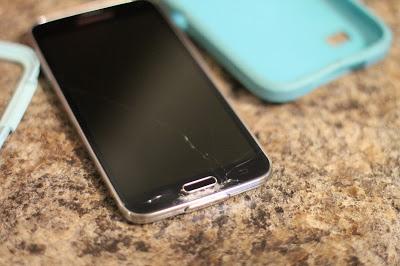 The first puppy "casualty". I'm sure there will be more. Lol.
So in this Chinese Year of the Dog, we now have double the dog to love in our home. And we couldn't be happier.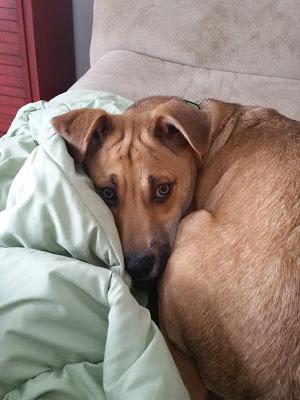 Those eyes will melt your heart! And the forehead wrinkles!