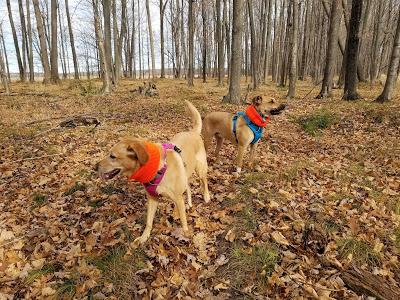 It's that time of year again where I have to limit which trails and parks we visit due to the busy hunting season.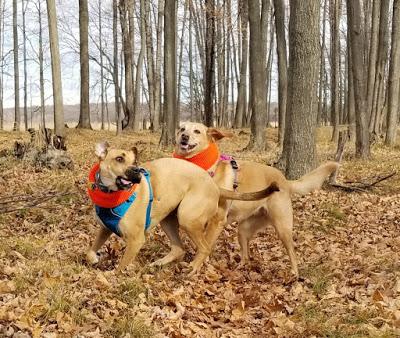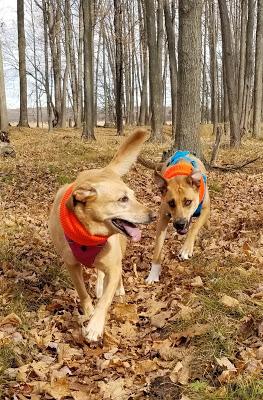 VIDEO~Dogs wearing Blaze Orange last weekend (click link):
VIDEO~Dogs without blaze orange from previous week's hike (click link):
Obviously there are different hunting seasons throughout the year, but in Wisconsin, the big one is for deer and turkey hunting. Both have different restrictions and seasons, so it's important to check with local resources to find out where and when hunts are occurring.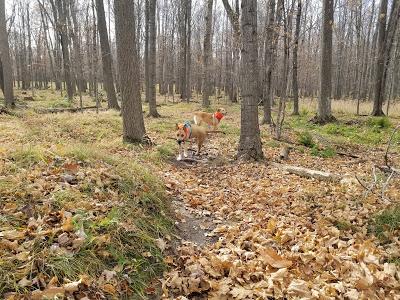 I always visit our
local DNR website
to find out what types of hunts are going on and where. I also did a search of
area parks
and know that there are two parks in my county that don't allow hunting at any time of the year. Since Charlie is noise-reactive, I choose to stick to those parks when any gun hunting is going on, although we can't always avoid all gunshot noises since some noises carry over great distances and waterfowl can be hunted on the lakes and rivers surrounding those parks.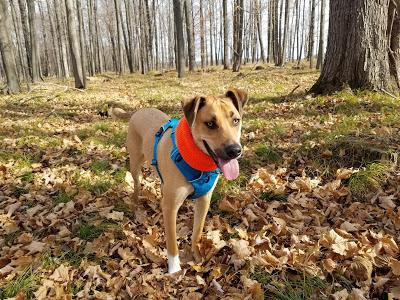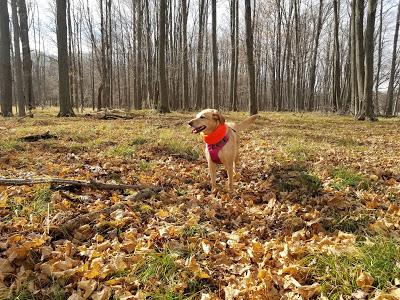 In any case, over the years we have become comfortable with one particular park that has everything we're looking for - secluded areas where the dogs can run off-leash, no hunting inside the park, and lots of acres to explore. It's a bit longer of a drive to get there, but always worthwhile once we arrive.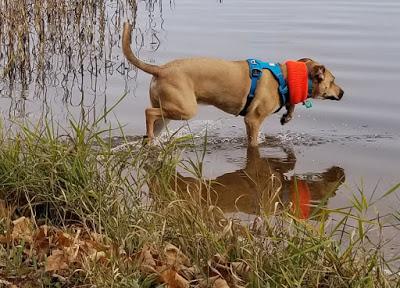 It can be beyond frustrating to hike with a noise-reactive dog during hunting seasons,
as I've experienced before
, but with the proper planning and preparation, you can have a great time! Don't let hunting season keep you indoors; there are almost always options to get outside.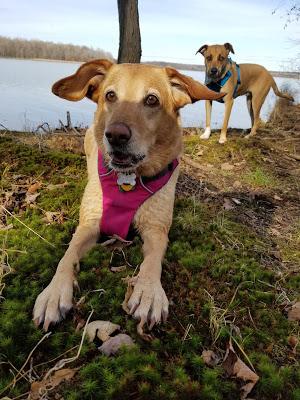 Here are some tips to keep you safe while having fun (especially with a reactive dog):
Wear bright colors, or preferably blaze orange, when you are hiking during hunting season. Even if hunting is not allowed where you are hiking, it's best to be seen just in case. There are a variety of things dogs can wear to help them be seen in the woods... from expensive hiking vests to something homemade. My dogs always wear a Ruffwear harness when hiking - these can be pricey but they're so well-made that you'll only have to buy it once. Even though these are colorful, I also have the dogs wear a blaze orange neck warmer that I bought at the local hardware store for about $5.00. If you can't find a neck warmer that will go around your dog's neck, you could buy a knit cap and cut the top off it so it'll fit around their neck for a rather inexpensive way to make sure your dog is not mistaken for a deer.
Realize that you may have to cut your hike short if your dog hears something that causes them to react. It's no fun for anyone to force them to stay on the trail if they're too scared. Always try to make outdoor activities fun so your dog will want to go along. There have been times when Charlie and I were out in the middle of nowhere when she had an episode and we had a long and grueling hike to get back to the car; it happens. Just try to end each hike on a happy note (lots of treats and praise) so your dog doesn't get too fearful to get back out there. We have had situations where I've been forced to abandon going on certain trails because Charlie had one bad experience and every time we went back she became fearful... just from the previous memories. It's okay to put some trails "on hold" until your dog is ready to go back... and when they do, make sure you have lots of GOOD treats to make it fun again.
Keep your dog ON-LEASH when hiking in hunting zones. Even if they are visible, they could disrupt wildlife and hunters causing a bad experience for everyone. It's just plain polite to keep your dog on-leash if there is a chance they'll run into other hikers, hunters or wildlife. I make sure that the trails where Charlie and Jake are off-leash are secluded non-hunting zones and we're not bothering anyone else (we have secret side-trails we use to get off the main trails). Since Jake's recall isn't that great yet, I sometimes keep him on-leash and let Charlie off-leash if I can't handle both of them myself.
If you have a reactive dog, know the trail and what to expect ahead of time, even if this means going there by yourself to scout it first. Just because something looks good on a map or website doesn't always mean it'll work for you and your dogs. This is a worthwhile time investment to ensure you all have a good experience.
VIDEO~The "unglamorous" side of hiking with dogs (click link):
What other tips or tricks do you have for good hiking experiences with your dogs? Have you ever had an issue hiking during hunting seasons?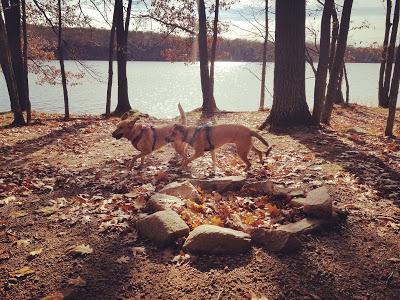 #optoutside