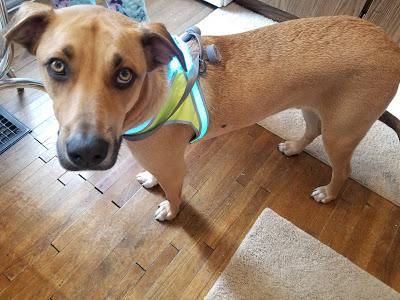 I ordered the Noxgear LightHound Harness weeks ago and we've been anxiously awaiting its arrival. Unfortunately they were back-ordered for a while and then the recent fires in California delayed the resupply. But we finally got it delivered the Friday after Thanksgiving and had a chance to test it out last night!

NOTE: This review is purely one dog-lover's review/opinion for other dog-lover's informational purposes. I have no affiliation with Noxgear and did not receive anything in exchange for my review. Product was purchased with my own money and all opinions are my own. I urge you to research any purchase on your own to determine if it's something you want to buy. I hope this review helps you make that decision. (Jake is wearing size Large in the following photos/videos).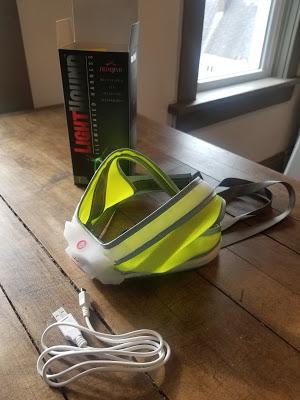 The box it came in was so small, I was worried that I'd received the wrong item, but sure enough it was the LightHound harness. I took it out of the box and adjusted the straps to fit on the dogs to see if I'd ordered the correct size - everything fit perfectly and the harness was so easy to figure out that I barely even looked at the instructions.
Once the straps were adjusted to fit both dogs, we tested the different lighting options. There are several solid colors to choose from and also a few "preset" light sequences, including a blinking one called "disco dog!"

Last night, when I walked the dogs, there was a light rain so it was the perfect opportunity to test out the harnesses "rainproof" ability. Jake doesn't like walking in the rain very much, so we had a very short walk around our neighborhood and then I switched out the harness so Charlie could take a test run. (*Note: This harness is not waterproof, only rainproof, so make sure not to let your dog go swimming in it!)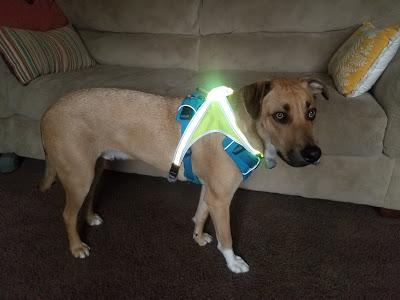 Charlie loves to walk, no matter the weather, so we were out for over 40 minutes. I let Charlie choose which direction she wanted to go and she immediately headed toward downtown Wausau on one of the more well-lit streets. She got a lot of attention from passers-by that wanted to check out her blinky harness and give her some love. On our way back home, Charlie wandered through some darker streets where we had a chance to test the extent of the visibility of the harness.
While I liked the blinking "disco dog" mode for visibility of the dogs, it was a bit distracting to my eyes and made it hard for me to concentrate on the sidewalk. I think once we get a layer of snow on the sidewalks, I'll be using one of the solid blue or white light settings to help us navigate any icy spots during night walks.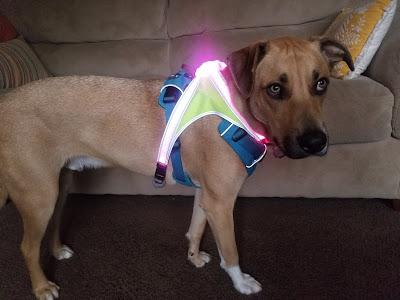 Overall, I'm very happy with this purchase.These were my objectives for buying this harness:
1. Make sure the dogs are visible during night walks so we don't get hit by cars while crossing roads.
2. Light up the sidewalk so I can see where we're going on icy winter walks.
3. Something rechargeable so I'm not constantly replacing batteries.
Icy sidewalks (and the fear of falling) is my number one excuse to not walk in the winter. And since I just started getting back into a walking routine with the dogs (taking one dog at a time so I can physically handle them), I don't want the impending snow/ice to hold me back from continuing to get exercise this season. All of my issues with winter walking will be handled quite well by this harness. I'm positive this harness will help us stay active all season!
VIDEO #1 ~ demonstration of LightHound Harness (click link):

VIDEO #2 ~ demonstration of light mode and fit (click link):

**This product was purchased with my own money and I did not receive anything in exchange for my review. All opinions are my own and I would never promote something I didn't believe in.**