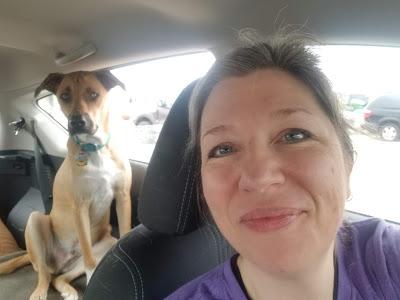 Backseat beggar at Culver's... watching me eat lunch and waiting for his share.
Jake and I headed south on a road trip - just the two of us - last weekend. Our first destination was to my stepmom's house in Platteville to meet her new puppy, River. This would be Jake's first time visiting my family's homestead on 40 acres of rolling hillsides in the Driftless Region of the state and I was curious to see how he would do off-leash on this country property without Charlie leading the way.
VIDEO~River and Jake learning to play together (Click Link):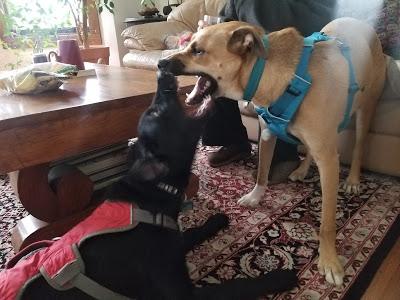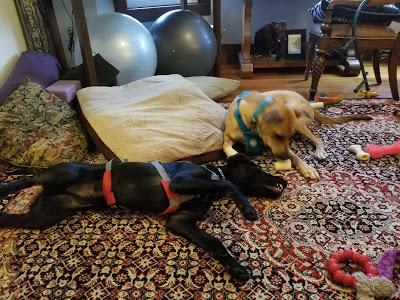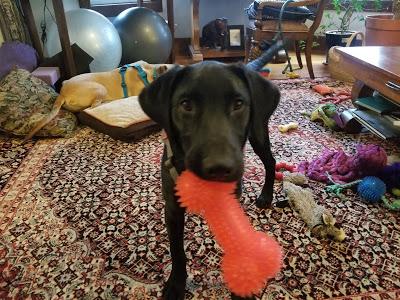 River is an almost 6-month-old black lab and currently un-neutered (although his surgery is scheduled soon!). Jake and River hit it off immediately and became quick friends, although Jake would soon run out of patience with River's constant humping. That was one aspect I hadn't realized would be an issue, but Jake was a very good boy and corrected River's behavior appropriately, giving him a growl and little snap when he'd had enough.
VIDEO~Inappropriate puppy behavior (click link):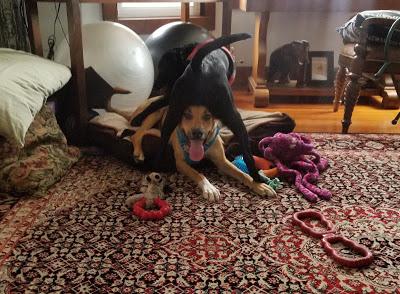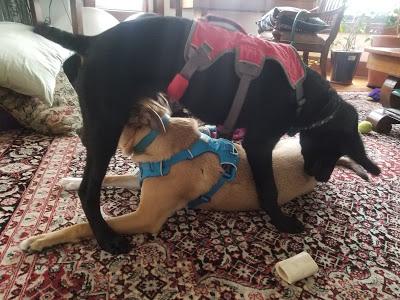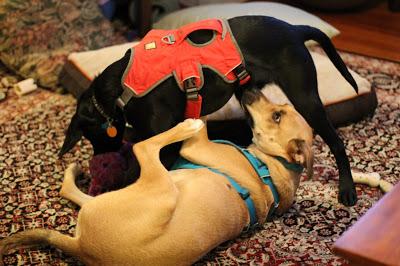 It was interesting watching Jake handling a younger (and more annoying) puppy... almost like a taste of his own medicine considering how he plays with Charlie and pushes his luck with her. River also had not learned "bite inhibition" yet and still had some sharp baby teeth... Jake did a good job teaching River what was acceptable and what was not.
They played with toys well together and chased each other around the yard, always doing a good job staying close to the house and not wandering off in search of adventures on their own. I was very pleased with how well Jake stayed in the yard.
After dinner on Saturday night, Jake seemed restless and was pacing around a bit. I kept thinking he had to go potty, but then realized he was waiting to go home! This was his first "overnight" trip somewhere and he didn't know that we were staying. I used the same words I used on Charlie when she went through the same situation as a puppy... "we're staying here" "let's go nu-night" "lay down on your bed" etc. He quickly caught on and immediately slumped into his bed and passed out - he was exhausted! I think he was relieved that he could stay and just lay down and rest. River had tired him out completely.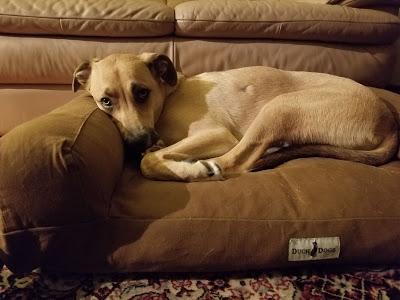 Sleepy Jake
The next morning, we packed up the car and headed over to my sister's house in Deerfield where Jake would get to meet her dog, Bella. In addition to this next new visit, Jake's original foster parents were going to stop by and visit with him too!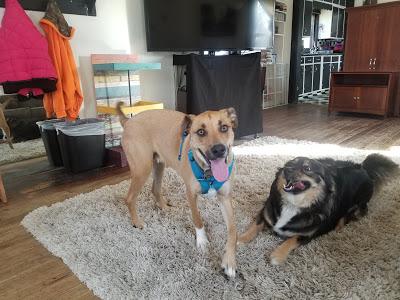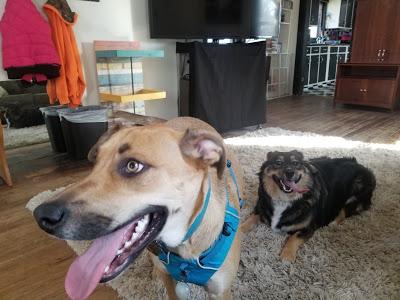 Jake did great meeting Bella and they quickly warmed up to each other, romping around and playing with toys. My nieces also got to meet Jake for the first time.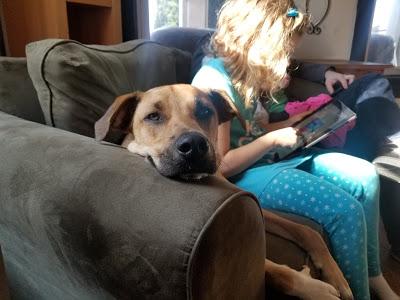 Jake chilling out with my niece while she reads him a story.
VIDEO~Jake and Bella playing (click link):
When Jake's foster parents arrived, his little wiggle-butt started wagging from side to side and he got pretty excited. I don't know if he remembered them or not, but he enjoys meeting people so much! Everyone got a chance to catch up and watch Jake being silly and playful with the kids.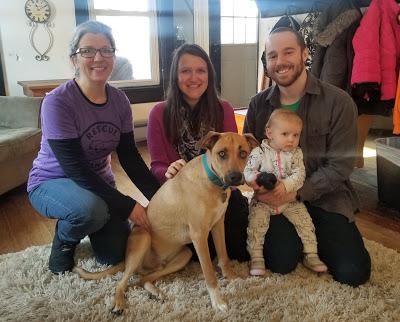 Sunday was a long day of driving and visiting, so Jake was more than happy to curl up in a sunspot in the backseat of the car and sleep all the way home.
His reunion with Charlie when we got home was very sweet too... you could tell they missed each other and Jake seemed relieved and happy to be back home with his pack.
Sidenote: Charlie spent the weekend with her daddy... watching football, eating treats and sleeping. According to Alan, Charlie played with her toy for about 5 minutes and then slept the rest of the time. I think it was a nice break for her to catch up on her rest and spend some quality time alternating her naps between her dog bed and Alan's lap. What a sweetheart!