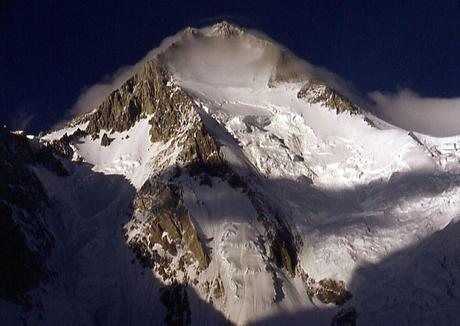 Now that most of the teams have left Pakistan for the season, all of the action is focused squarely on Gasherbrum I, where both the Polish squad and Alex and Carlos are hoping to make the first winter ascent of that 8080 meter (26,509 ft) mountain. The two teams have been working together over the past few weeks to fix lines and establish camps, but now they seem to be taking a different approach on how to proceed.
According to the latest dispatch from the Poles, they have now established Camp 3, finished acclimatizing, and have all of their gear in place to make a proper summit bid. There is just one problem however, and that is the weather. Conditions are not good on the mountain today, and the forecast says that it could be another seven days before things improve. Winds are predicted to top 100 km/h (62 mph) above 7000 meters (22,965 ft), which makes it impossible to climb above that height. The team is prepared to wait it out, but they now feel it could be the end of February before they can make a true attempt on the summit. Patience is most definitely the name of the game at the moment.
Meanwhile, Alex and Carlos indicated yesterday that they planned to climb up to Camp 1 today. That would take them up to 6200 meters (20,341 ft), well below the maelstrom of wind, where they'll apparently shuttle more gear in preparation for their own eventual summit bid. It appears they won't go any higher than C1 however, and my guess is that they'll be back in BC by tomorrow, and waiting along with their companions.
The reports from the winter climbs start to sound a bit like a broken record after awhile. It is all about the weather, which is always bad. There just seems to be widely varying degrees of bad.