Author and adventurer Neal Moore has completed an epic journey across the US by canoe. The long-distance paddler reached the end of his expedition on December 15, arriving in New York City where he took a much-deserved victory lap. All told, by the time he reached the finish line, Moore had spent the better part of the past two years on this project, covering more than 7450 miles (12,000 km) using 22 rivers to visit 22 states while en route.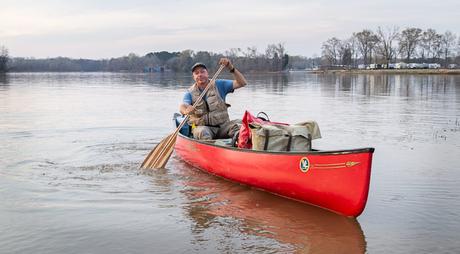 Photo Credit: Neal Moore
A Grand Plan
Moore's journey started on February 9, 2020, just a few short weeks before COVID left its indelible mark on the planet. He began the trip in Astoria, Oregon with grand plans of crossing the US and documenting the current mood of the country leading up to the November 2020 elections. The pandemic had other plans for him however and the journey ended up taking some very unexpected turns. That included exiting Oregon in late March of last year, just as a shelter-in-place order was about to take effect.
Rather than completing the trip in nine months as originally planned, Moore ended up spending nearly two years paddling some of America's great rivers. He started by paddling upstream on the Columbia, Snake, and Clark Fork Rivers on his way to crossing the Continental Divide. From there, he traveled south along the Missouri and Mississippi, all the way to the Gulf of Mexico.
After over-wintering on the Gulf, he started upstream again, paddling the Tombigbee and Ohio Rivers to Pittsburgh and proceeding east to Buffalo. From there, he paddled the Eerie Canal for 180 miles (289 km) before portaging overland to the Hudson River, which took him into New York. When he reached the city last week, Moore paddled with friends out into the harbor, where he rowed around the Statue of Liberty before putting a cap on his adventure.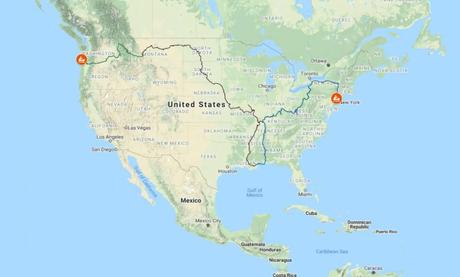 Photo Credit: Neal Moore
First Solo, Continuous-Crossing
Upon completion of his transcontinental crossing, Moore became the first person to make a continuous, solo journey across the US from west to east. This wasn't his first attempt at this expedition, however. In 2018 he set off on the same course but had to abandon his paddle in Montana amidst record flooding. He had covered approximately 1700 miles (2735 km), but rather than restart at that same point in 2020, he covered that leg of the trip a second time.
As you can probably imagine, there were a number of challenges that popped up along the way. The pandemic obviously made things challenging while he was in a town or city, but while he was out on the water Moore was safely alone. He did run into difficult sections of high water once again and on his final push into Manhattan he ended up paddling backward for four miles due to high winds. On the Mississippi, he was nearly run down by a barge that was unable to see his small canoe in the darkness. Thankfully, he avoided disaster in each of those cases.
In Search of America
Part of the reason Moore's epic journey across the US took an extended time to complete was that he wasn't in a particular rush. Sometimes he would arrive in a town and end up staying for a few days or even a few weeks. His goal wasn't just to make a continental crossing by canoe, but to actually meet people and get to know places while en route.
While Moore is an American, he has spent much of his life living outside the country. This journey was his quest to go in search of a nation that he wasn't entirely familiar with before he set out. As mentioned, his goal was to document what was happening in the US on the run-up to the highly contentious 2020 presidential election. But considering how the past two years have impacted human history, he changed his mission to chronicling how the United States was dealing with the pandemic.
Since Neal is a freelance writer, I have little doubt that a book about this canoe expedition will be forthcoming. For now, you can catch up on his travels on his website 22rivers.com. He has written extensively about the trip throughout the paddle, so there is plenty to catch up on.
Also, it is fitting that he canoed on 22 rivers in 22 states and it took 22 months to complete.