by Nina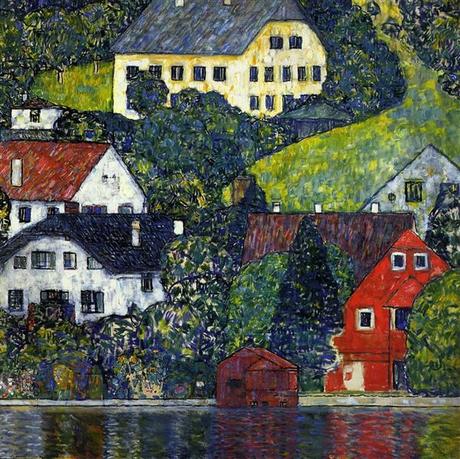 Houses At Unterach On The Attersee by Gustav Klimt
I just loved our post yesterday Accepting Your Body by Anna Guest-Jelley! It even made me a bit teary, as I think body acceptance—and self acceptance in general—are so important for all of us. I thought the first question she recommended was especially powerful:  
1. What does my body need in this moment, and how can I meet that need with the resources I have on hand?
This is the question I ask myself every single time I practice yoga at home. (I typically only take one class per week, maximum) That's how I use yoga to take care of myself physically, mentally, and emotionally. But these benefits only come for those who are willing to go out on a limb and start doing yoga by themselves and on their own. After all, the class you go to on a given day might be turn out to be exactly the wrong thing for you that day!
So, are you someone who always thinks about starting a home practice but never quite gets around to it? Or did you once have a regular practice but have fallen off the wagon? If so, I'd like to encourage you to start—or return—so you can begin reaping some of the benefits that Anna mentioned in her post. In his post Home Practice: The Best Way to Improve Your Health Dr. Timothy McCall says that practicing at home is the best way to improve your health. 
"If you are taking yoga classes but not practicing at home, you may be missing the best—and potentially most therapeutic—part of yoga. Your personal practice is where the deepest work happens, when you go inward and go at your own pace" 
And practicing at home will also allow you to use yoga to self regulate (see Self Regulation and Yoga), which means that you can learn to "monitor and manage your internal states."
Have I inspired you to get started (or start again)? If you do embark on a new adventure of practicing at home, let me know how it goes! Here are some posts from our archives may help you with your new home practice.
Motivating Yourself to Practice  
Energizing Yourself  
Pet More Dowwnward-Facing Dogs

Got 20 Minutes?  
Decide Each Day What to Do

Sequencing and Ideas for What to Practice 
We have lots of sequences on the blog, but being able to get what you need from your practice means learning to modify existing practices or develop them on your own.  
Practice As Many As You Can 
Mixing It Up  
Customizing Your Practice 
Stuck in a Rut? 
Creatiing a Mini Yoga Practice

Sequencing: An Essential Skill for Home Practice 
Sequencing in the Style of Krishnamacharya, Part 1 
Sequencing in the Style of Krishnamacharya, Part 2 
Iyengar-Style Sequencing, Part 1  
Iyengar-Style Sequencing, Part 2 
6 Ways to Take Care of Yourself with Yoga 

Yoga for Real Life
Staying Safe  
How to Stay Safe While Practicing Yoga 
Subscribe to Yoga for Healthy Aging by Email ° Follow Yoga for Healthy Aging on Facebook ° Join this site with Google Friend Connect