by Nina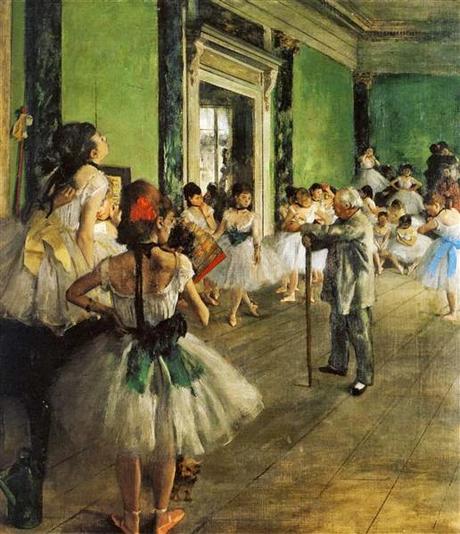 The Ballet Class by Edgar Degas
Recently I learned that my long-time yoga teacher, Donald Moyer, is retiring from teaching. (Baxter and I will be writing something about him in the near future.) I'm very sad that this teacher, who has influenced me more than any other I've ever had, will no longer be guiding me through a two-hour practice every Friday (and saying those magic words when he notices me internalizing his instructions, "Thank you, Nina."). But I also know that he's made the right decision for himself, and I'm focusing now on cultivating gratitude for all the years I had with him rather than dwelling on what I've lost.
But now I need to find a new teacher, and that's an interesting dilemma for someone of my age and level of experience. You might be wondering why someone like me, who has over 25 years of yoga practice behind me and is a trained teacher with has a really solid home practice, would even still want to go to a public class on a weekly basis. But there are three very valuable benefits I get from going to a good class that I can't image ever outgrowing or wanting to give up.
New Ideas
Even though I have years of decades of experience taking classes from a wide range of teachers and a nice library of yoga books, I tend to get stuck in a rut in my home practice and perhaps even in my thinking about topics such as alignment and sequencing. So it's good for my practice and my thinking about yoga to be exposed on a regular basis to someone else's point of view on yoga, especially someone who is thoughtful and creative, and is experimenting with new ideas themselves. Also, it just makes things more fun for me; I really get a kick out of learning new-to-me yoga pose (recently, some very old yoga poses) or a new version of a familiar one. That helps keep me enthusiastic about a practice that is so woven into my daily life I can take it for granted sometimes. And I'm sure it makes me a better blogger as well.
A Good Pair of Eyes
Although we practice yoga without mirrors by using our proprioception (our sense of where our body is in space), I've definitely noticed that if unchecked for long periods of time, many of us can develop physical habits that make our poses feel comfortable and aligned but are maybe not actually good for us. And I'm betting that left to my own devices, I'd be doing the same thing, too. So for me, there is really nothing like having the trained eyes of a good teacher on me, who can assess my alignment from the outside and offer verbal cues or physical adjustments to bring me into a healthier alignment. Ah, that feels much better.
Yoga Community
In my post Eight Ways to Join the Yoga Community, I talked about the importance for healthy aging of being a part of a community and how being part of the yoga community can help fulfill that need. I also think it's important for my mental and emotional health as I spend a lot of time alone at home, both writing and practicing yoga. For me, going to class regularly provides me with a sense of belonging and continuity. Aw, reading that old post about joining the yoga community made me homesick for my old class, because here's what I wrote:
"I always arrive early to my Friday morning yoga class, not because I want my usual spot in front of the window—okay, fine, I do want that spot—but because I want the extra fifteen minutes to chat with my yoga friends. And I think I'm not the only one who feels that way because by the time the clock strikes 9:30, the teacher often has a hard time getting our attention because so many of us are busy catching up with each other."
Yes, sometimes Donald would even ring a bell to get our attention! Before Donald officially retired, he was on a sabbatical, and I thought he would eventually return to teaching. During those months, I just didn't go to class at all. Eventually I found that I was really missing not just him but everyone else at the studio, and I decided that even if I couldn't find the perfect new teacher, I wanted to go back to the Berkeley Yoga Room. So I told my husband I was going to go to beginners classes there with him, as a way of forcing him to do yoga again, which he had gradually dropped (you'd think he'd practice at home with me, but that's another story), and he recently surprised me by agreeing to my plan. He surprised me even more lately by saying one reason he liked going regularly to classes at the studio now was that he valued just spending that time with some good people.
Subscribe to Yoga for Healthy Aging by Email ° Follow Yoga for Healthy Aging on Facebook ° Join this site with Google Friend Connect