Explore and eat your way through one of the world's most incredible cities with the help of this What To Do & Eat In Paris guide!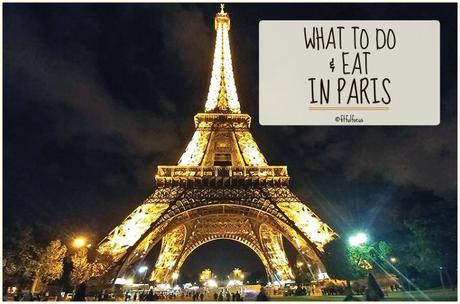 Welcome to the last installment of my vacation recap series! In case you missed them, check out my other guides: What To Do & Eat In Brussels & Bruges and What To Do & Eat In Nice, France.
I'm a little sad this is the last recap. I was living vicariously through my own recaps and trying to pretend like I was still on vacation haha. I guess that just means I have to plan another vacation soon! Anywho, let's dive right in to all the Fit & Fashionable things to do in one of the most fit & fashionable cities in the world: Paris, France!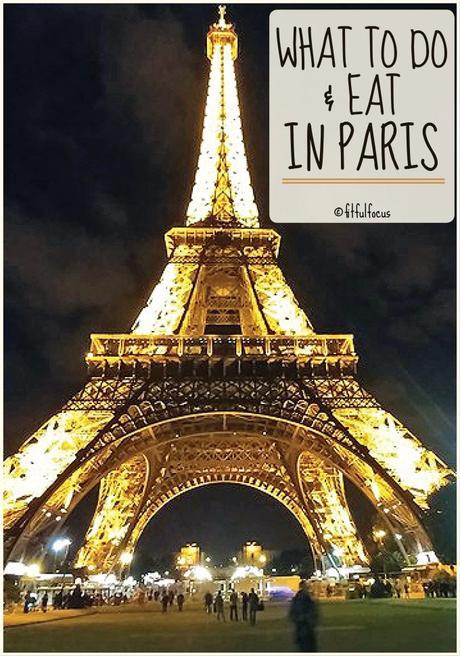 Where To Stay In Paris
Will and I wanted to find a good location in Paris - something that was either walking distance to a lot of sights or something near a metro station that could get us to a lot of sights. That said, neither of us wanted to spend a lot of money on a hotel room. We wanted to be out and about exploring, so instead of booking an expensive hotel, we found a great little Air BnB in the Montparnasse neighborhood. There were a TON of restaurants in the area, and we were really close to a metro stop that could get us wherever we wanted to go.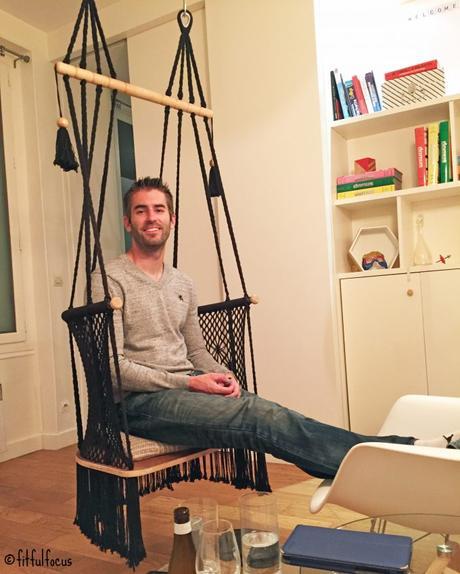 If money is no object, I suggest staying up near the Seine. Most of the major sites (Eiffle Tower, Notre Dame, the Louvre, etc) are along the river, so you'll have easy access and great views.
What To See In Paris
Paris has so much history and so many incredible sites. We knew the 3 days we had wouldn't be enough to see everything, so we did the whirlwind tour version.
Once we got to our Air BNB (which was a piece of cake from Orly Airport thanks to great signage), we dropped off our bags and immediately went out to explore. We walked to the Catacombs, which were less than a mile from the apartment, but the line was too long. Instead, we decided to walk over the Luxembourg Gardens. They were beautiful!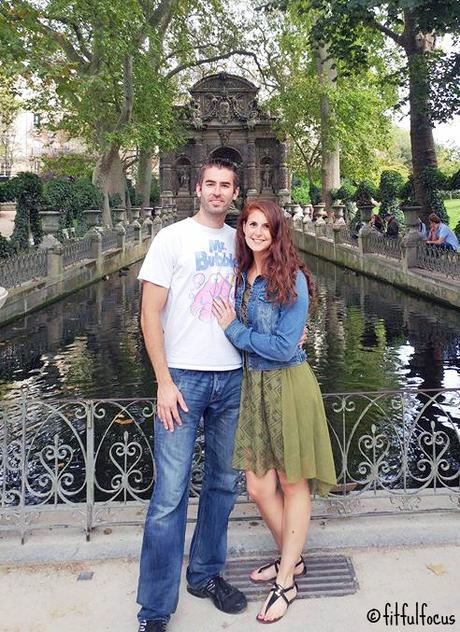 Afterwards, we kept on exploring and walked across the Seine and to the Louvre. We didn't go in the museum, but we enjoyed all the views from outside it.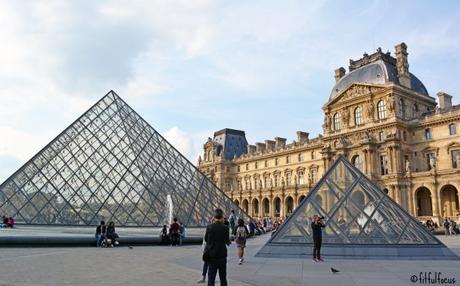 The next day was our big see-all-the-sites day. We took the metro to the Eiffel Tower (which we climbed to the top of), and then did a hop-on-hop-off boat tour that took us to all the sites along the river (full list of places to see below). I thought the boat tour would be awesome, but I was a little disappointed. There wasn't an actual guide on the tour, so we didn't learn anything about the sites, and it was a little slow. Sometimes we'd have to wait half an hour for the next boat to come. However, it was nice and relaxing to cruise down the river.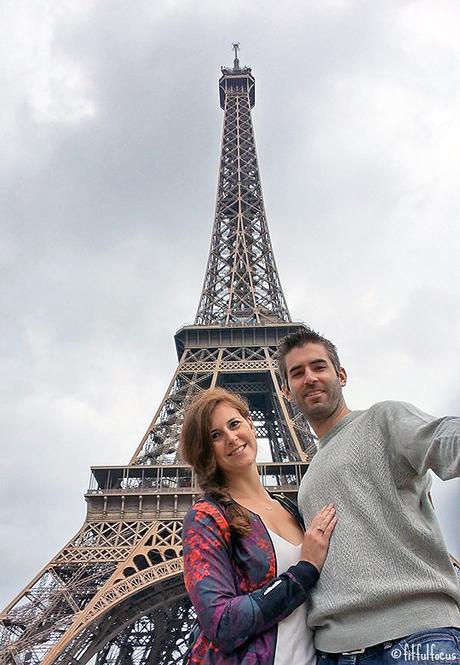 We ended the day by walking down Champs-Elysee to the Arc de Triomph before heading back to our apartment in a hurry because I had to pee! #smalltankproblems
Day three was our walking tour day, and probably my favorite day of the trip. We did two free walking tours, one called Hidden Gems which took us to some lesser-known sites and shops in Paris and one of the Montmartre neighborhood. It started at Moulin Rouge and took us up through some artsy neighborhoods to the beautiful Sacre-Coeur, where you can see some of the best views of the city. We had the same tour guide for both tours, and I highly recommend him!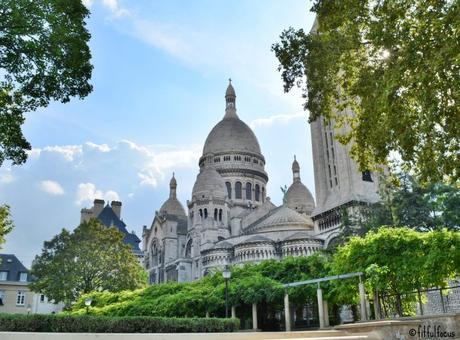 I really enjoyed the Montmartre tour, and Sacre-Coeur is gorgeous. I suggest spending the few euros on climbing up to the top because the 360 views are beautiful. We also ended up chatting with a Russian girl who we later discovered won an Olympic gold medal in synchronized swimming at the Rio Olympics! Crazy!!
That night, we were supposed to do a private night tour called Cedric's Tour. Basically, we'd be driven around in a cute old, open-roof car and given a private tour of the city by night while enjoying a bottle of champagne. This was our big excursion for the trip, and I was really looking forward to it. Our driver picked us up, and we headed off to our first stop: The Opera House. It was beautifully lit up and absolutely stunning. Our driver got out of the car to open up our champagne, we toasted to the last night of our vacation and then... the car wouldn't start. Yup. Totally dead. Our driver/tour guide spent 15 minutes trying to fix it and tried to call people to come help him fix it, but nothing worked and no one answered. He apologized profusely, but told us the tour was over. Will and I were both SO bummed. Of course, they didn't charge us, but we'd been looking forward to the tour and seeing Paris all lit up at night for weeks.
I didn't want to head home without seeing anything, so Will and I made our way back to the Eiffel Tower to at least see that lit up. Ever hour, a little light show goes down, making the tower sparkle. Pictures just can't do it justice.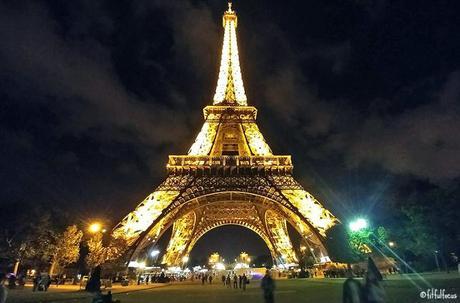 On our last half day, we went back to the Arc de Triomphe and climbed to the top for more great views before bidding a very sad adieu to Europe and heading to the airport.
An overview of sights to see in Paris:
The Catacombs
The Luxembourg Gardens
The Louvre
Champs-Elysees & the Arc de Triomphe (climb to the top)
Notre Dame (free to go inside)
Musee D'Orsay (we didn't do this but people rave about it)
Hidden Gems walking tour (it's free but bring cash to tip your tour guide)
Montmartre walking tour (also free but again bring tip)
Sacre Coure (free to go inside, a few euros to climb to the top)
The Eiffle Tower (climb to the top by day and see it lit up at night)
The Opera House
Day trip out to Versailles (we didn't do this on our trip, but I've done it in the past and it's amazing!)
Bonus Tip: If you plan on going to a lot of museums or going into a lot of attractions (such as going up to the top of the Arc de Triomphe) look into getting a Museum Pass. It could save you a ton of money!
What To Eat In Paris
When in Paris, the one thing you must find is a bakery for fresh baguettes, croissants and Parisian treats. We learned from our tour guide to look for a place labeled as a "Boulangerie" (bakery in French). If a shop has that label, it means they make everything fresh right on-site. We found a little place after hiking up Sacre-Coeur where Will got a croissant and I enjoyed a meringue the size of my head.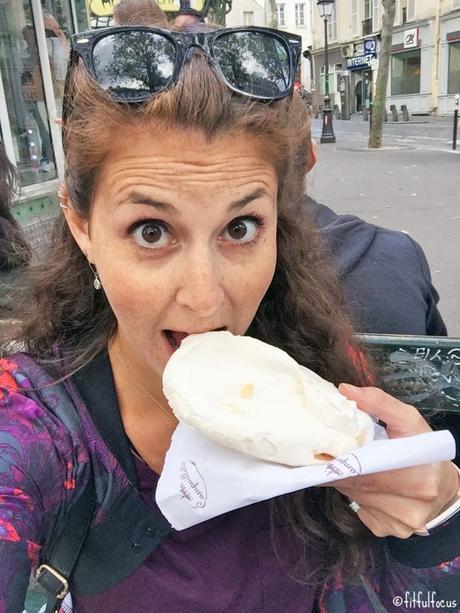 In Paris, all of the restaurants are required to post their menus in the window or outside, so you can check them out before you go in. Our guide told us that the best restaurants will have only 2 pages of food (a small menu means they can make everything fresh and to-order), a gazillion pages of wine and will only be in French. Since Will and I don't speak French AT ALL, I used the Google Translate app to help me figure out what was on the menu. It was tough, but we ended up doing pretty well.
Eating in Paris was probably the trickiest of the trip due to so many French-only menus, but we made due. I had a few delicious omelettes and even tried some steak tartare! If you don't have allergies to worry about, get in all the fresh baguettes and croissants you can!
The one thing I wish we'd had time to do was a wine tour. I love me some wine, and I think it would have been fun to learn more about French wines. I guess I'll just have to go back!
Eating Tips:
Look for shops labeled "boulangerie" for freshly made baked goods
Look for simple menus written only in french
Enjoy all the wine!
Another thing I wish I'd gotten to do in Paris was run. Unfortunately, I came down with a bit of a cold the day we arrived, and I didn't want to push myself more that I was with all the walking we'd been doing. Another excuse to go back at a later date!
Before you join the link up ( full link up rules here), be sure to check out part 1 and part 2 of my vacation recap!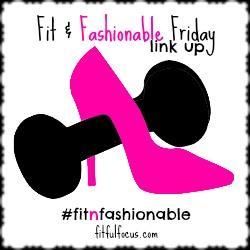 Let's Chat:
Have you ever been to Paris? Add you travel tips in the comments!