Sick of plain old baked potatoes? These Crispy Gluten-Free Scalloped Potatoes will take your side dish game to the next level.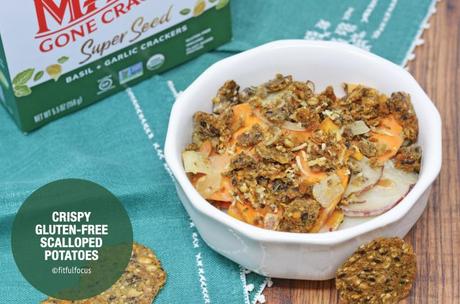 When the New Year rolls around, I usually get amped up to try new recipes, but this year has been... a little different. I've been lacking inspiration for new healthy recipes and instead find myself falling back on the same few side dishes time and time again. Broccoli with garlic. Carrots with garlic. Brussel sprouts with... you guessed it... garlic. Obviously, I love me some garlic, but there's got to be more to life than sprinkling garlic on a veggie and calling it a side dish.
My little cooking angel conscious kept nagging me, "Come on, Nicole! It's a new year, time to try some new things!"
After weeks of persistence, my cooking angel's little nags finally worked. I was putting together my grocery list for the week whilst enjoying one of my favorite healthy weekend snacks (Mary's Gone Crackers Basil and Garlic crackers with hummus) when inspiration struck.
What if I were to take this delicious gluten-free cracker and use it as a crispy, crunchy topping on some sort of tasty veggie? That would certainly elevate my veggie side dish game.
So, I stopped using my cracker as a traditional cracker and started brainstorming a better, brighter, even tastier future for it: these Crispy Gluten-Free Scalloped Potatoes.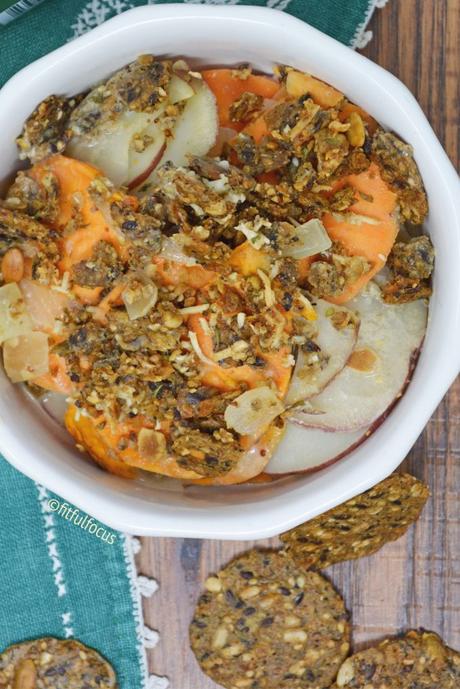 Tell me more about this inspirational cracker.
Mary's Gone Crackers Super Seed Basil and Garlic crackers are one of my favorite munchies. They're packed with nutritious seeds (think pumpkin, sunflower, sesame and flax), have 5 grams of protein, and are filled with the zing of fresh basil and roasted garlic. They're always organic, totally plant-based, and gluten-free.
Mary's Gone Crackers has a TON of delicious types of crackers and flavors. Their Super Seed line is one of my favorites. They're crammed with healthy goodness and come in Basil and Garlic, Everything, Seaweed and Black Sesame, Classic, and Rosemary. This recipe for Crispy Gluten-Free Scalloped Potatoes would be great with any of those, but Basil and Garlic is my cracker of choice.
What do I need for this Crispy Gluten-Free Scalloped Potatoes recipe?
Obviously, you'll need a box of Mary's Gone Crackers Super Seed Basil and Garlic crackers (some for the recipe and some to munch on while you cook).
You'll also need an onion, vegetable broth, Dijon mustard, dairy-free cream cheese, two sweet potatoes, four red potatoes, dairy-free butter, and oil.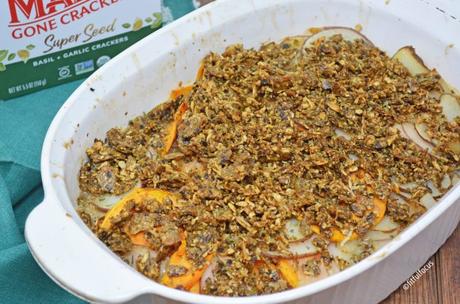 How do I make these Crispy Gluten-Free Scalloped Potatoes?
Start by preheating your oven to 400° and coating a 9×13 casserole dish with cooking spray.
While that's preheating, prep your ingredients: chop half an onion, peel and slice two sweet potatoes, and slice four red potatoes. I suggest using a mandoline slicer if you have one.
Heat a couple teaspoons of olive oil in a saucepan over medium heat and cook the chopped onion for a few minutes until tender.
When your onion is ready, set it aside and place the veggie broth, mustard, and cream cheese in the saucepan. Heat until the cream cheese is melted and everything is well mixed. Add the onion back in and stir to combine.
Place all the sliced potatoes in the casserole dish. Cover with the broth/onion mixture and toss to coat.
In a separate bowl, mix 1.5 cups of crushed Mary's Gone Crackers Super Seed Basil and Garlic crackers (about half a bag) with two tablespoons of melted dairy-free butter. Add ¼ cup of dairy-free parmesan cheese if desired and stir it all together. Sprinkle the mixture on top of the potatoes and cook uncovered for an hour.
Remove from the oven, let it cool for about ten minutes, and then dig into the goodness of these basily, garlicy, crispy gluten-free scalloped potatoes!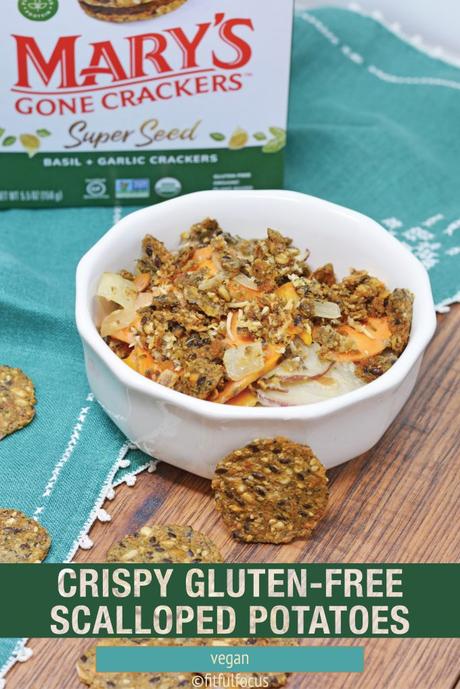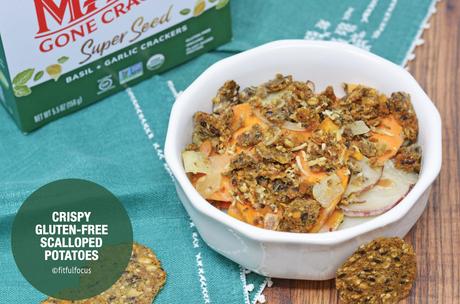 Ingredients
Instructions
Let's Chat:
Have you tried Mary's Gone Crackers?
Which flavor crackers would you devour?