Want to spoil your pet? Of course you do! BabbleBoxx put together a box filled with treats and tools to keep your pooch healthy and happy.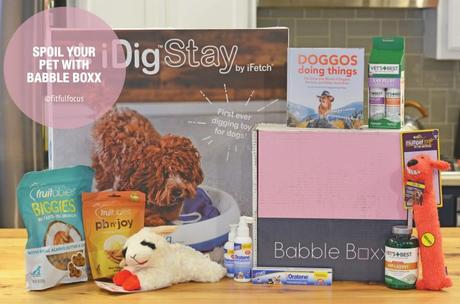 This post is sponsored by BabbleBoxx.
I bet I relate to every dog parent here when I say my dogs are my family. Moose and Kevin are my furbabies. I love them unconditionally and would do anything to keep them healthy and happy.
That includes making sure their water dish is always filled, their food is tasty, they're up to date on all their meds, they get enough exercise and playtime, socialization with their furry friends, ample pets and ear rubs, snuggle time, enough cookies to keep them happy but not unhealthy and telling them I love them 1000 more times a day than they need to hear.
Yes, I spoil them, and I'm not ashamed to admit it. If you're at all like me (aka a total sucker for a cute face and a wiggly tail), then please read on for six ways you can spoil your pet on the reg.
Spoil Your Pet with nutritious treats
Moose and Kevin's favorite word is "cookie." All I have to do is say it and they come running over and sit the prettiest sits they could ever sit. They're not particularly picky when it comes to their cookies, but I am.
As mentioned, my dogs are my babies, so I'm careful about what goes in their bodies. I want to make sure the majority of the treats I give them provide them with nutrition as well as happiness. Fruitables®️ give them exactly that.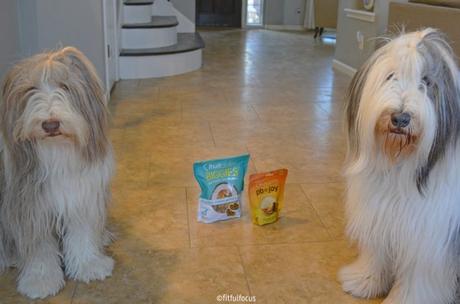 Fruitables are delicious, natural dog treats made with a combination of real fruits and veggies packed with nutrient-rich benefits that are low in calories. Moose and Kevin LOVE Fruitables Biggies Almond Butter & Coconut. They're made with real almond butter and coconut, and look like girl scout cookies. Honestly, they smell so good and the ingredient list is so great I was tempted to eat one (don't worry, I saved them for the doggos).
They've also been enjoying Fruitables pb n' joy Peanut Butter and Banana treats. Made with real peanut butter and healthy fruit, these treats are soft, chewy and packed with protein. They can be split, so they're perfect for Moose and Kevin to share, although I'm sure they'd prefer not to.
Spoil your pet with toys
Whenever I come home carrying something, Moose will gently pop up on his hind legs and stretch to sniff whatever I'm holding. He's always curious and wondering if it maybe, just maybe, is something for him.
Whenever it actually IS something for him, his eyes light up, his ears perk up, and he gets so excited, especially if that something for him is a toy that squeaks. Kevin then wants any toy that Moose has, and the playing (aka stealing toys back and forth from each other) begins.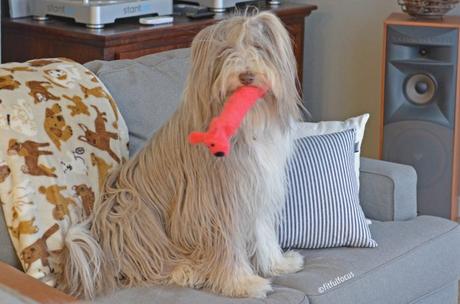 They were EXTRA pumped when I gave them two new dog toys from Multipet International, Inc: The Original Loofa®️ Dog with Squeaker and Lamb Chop®️!
Both toys are perfect for dogs that like to toss, cuddle, play and get exercise, which is exactly what Moose and Kevin enjoy. They'll sit and gently nibble on a toy, they'll prance around with them, but mostly they love to play fetch and keep away with them.
if you want to make your pup smile, check out these toys here.*
*Warning: Always supervise your pet when playing with pet toys. This product should be inspected periodically for damages. Do not permit your pet to continue playing with a broken or damaged toy. Please discard when worn. No pet toy is indestructible. Intended for pet use only.
Keep your pet healthy
As much as I love spoiling my pets with tasty treats and fun toys, I also know that their health and well-being is the most important thing. If something seems off with them, I try to investigate and get to the bottom of it. Dogs may not be able to voice to us when they aren't feeling well, but they can tell us in other ways.
Kevin, for instance, is prone to dog ear infections. I can tell when he has one coming on because he'll scratch his ear more often than usual and be quite vocal when he does so (we call it mooing). Because of that, I always keep ear relief on hand for him.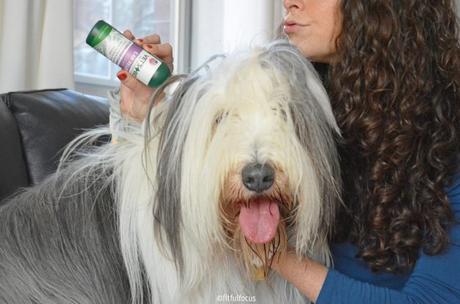 Vet's Best Ear Relief Wash and Dry Ear Cleaner Kit is a simple dog ear cleaner that helps give my floof fast, effective relief when his ears are irritated. Both formulas contain gentle, soothing ingredients such as chamomile, clove oil and aloe vera, so I can feel good about what I'm putting in his cute little ears.
Vet's Best has a number of products to keep your pup or doggo healthy, including chewable Advanced Hip & Joint Dog Supplements to help dogs maintain healthy cartilage and joint mobility.
Make them smile
One of the first things my vet told me about when I brought Moose in for the first time was the importance of dog dental care. Unlike us hooman folk, dogs can't brush their teeth or rinse with mouthwash. That means it's up to us to help keep their teeth clean, their gums healthy and their breath fresh.
The vet first suggested I brush Moose and Kevin's teeth but attempting to do that was an epic fail. Fortunately, Oratene Brushless Oral Care makes products that help keep pets' smiles in top shape without any brushing.
All Oratene products use a patented enzyme system that effortlessly cares for pets' dental health. They're safe for dogs and cats and don't contain any toxic xylitol, detergents, chlorine or alcohols.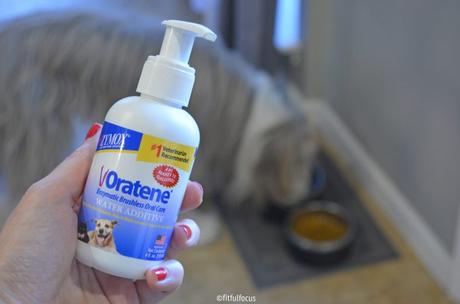 My favorite product of theirs is a Drinking Water Additive. I simply pump a few squirts into their water dish each day, give it a stir and watch them lap up the benefits of Oratene's enzyme system.
Oratene also makes a Toothpaste Gel that doesn't require brushing and a Breath Freshening Spray (doggy morning breath is real, ya'll).
Check them out here and use code Oratenepet for 10% OFF (valid until 3/7).
Spend quality time with them
Sometimes Moose and Kevin make me feel like a hooman entertainment machine, here to throw toys and play on-demand, but other times they just want to hang out by me. Those are the moments I feel the most loved, and those are the moments where I want to put everything else aside and just focus on spending quality time with them.
I'll sit and pet them, I'll sing them silly songs, and yes, I'll even read to them.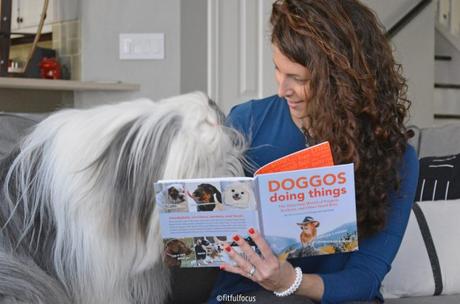 Kevin was pretty taken by our latest read, Doggos Doing Things: The Hilarious World of Puppos, Borkers, and Other Good Bois by the Creators of the @doggosdoingthings instagram.
This is the perfect gift book for dog parents. It features over 150 adorable dog photos and fun, sometimes ridiculous, dog memes wrapped in a mini coffee-table book.
Get yourself (and your pupperino) a copy here.
Occupy them with fun activities
Moose almost ALWAYS wants to play, but I can't always play with him (thanks, adulting). Fortunately, I found an awesome new outlet for him.
iFetch, an Austin-based company committed to keeping dogs healthy and happy through interactive play, recently came out with the iDig digging toy. It features three flaps for burying "treasure" (aka cookies) for him to find. He has to use his doggy brain and his cute little legs to dig out the prizes. It's the perfect way to keep him occupied when I have to work but he wants to play.
It would also be great for dogs who like to dig. It'll help them get their digging energy out without ruining your yard or upholstery.
Look at him go:
Check out the iDig here and get 15% OFF when you use code BABBLEFEB.
Spoil Your Pet: a summary
All in all, spoiling your pet comes down to providing them with health and happiness. These are just a few of my favorite ways to do just that.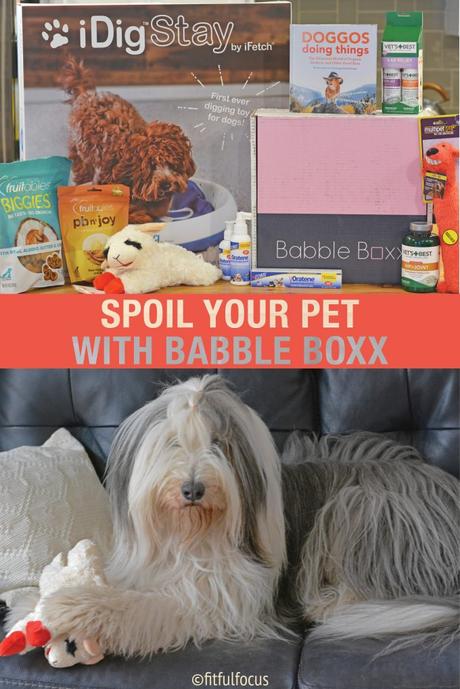 Now go give that pupper a snoogle and boop their nose.
Let's Chat:
What's your favorite way to spoil your pet?