by Nina and Ram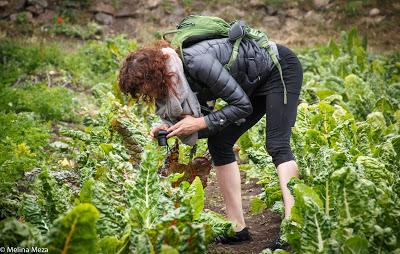 Photographing Chard by Melina Meza
Okay, this is going to be a really boring post for most of you. But I really think it needs to be done because there is an important scientific issue we need to address. You see, we've received a lot of inquiries (and even, I have to say, flack) about the sample sizes in some of the yoga studies we have written about on the blog. Some of those inquiries have been public in the comments section and others have even come in through my private email. So I'm just going to bite the bullet and get it over with.
In Ram's post More on Yoga for Brain Strength: Neuroprotection, he wrote about a study in which the sample size was very small (just 14). This was also true in his post Rapid Cellular Changes Triggered by Yoga (just 10) as well as many of the studies we have written about in the past. And some of our readers have asked, if the sample size is so small (under 100), how can we take the results seriously? Aren't the results basically meaningless? Or, at least shouldn't we take them with a large dose of salt?
I turned to Ram for a response. Before I tell you what he said, I want to be sure you all know that Ram is a Research Associate Professor at the Buck Institute for Research on Aging. He has a Ph.D. in Neuroscience, and his research there is focused on aspects of age associated with neurodegenerative diseases with an emphasis on Alzheimer's disease. So we trust his scientific judgment.
Now here's Ram's response: he says that he disagrees with the claim that we need to dismiss these studies or take them with a huge dose of salt because:
The studies were published in peer-reviewed journals, which means that the reviewers saw merit in the findings and suggested that the study be published.

What is a good sample size? There is no set standard. The rule of thumb is that it is better to have a large sample size to minimize systemic errors and standard deviations, unless the results happen to be too significant to ignore in a small sample size like in these particular studies.

These are not clinical trial studies; these are a pilot study and pilot studies generally employ small sample size.

If changes between two sets of paradigms (in this case yoga group vs. control) are highly significant with very minimal variation, the results are not only meaningful but they override the small sample size.

Such studies where the results are highly significant with very minimal variation, not only can be successfully replicated, but they can be implemented for a larger trial.
I hope that settles the issue for now. We'll continue to publish posts about these interesting pilot studies, and because we'll continue to include the sample sizes used, you are free to draw whatever conclusions you like.
I'd like to add my own note to this. One reason why many yoga studies are so small, and often never progress beyond the pilot study stage is that funding for science is at an all-time low here in the U.S. (Most of the larger studies are conducted, for obvious reasons perhaps, in India.) More support for the National Science Foundation and the National Institutes of Health will not only allow there to be more studies on the benefits and mechanisms of yoga but will also enable continued work on other critical health problems, and this will be of value not only people in the US but people worldwide as well. (Yes, I am married to a scientist.)
Subscribe to Yoga for Healthy Aging by Email ° Follow Yoga for Healthy Aging on Facebook ° Join this site with Google Friend Connect