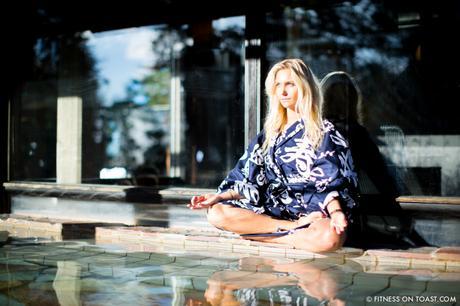 Whilst on a trip back home to Sweden, I spent some time at
a truly unique spa hotel. 'Yasuragi'
as it's named in Japanese, is nestled on the outskirts of the beautiful
Stockholm archipelago
, and is deeply infused with Japanese heritage throughout. The hotel, a former school designed by a Japanese architect, is vast, light, natural and altogether in tune with the verdant forestry surrounding it. Wherever you look there are sweeping, majestic views are over the lush archipelago and a fascinating combination of 'the modern' – large concrete slab walls, floor to ceiling windows – and 'the traditional' – Japanese tatami mats on the floor and walls and the respectful national ethic.
It's a place to unwind and re-energise amidst the invigorating beauty of Swedish forestry, and from which to return home with renewed physical and mental strength.
Click MORE to see my review…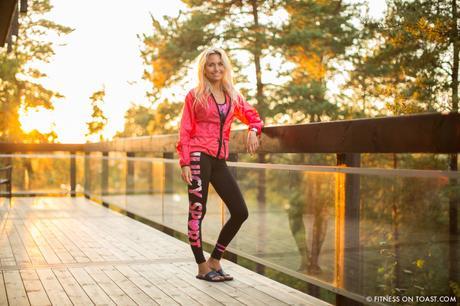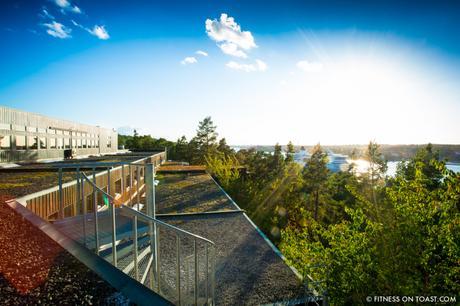 Yasuragi is so unlike anywhere else I've been. There's
an immense tranquility which strikes you from the moment you enter the hotel
, and are presented with your own
Yukata
– the cotton robe i'm wearing in the picture below. The gentle feeling of comfortable seclusion 
prepares your body for 'recovery mode'
– a mode it doesn't often enter into when battling city life! I'm going to walk through some of my favorite parts – some for which I have pictures, others for which I don't, but hope my descriptions will do them justice
:)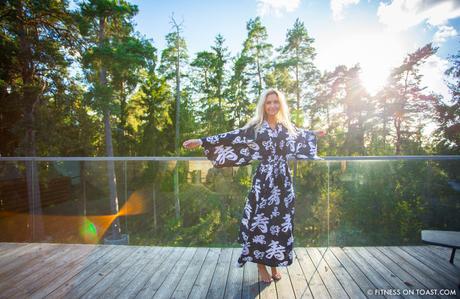 1) ROOMS
All rooms are fabulously spacious and decorated in a pared back, Japanese style – and they all have a beautiful view over the Swedish archipelago. My room had a generous balcony which was perfect to watch the sunrise and sunset over a cup of tea. You sleep on futons just like in Japan. Whilst no two rooms are the same, they all take inspiration from the outdoors using natural materials – pine wood and stone. The bathroom has two ablution areas with stools, pails, and a wooden Japanese soaking tubs.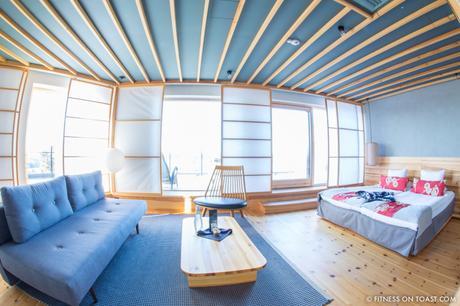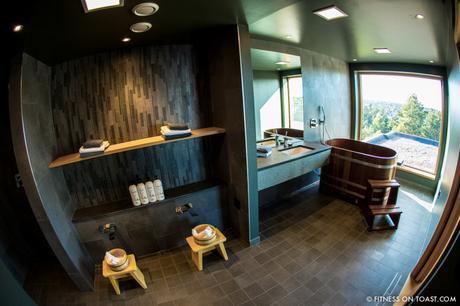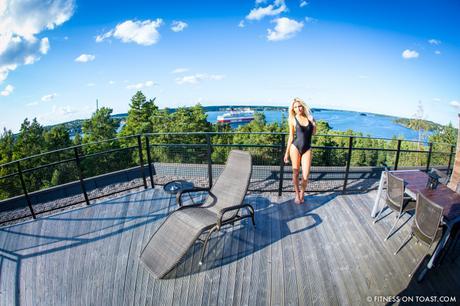 2) POOLS
Upon arrival it's wonderful to get the full introduction to the bathing ritual. Whilst you'll find showers and large wooden baths in your rooms and in the shower facilities you'll also notice the wooden buckets which should be used when cleaning oneself.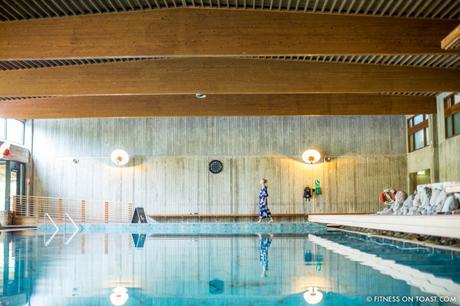 3) THE INDOOR POOL
Inside you'll find a large 25m long cold pool which is perfect for laps. Next to it is a cute teahouse, which is a haven for extra relaxation. Below is me having a little dive…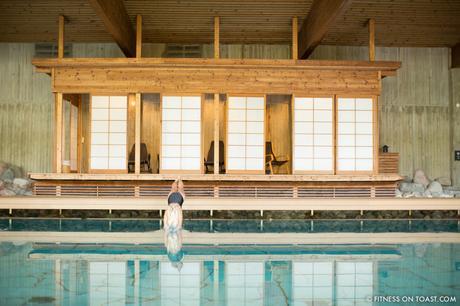 4) HOT BATHS
The pools or hot springs outside overlooking the archipelago are indeed
very
hot, especially in the icy winter months, and sit under the birch trees guarding the complex, with a view out to the water. I find the thermal energy works wonders for loosening up muscles, and can often end up like a shrivelled prune, from just enjoying it for so long!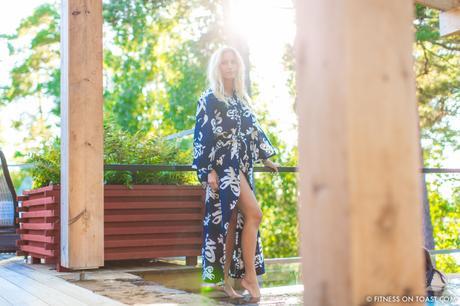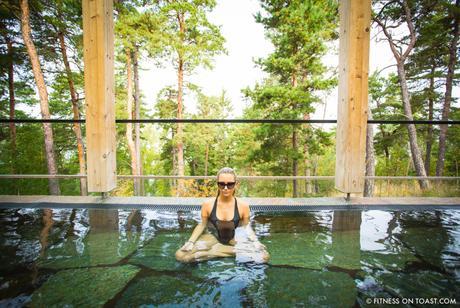 5) JAPANESE GARDEN: 
Being a bit of a nature lover, a wander through the Japanese Gardens was a favorite for me! They're replete with Swedish cherry trees, Japanese maples, magnolia trees and bamboo, set amongst the dramatic archipelago landscape. The contrast between surrounding movement and calmness within, hiking and resting, nature and garden creates an atmosphere of amazing serenity.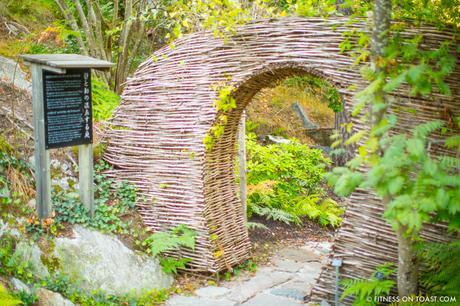 6) SAUNA WITH A VIEW:
This sauna has a tranquil view over the water below and you'll want to stay here for ages…well perhaps until you're melting and decide to jump in one of the ice pools with an equally great view!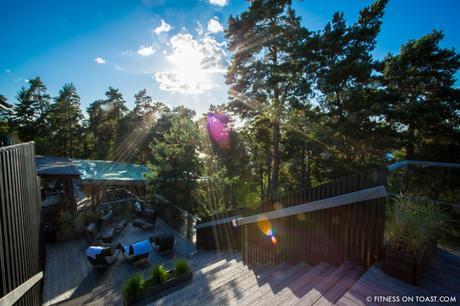 7) HEALTHY EATING
Wherever you look you find water (there's a strong emphasis on hydration throughout the hotel), and in the lounge a fresh selection of fruits and teas for the sampling. There's also a selection of raw healthy foods to purchase at the hotel's shop.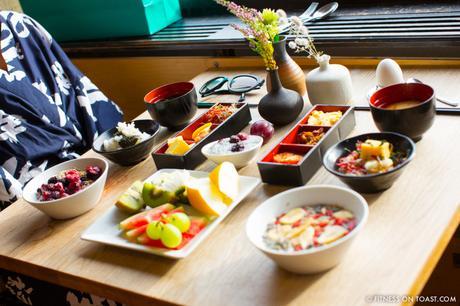 8) RESTAURANTS:
There are a vast five restaurants – Tatami, Tokyo, Kaiten Zushi, The Sake Bar and Teppanyaki.
I had dinner at Tatami on night where you sit on straw mats (tatami) at ultra-low tables whilst being served in the traditional Japanese manner. I sampled the taster menu which was super fresh, tasty, incredibly light and nutritionally well balanced!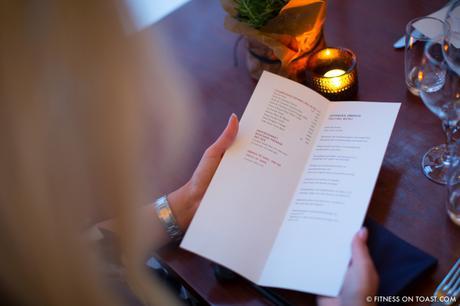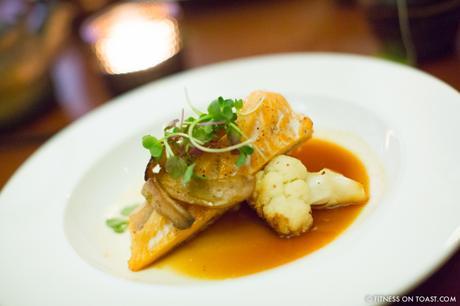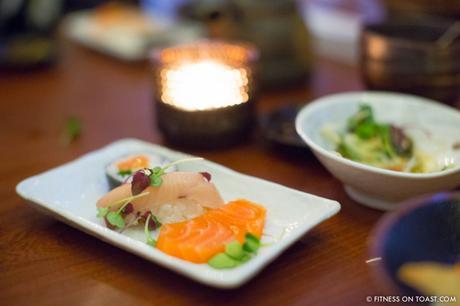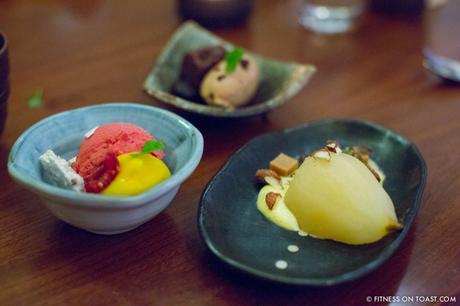 9) BREAKFAST
As with most hotels, you're offered all the classic crowd-pleasers like toast, jam, eggs of all varieties, juice, muesli and so forth. However, Yasuragi also offers a japanese breakfast; with that in mind, I had Miso soup, with a nori salad and tofu and rice, along with some salmon sashimi, and a bowl of chia coconut and berry gruel (delicious!).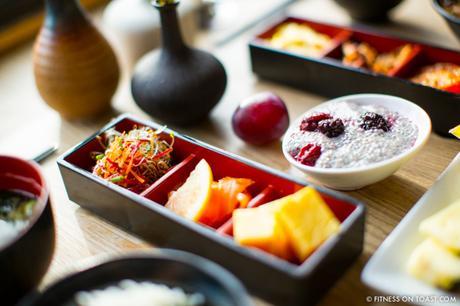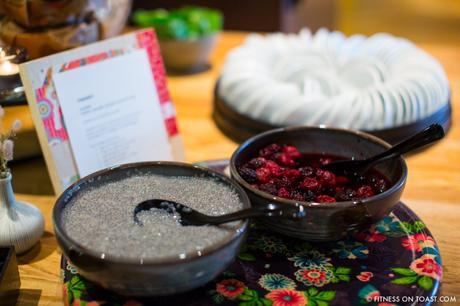 10) 'COME AS YOU ARE' ETHOS
Here they encourage you to 'Come as you are', and upon arrival you're given your yukata, the cotton robe, along with a pair of slippers and a swimsuit/trunks. That's intended to be your clothing during your stay, and you're totally encouraged to wear it for everything including mealtimes. In a way, you leave your worldly concerns at the door, and embrace a more spartan existence! Here everyone dresses the same… and it's quite relaxing :)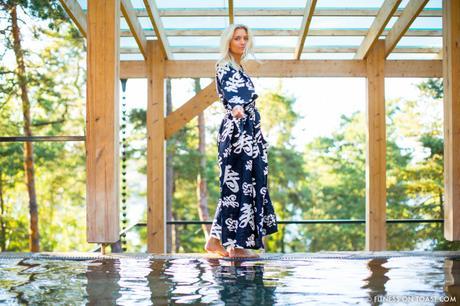 11) REVOLUTIONARY MASSAGE OFFERING:
In the shots below, you see me trying the Wellness Air Massage – a world-exclusive new form of massage which sees you suspended and cocooned in a red fabric 'hammock', which is fastened to the ceiling by rope. Lying or sitting and often in yoga-inspired poses the masseuse will give you a soothing foot, hand, neck and head massage. Whilst it looks unusual, it is profoundly relaxing, and the effect it has on your muscles is quite remarkable – I've not experienced anything so deeply insulating and de-stressing since the womb! It is absolutely worth trying, and will be totally memorable for all the right reasons!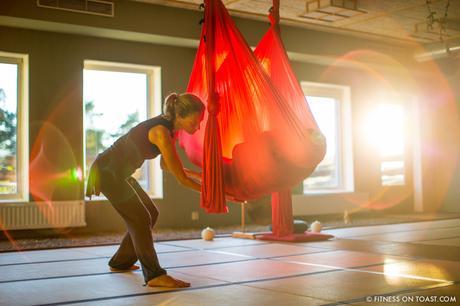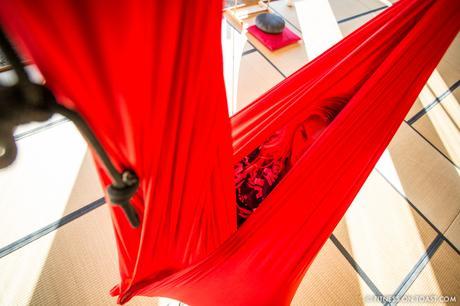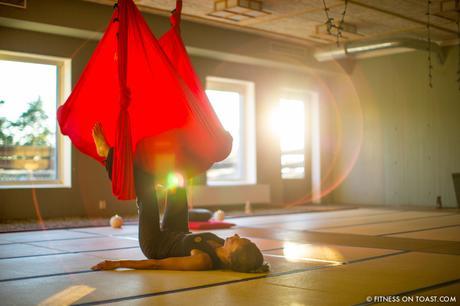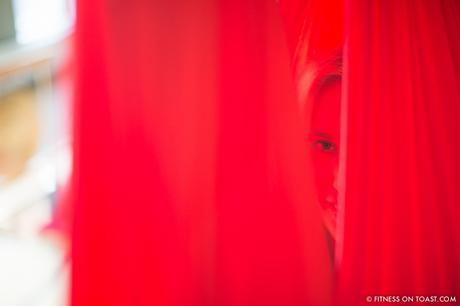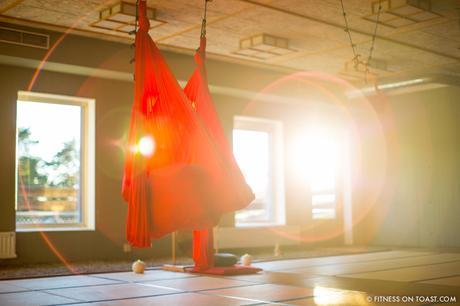 12) CLASSES
There's an extensive schedule of communal activities, in which every guest is invited to participate. There are guided meditations, yoga classes, gong journeys and more. With no restrictions on undertaking classes, it's worth trying them all to enjoy the full benefit to your wellbeing!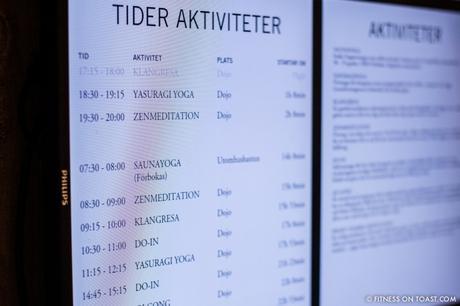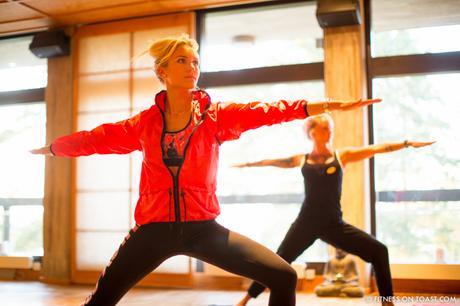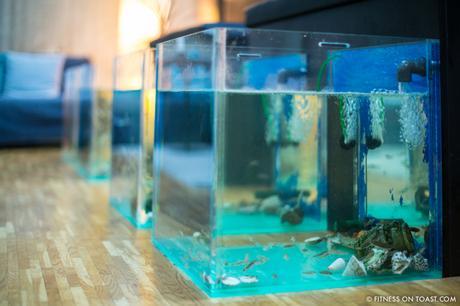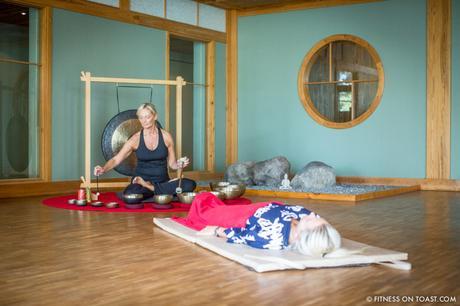 13) OVERALL EXPERIENCE:
To extract the optimum value for your body and mind, I think it's worth staying here for 3 long days. It is the type of place where you'll benefit from completely immersing yourself in everything they have to offer; all the classes, all the food, all the treatments and facilities. Comparing it to other hotels is inappropriate, as it's not supposed to be judged on its plush touches – it is totally different from that, and almost shuns such materialistic and classically western elements. To my mind, it offers some of the most spectacular views of nature, and it provides the peaceful relaxation of a secluded retreat. The question is if you're ready for it, as admittedly coming from frenetic London, something that first struck me was the depth of quiet; no buses, traffic or yelling; you're very much able to consider your own thoughts without distraction. The after-effect is quite striking though, and a full 24 hours here counts more than double! This wasn't my first visit, and it certainly won't be my last… Faya x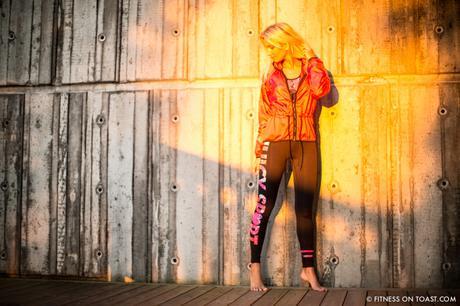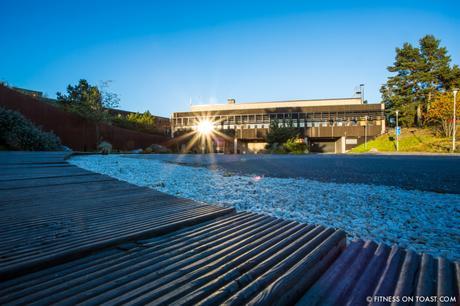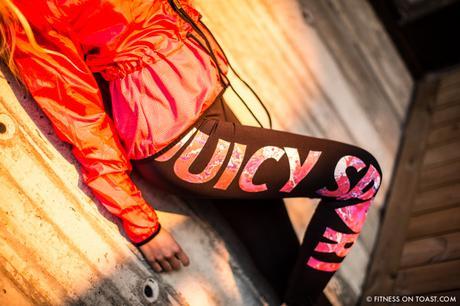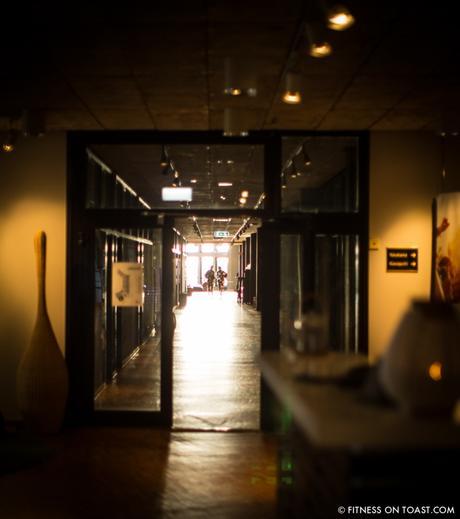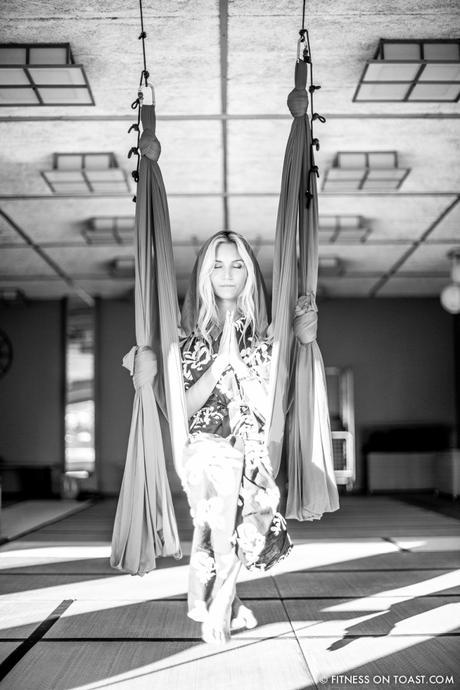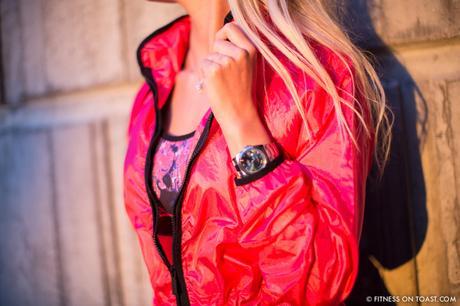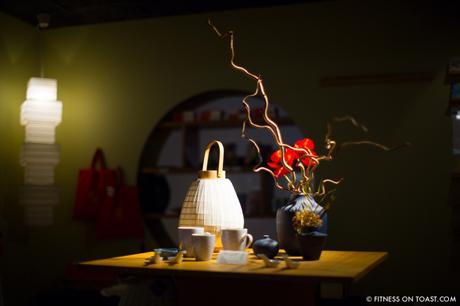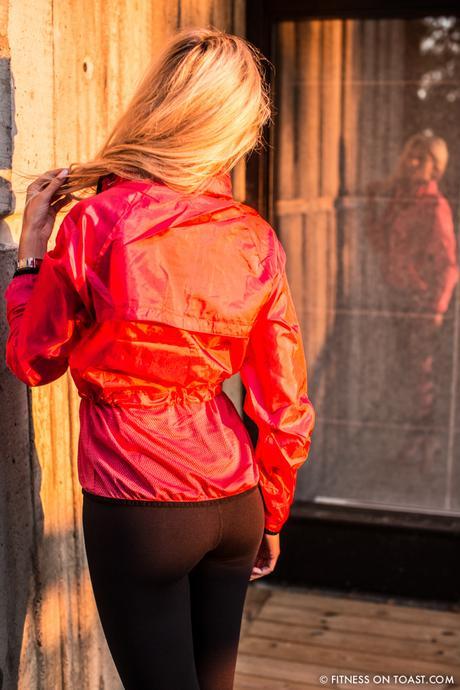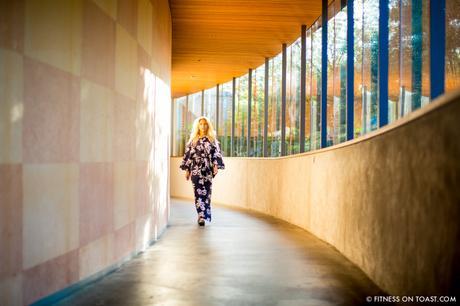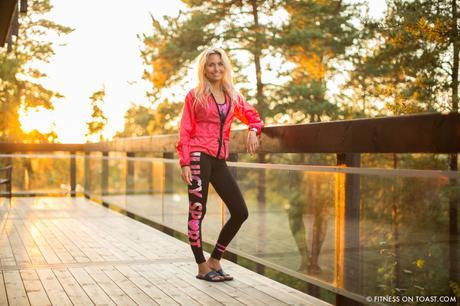 ____________________________
I WAS WEARING:
Jacket: 'All over Juicy Sport' similar HERE
Pants: 'Graphic Legging'
Bra, 'Tropical Punch', similar HERE
_______________________
YOU MIGHT ALSO LIKE: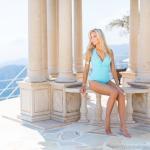 ACTIVE ESCAPE: EZE!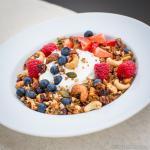 QUINOA GRANOLA?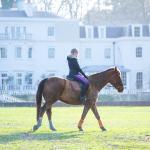 ACTIVE ESCAPE: ASCOT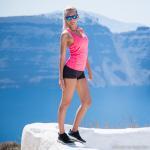 POWER WALKING