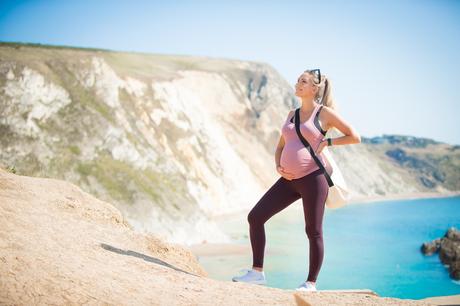 If you're as stubborn as me, and are convinced that there *ARE* yet days remaining of the summer, here's a remarkable day trip idea for you! Earlier in the month, I spent one such day enjoying the exquisite Jurassic coast, on the Isle of Purbeck, Dorset, England's only natural UNESCO World Heritage Site – which was really quite resplendent in glorious British sunshine! Whilst I'm 8 months pregnant, a gentle hike along the rolling chalk cliffs is just about the perfect level of exertion for me and the little one, so I/we packed a bag and headed down to Durdle Door for a walk and an afternoon of calming ocean breeze. It was an excellent destination to trial my brand new Apple Watch Series 6 (previous reviews HERE) on the hike. Plenty of interesting insights packed into this one, my dear reader, so read on…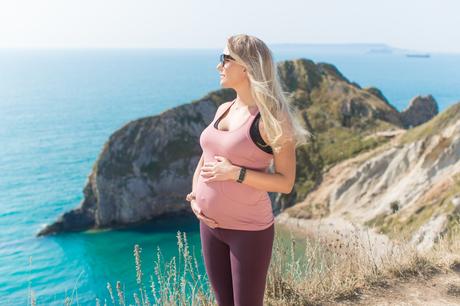 And so, without further ado…
APPLE WATCH SERIES 6
I've owned each of the preceding 5 series' of watch and have become somewhat dependent on how they add to my communication capacity as a social human. I miss less conversation, I catch more news, I remain better informed, and I stay reachable if I want. Series 6 is a really nice evolution which I think lays the groundwork for a revolution in automated diagnostics. I should say from the outset that Apple kindly seeded me with this watch, but these impressions are my own and not influenced by external factors. Things I like about this?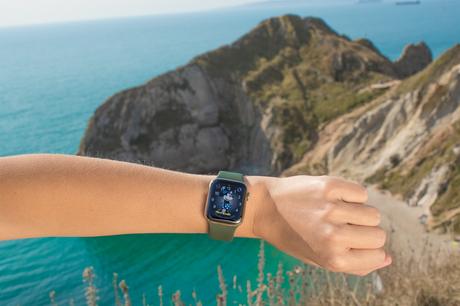 STYLE: the familiar form of the case itself remains unchanged, but there are some new colourways such as Blue and Red – I am enjoying this updated classic yellow gold colour, as it feels a little more 'precious' than the anodised aluminum cases of old, yet costs no more. Away from the case, the braided yarn solo loop is a bit of a style triumph to my mind, and I have since already accessorised with it, per the picture below – the interwoven nylon-elastic diagonal mesh is super-comfortable, well-machined, and ultra-practical! You barely feel that the watch is there; it is the most comfortable watch strap I have worn, for digital or mechanical devices.
STATS: The Blood Oxygen Sensor is probably the most radical new feature on the Apple Watch, and it's one that I've found myself using more frequently than I'd expected. LEDs on the back crystal can measure light reflected back from my blood stream and glean how well oxygenated it is – it keeps a watchful eye on my telemetry, much as with the ECG rhythm anomaly features and heart rate monitor. So what? Well, I think Apple Watch is gradually accumulating an array of sophisticated diagnostic capabilities which sets the direction for a revolutionary 'personal doctor' on the wrist which is constantly monitoring you for nascent signs of illness and disease.As you can see from my watch face setup above, I've custom specified something with complications that help me to launch a workout and track my movements, measure my activity rings easily at a glance, check my power reserve, trigger a walkie talkie conversation, and tap into the sensor array via ECG/HR/SpOX – it even imputes my VO2 Max score, which is a fantastic metric by which to gauge my overall fitness. I like this health-focussed data setup because that's really what I feel gives me the most information, most easily accessibly, any time – which is the whole point of a smart watch rather than a classic analogue timepiece!
PERFORMANCE: This is noticeably faster, supposedly 20 per cent so, but it feels immediate. I don't run out of juice by the end of the day, with the 18-hour stated battery life regularly clocking in at '40% remaining' when I take it off for the night-charge. Charging is faster (1.5 hrs back to 100%) so if you want to wear it for sleep, you can reload fast the next morning. I'd love to see a battery life that neutralises even the most subtle cases of charge-anxiety in the next edition, as this is perhaps the only conceivable draw-back at present, in what is otherwise a category-defining product. I particularly like the Always-On Retina display on Apple Watch Series 6 – even in direct Dorset sunshine, it had brightness and clarity which rendered it fully legible, whereas I'd really struggled with this in Series 6's  predecessors.
FITNESS+ – For someone who is slightly obsessed (in a good way) by my activity rings, and in a post Gym world, I'm excited about the new addition of guided workouts which can be streamed on my iPad/AppleTV/iPhone and synced with the Apple Watch. I'm trialling this over the coming week so keep an eye out!
ALTIMETER: Not just for pilots, this is a cool feature and one I used as I descended and ascended at the Jurassic Coast as it gives you real-time elevation all day long by using a new, more power-efficient barometric altimeter, along with GPS and nearby Wi-Fi networks. It's perfect for outdoorsy people like myself, helps to more accurately track my 'flight count' of steps climbed each day, and I'm looking forward to trialling this further on my next ski trip.
In short, this is the most seamless smartwatch experience from Apple to date. I can see where they're going with it, and I am a huge fan of the telemetry to which I now have access, simply by wearing my watch. The more I lean into the features, the more rich an informational experience I can take from it. I look forward to seeing what diagnostics get added to Series 7, but for the coming year, I'll very much enjoy the Series 6 companion on my wrist!
Faya x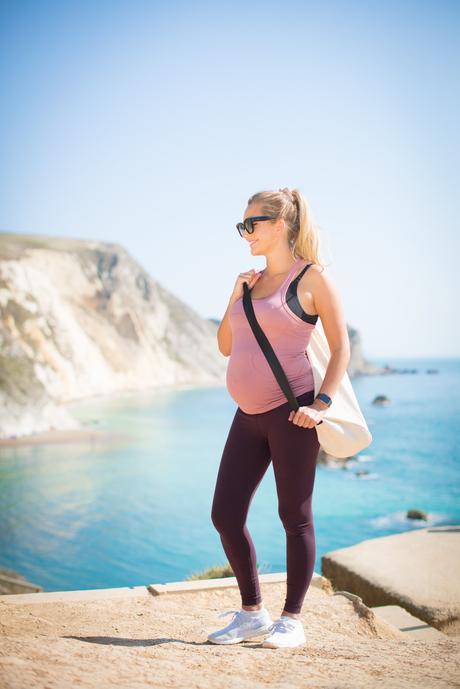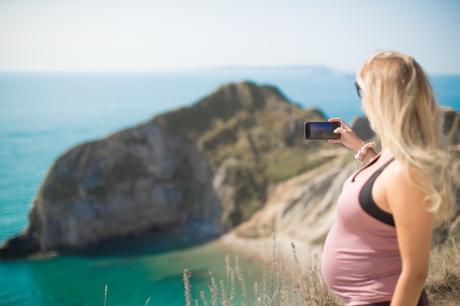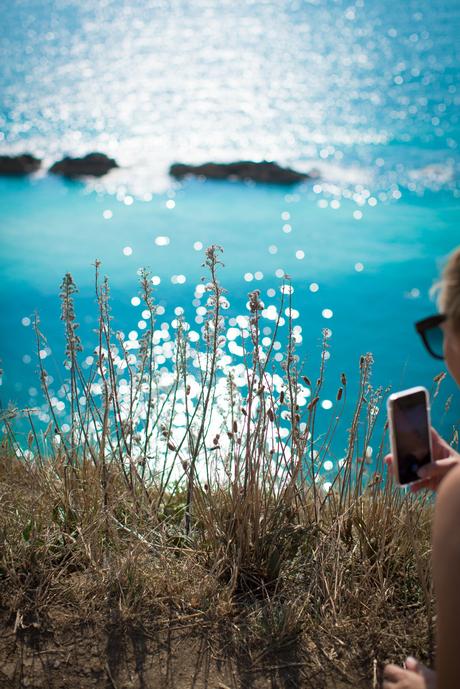 ______________________
THIS POST IS A COLLABORATION WITH APPLE WATCH SERIES 6 AND IPHONE 11 WHICH WERE SEEDED WITH ME ON A TEMPORARY BASIS SO THAT I COULD TRIAL THEM FOR MYSELF. FOR MORE ABOUT WHY I TAKE ON SUCH PROJECTS, PLEASE SEE MY DISCLOSURE PAGE. THANK YOU.