From fitness gear to accessories, discover all Wantable has to offer with this Wantable Style Edit Review and round up of all their other fashionable services.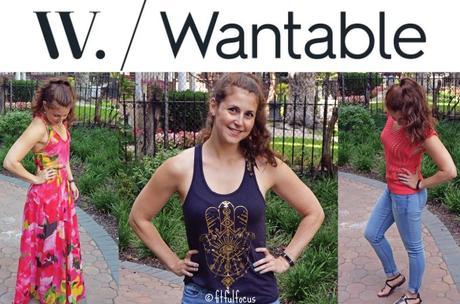 Welcome to another great Wild Workout Wednesday Link Up where Annmarie from The Fit Foodie Mama, Jen from Pretty Little Grub, Michelle at Fruition Fitness and I bring you workout ideas, motivation, inspiration and recipes to try. Join us each week by reading along, linking up and grab the button to proudly display on your blog/in your posts!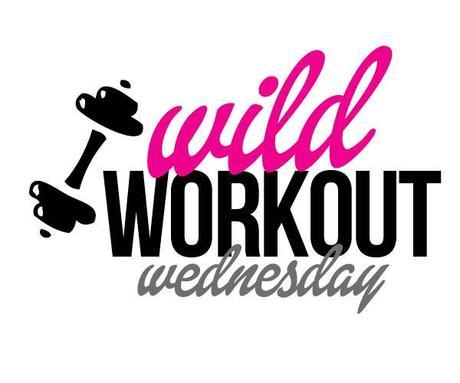 So you all know I'm a big fan of the Wantable's Fitness Edit, but did you know Wantable also offers a bunch of other subscription packages? To give you all the deets, the Wild Workout Wednesday ladies have partnered up with Wantable to review everything they offer! Since I've reviewed their Fitness Edit before, I decided to switch things up and test out their Style Edit (hello, real people clothes). Check it out and then be sure to head to all the other Wild Workout Wednesday hosts to see what they think of their boxes. The lovely Jen is reviewing Wantable's Intimates Collection, Annmarie has all the deets on the Accessories Collection, and Michelle is giving the Fitness Edit a go. They also have a Makeup Collection, which you can check out right on over here.
Alright, let's dig into Style Edit. First things first, how it works!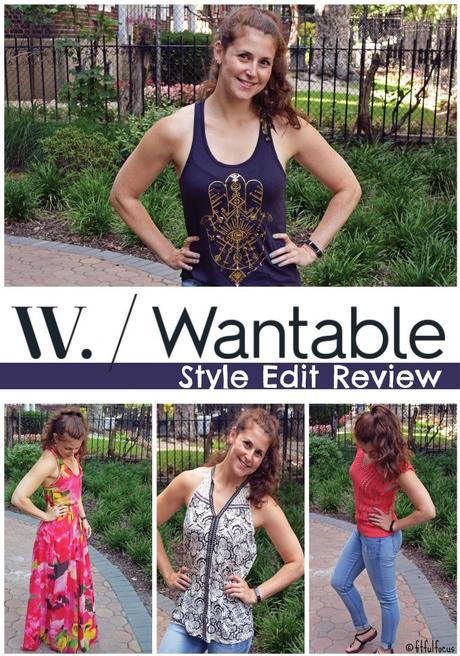 The Style Edit works exactly the same as the Fitness Edit. You pay $20 a month for an edit, which you can skip or cancel at any time. When you sign up, you fill out your measurements and take a style quiz to let your stylist know what types of things you like and dislike (colors, occasions you'd like outfits for, patterns you like and dislike, etc). You can leave specific notes for your stylist if you're looking for something in particular, and you can even peruse the Wantable Stream to flag items you'd like added to your box. Then, your stylist goes off to select 5 items for you and sends 'em over.
Once you receive them, you have 5 days to try everything on and decide what to keep. The $20 monthly fee goes toward anything you want to keep. So if you there's a shirt you love for $50, it will only cost you $30. If you keep everything in your box, you get 20% off the whole shebang!
The box comes with a pre-paid package to ship back anything you don't want to keep free of charge.
You can then go onto the Wantable site or app to review the items you received, change anything in your quiz or leave notes for your stylist for your next box.
Alright, now that we have all of the logistics down, let's see what my stylist picked for me!
Upon opening my box, I was greeted with a nice surprise. My stylist had picked out 7 pieces as opposed to the usual 5! Woohoo for options!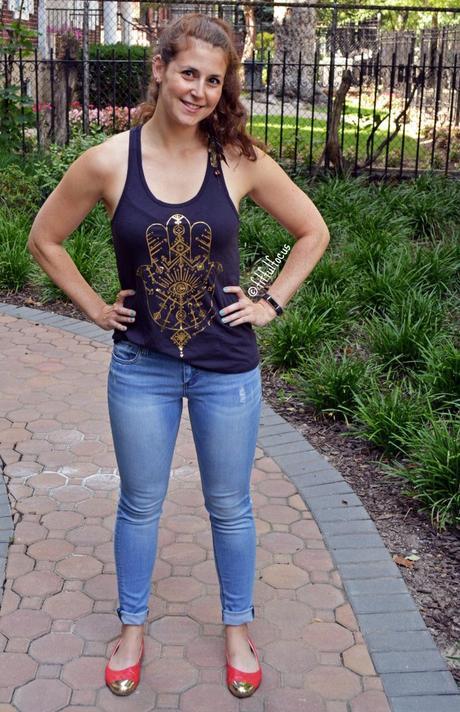 Spiritual Gangster Hasma Tribal Racerback
The second I saw this tank, I knew I'd love it. The metallic gold hasma print is right up my alley: boho chic. I was so happy when the tank fit well.
Final Decision: Kept
I've been needing a new pair of jeans, so I was happy to see these in my box and even happier when they fit well! They have a good stretch to them, so I won't have to worry about uncomfortable tightness. The light color is also different from other pairs I own. They're a bit long, but a little cuffing did the trick.
Final Decision: Kept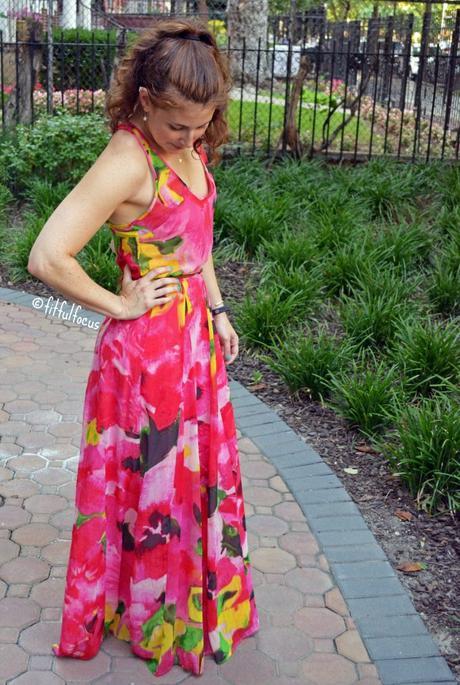 This dress really popped out of the box. I love all the bright colors, and a little skinny belt made it fit nicely. I thought about keeping it, but I didn't really know what I'd wear it too. It's a bit too fancy for work, and not quite something I'd wear to a wedding. Even though it was cute and on sale, I couldn't justify it.
Final Decision: Returned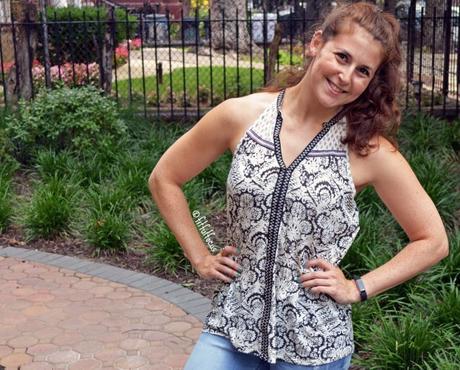 RD Style Tribal Print Tank
The cut of this tank is so interesting and unlike anything else I own. The tribal pattern is beautiful, and the fabric is nice and airy - perfect for this summer heat. I like it paired with the Kut Mia Skinny Jeans (see above), but I've also worn it with shorts and could see it looking great with some white skinny jeans!
Final Decision: Kept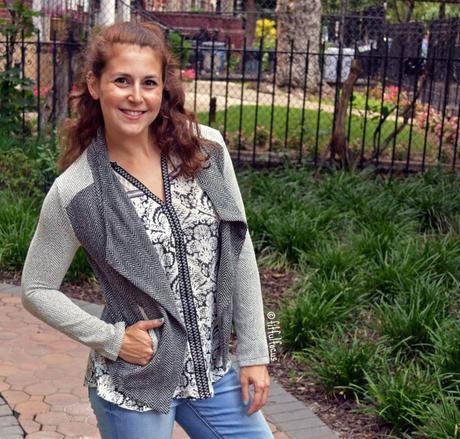 Jack Keane Herringbone French Terry Jacket
This jacket is so so cute, but to it's just been too darn hot to even think about owning this right now.
Final Decision: Returned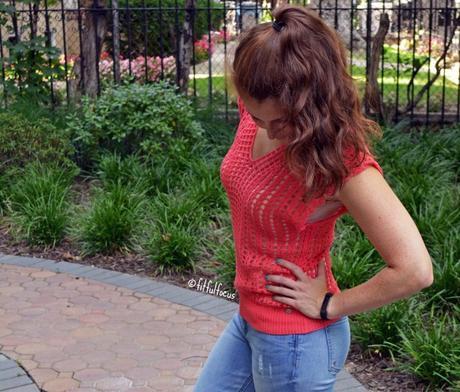 DEX Dolman Open Stitch Sweater
This top looks better on than I was expecting. I like the bright color, but I just can't say I'm a huge fan of the crochet style and the dolman sleeves.
Final Decision: Returned
The 7 th item was a Lumiere Sleeveless Plaid Henley Neck Dress that I really really wanted to like. Unfortunately, the dress and I just don't get along. It fit so poorly; I couldn't even bring myself to take pictures of it! Oh, well. Can't win 'em all!
Before you link up, be sure to check out all the other Wantable offerings as reviewed by Jen (Intimates Collection), Annmarie (Accessories Collection) and Michelle (Fitness Edit) and then head over to Wantable to sign up for your favorite!
Let's Chat:
Which items would you have kept from this Style Edit?
Which box would you try first: fitness, style, accessories, intimates or makeup?