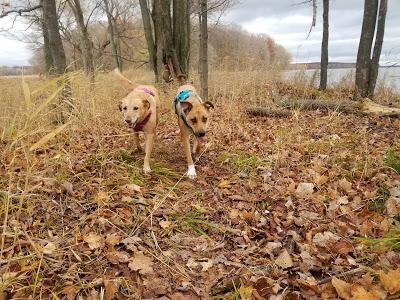 The past couple of weeks have been a blur... and all of a sudden October is over and November is here! How did that happen so fast?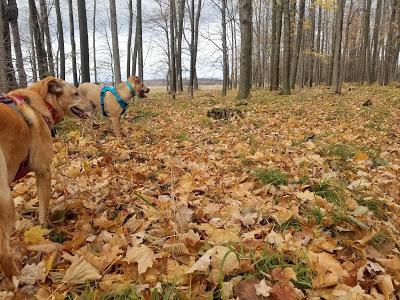 Our weekends have been filled with chores like getting the house/garden/yard projects done before it starts snowing while trying to fit in time to exercise the dogs along with some "down time" to relax before we head back to work on Mondays.
This past week was Halloween, so I had some busy nights making treats for a work potluck and getting ready for trick-or-treaters. Halloween was a night that I couldn't walk the dogs because there were a lot of people out in our neighborhood and Charlie would have been too reactive, so we set up a good place for them to watch on the porch and put them in the house when things got to be too much for them.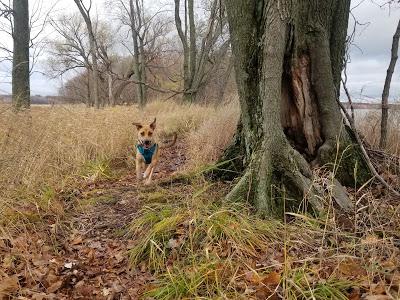 Evenings are so short now that it's getting dark earlier and I've been spending more time walking the dogs after dinner than previously since we're not getting out to parks or hiking trails anymore. The evening dog walks have become very time-consuming but also very necessary - for both me and the dogs (more on that in a future post).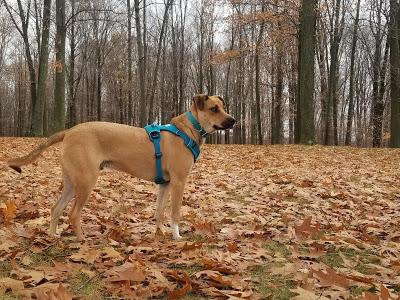 In all honesty, the dogs haven't been getting regular walks at all over the summer. If I'm not taking them somewhere where they can run off-leash, we pretty much stay in the backyard to play. With Jake gaining a pound a week since I adopted him, they've become too much for me to physically handle on leashed city walks. If Charlie gets reactive while we're out, Jake follows her lead and having TWO reactive dogs on leash is just too difficult for me to control.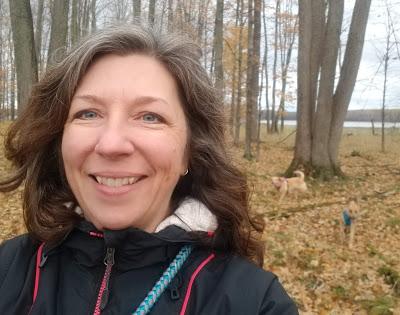 My cuties in the background behind me.
For a while, I stopped walking altogether. I felt guilty if I went for a walk by myself to get some exercise, I couldn't take them both along and I figured it would take too long to walk them separately. But when I realized how much weight I've gained over the summer from inactivity and how sore my body was from sitting at my desk job all day, I decided it was worth the almost 2-hour time commitment to walk them separately so we could all get some fresh air and exercise on weeknights.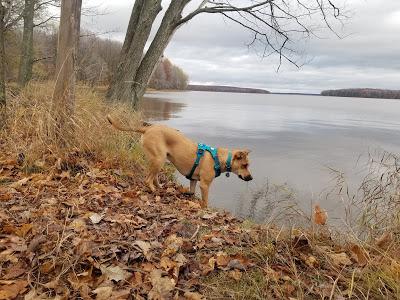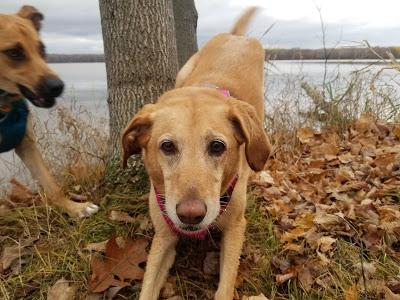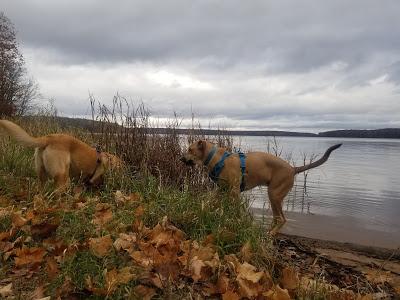 That's the thing though. If you want to be healthy and have healthy dogs you have to
commit
 to the necessary time it takes to make that happen. I'll admit it takes some pre-planning to make sure you have time for everything that needs to be accomplished in a regular week, but you
can
 do it!
This is what a typical week looks like for me:
Monday thru Friday I wake at 5am, shower, feed the dogs, get ready for work and do light chores like dishes, putting away laundry, vacuum one room a day. I make old-fashioned oatmeal with blueberries every morning and always make a little extra to share with the dogs. I also drink almost a pot of coffee throughout the morning, but stop by noon so it doesn't interfere with my sleep.
I take about 15 minutes to lift some handweights or do sit-ups each morning (alternating different target areas for different days). 
Then I'm off to work from 8am-5pm. I come home at lunch to play with the dogs and eat a healthy lunch (usually salad, which I also share with the dogs so they can get some veggies too).
After work, I feed the dogs, change my clothes and then take Jake for a 45-minute walk and when I return, Charlie gets her 45-minute walk. Charlie always goes second since the neighborhoods have quieted down by then and there are less people/dogs out to trigger her reactivity issues.
When I return, I maybe watch t.v. for a little bit or read a book in bed. Then I'm in bed asleep by 9pm. I'm the kind of person who needs 8 hours of sleep each night or I'm a complete wreck the next day!
You'll notice that I don't eat dinner. Because I sit at my desk all day, I'm prone to snacking a lot. I try to keep my snacks healthy - fruits, veggies, whole grains, etc. So by the time I get home, I'm not really hungry for a heavy meal. If I feel too hungry, I have a glass of chocolate milk or a cup of tea and that usually takes care of any hunger pains. I actually sleep much better when I don't eat dinner.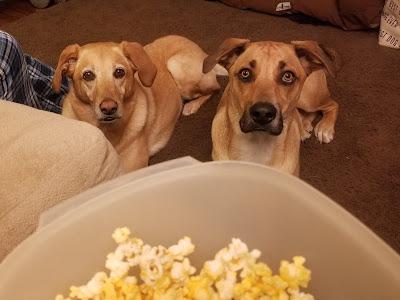 "Date night" with the dogs... eating popcorn and watching them play.
A couple nights a week, I either stay over at Alan's house or he stays at mine, which always changes the schedule a little bit. I'll sometimes eat dinner on those nights since I'm not walking the dogs, and we play and wrestle with the dogs inside to get them exercised. Our "date nights" consist of trying to watch a movie or t.v. show, but almost always we end up watching the dogs play instead... they are WAY more entertaining! I also get the dogs some new toys once in a while so they have something fun to do if we're not going to be walking or hiking. Any kind of enrichment activity like this is a good substitute for occasional days off from the routine.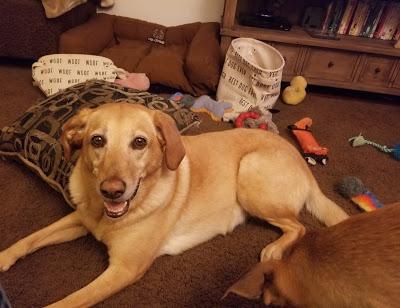 Weekends are a time to do errands, meal prep, bigger chores around the house and typically a trip to a hiking trail or a park to run off-leash.
I find that sticking to a routine like this helps me stay on-track health-wise and gives the dogs something concrete to look forward to. Obviously things come up and not every day can be this tightly scheduled, but overall, this works for us.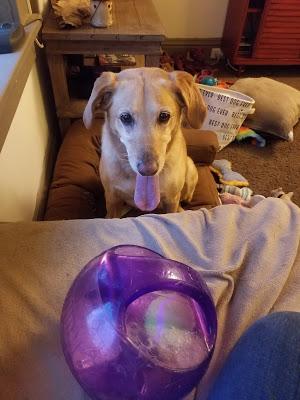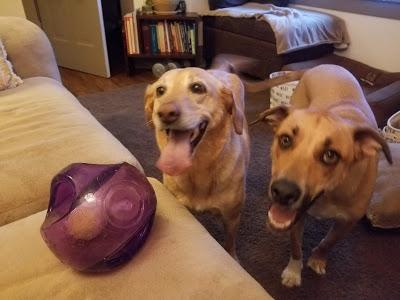 If you're struggling to find time for healthful activities like walking, hiking or eating right, I urge you to take a look at your week in advance and find the pockets of time that are available. I'm notorious for making excuses not to do the weight-lifting and strength exercises in the morning... I would rather read a book with my cup of coffee... but it's really quite reasonable to take 10 minutes to do
something
 each morning and it's amazing how good you'll feel after doing it for a week or two.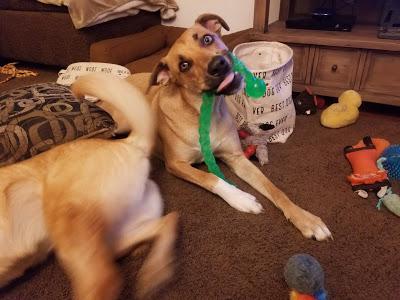 Also, when I find that I'm comparing myself to everyone else on social media who seem to have time for everything, including posting fabulous pictures of themselves with their dogs in stunning locations, I take a deep breath, close the apps on my phone and snuggle with the dogs in bed and remind myself of all the things I have to be grateful for.
Time spent with those I love is always more important than competing with virtual strangers for the best Instagram feed. And seriously, if you are a regular person like me, there is NOT enough time in the day to do it all!
VIDEO~New Toys! (click link):
VIDEO~Almost Sharing (click link):
So send your love, gratitude and inspiration into the world to help others and then step away and appreciate the ones you love that are right next to you. And remember that you are providing a warm, safe, loving home to your fur-baby and whatever little things you can do to brighten their lives is enough. You are enough.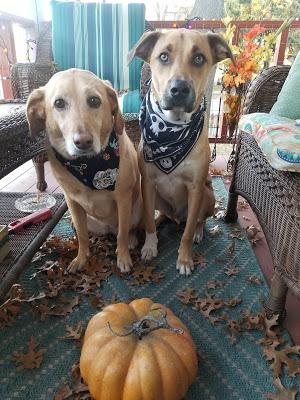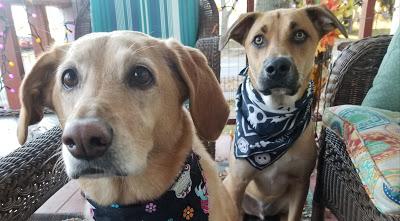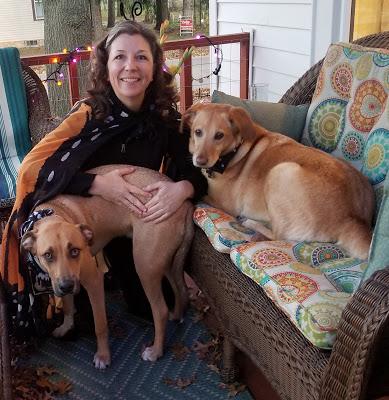 Happy Halloween!
#dogmomlife