Let's talk about hemp, baby. Let's talk about you and me. 
Oh, that's not how it goes? My b. 
But seriously. Let's talk about hemp. Not hemp in the holy-cannibis-let's-go-smoke-a-doobie-in-the-boy's-bathroom sense, but hemp in the I'm-an-awesome-whole-food-sense!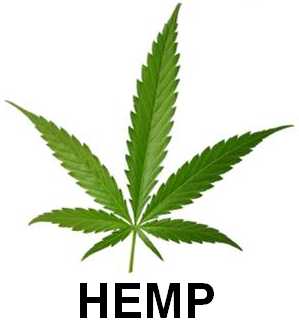 I'm a huge hemp seed fan. They have a nice nutty taste and are full of omegas and protein. I put them on my salads, mix them into smoothies, put them in granola bars. You could say I'm high on hemp (ba dum chh!!). 
One of my favorite brands of hemp seeds is Manitoba Harvest Hemp Hearts, so when I had the opportunity to participate in a SweatPink campaign and try Manitoba Harvest's new hemp protein, HempPro 70, I jumped on it! 
The package they sent was so cute.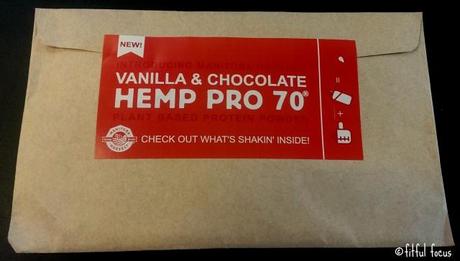 Note: I received free product from Manitoba Harvest as part of a campaign with SweatPink in exchange for a review. All opinions in the post are my own.
They even told me I'm awesome. Thanks, Manitoba Harvest!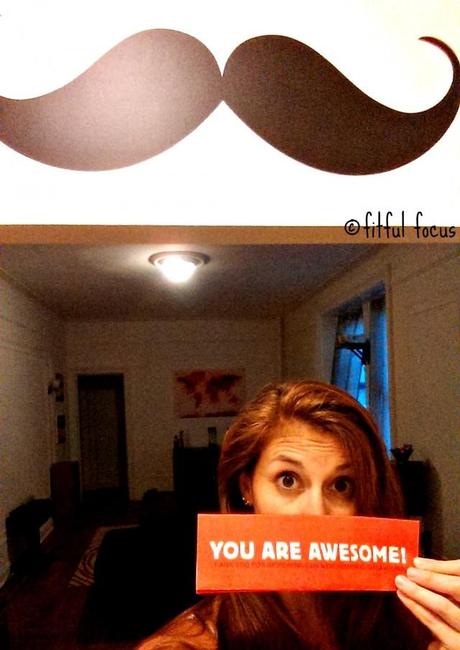 They sent me samples of the new Vanilla and Chocolate HempPro 70 flavors.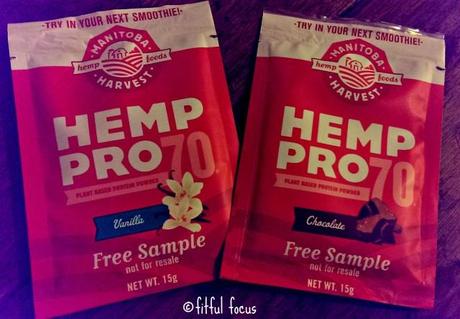 What exactly are the benefits of HempPro 70? Here are the deets straight from Manitoba Harvest:
It's the only water soluble hemp protein powder on the market. It's super smooth and doesn't need to be mixed by a blender.  
It's a pure plant based protein that's 95% digestible. There are only four ingredients in each flavor of HempPro 70. (nice!)
It's sweetened with organic coconut sugar – so it's low on the glycemic index (just like LO fruit beverages which you can enter to win here. #shamelessplug)
It has protein and omegas (just like my favorite hemp seeds!). The vanilla flavor has 15g of protein and the chocolate has 14g. Not too shabby. 
Alright, so let's get down with the experimenting, shall we? I mixed the chocolate flavor into my oatmeal for some chocolate power oats!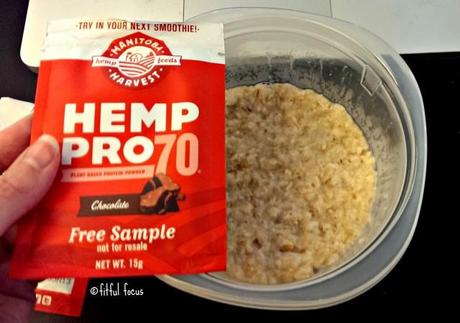 The verdict? It wasn't as sweet as I would have liked, but I enjoyed it. What I enjoyed most was that it didn't upset my sensitive tummy AT ALL. I felt great all day! Win! 
I got a little more creative with the vanilla flavor. You see, on the day I decided I was going to test it out I was craving pumpkin. Yup. I got the pumpkin bug. The solution? This Vanilla Pumpkin Spice Smoothie!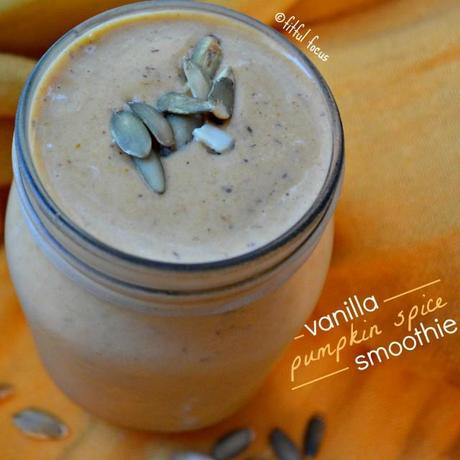 Yummmmm! Pumpkin craving: satisfied. But beyond the pumpkin, I really enjoyed the vanilla flavor the HempPro 70 brought to it. And again, my tummy was happy. Here's the recipe: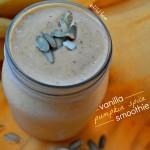 Vanilla Pumpkin Spice Smoothie 2014-09-11 20:01:16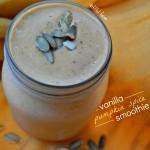 Serves 1 Write a review Save Recipe Print Ingredients
1.5 cup milk of choice
½ frozen banana
1 scoop HempPro 70 Vanilla
½ cup Libby's Pumpkin Puree, frozen into ice cubes
few dashes pumpkin pie spice
optional topping: pumpkin seeds
Instructions
Ahead of time, spoon the pumpkin filling into an ice cube tray and freeze.
Once frozen, place in a high speed blender with the rest of the ingredients.
Blend until smooth.
Top with pumpkin seeds and enjoy that taste of Fall goodness.
Nutrition Facts
360 Calories, 4g Fat, 52.5g Carbs, 5.5g Fiber, 29.5g Protein
By Nicole @ Fitful Focus Fitful Focus http://fitfulfocus.com/ So now for the true test. Would I buy it? You bet! I still love my Vega, but this is a very close contender, especially based on how my tummy received it. 
So what say you? Ready to get high for hemp?! Yea? Sweet, man. Here's a discount code for you! Head over the Manitoba Harvest shop and get 20% the HempPro 70 vanilla or chocolate flavors with code: sweatpinkpro70.
---
Let's talk about hemp, baby! A delicious new protein powder + a Vanilla Pumpkin Spice Smoothie.
Click To Tweet - Powered By CoSchedule
---
But wait, there's more! Manitoba Harvest is running a fun contest. Snap a pic and tag @manitobaharvest and use the hashtag #pro70 to be automatically entered to win a case of your favorite flavor! You bet I'm getting in on this! 
Also, don't forget to enter LO Fruit Beverage Giveaway! Get all the details here and/or enter below. 
Have you ever tried hemp (the food version)? 
What about the, ahem, not so food version (I won't tell!)?
 a Rafflecopter giveaway

This recipe is linked up with Meatless Mondays  and the Virtual Vegan Linky Potluck.