Yesterday was my first time trying the exclusive workout V Sculpt from P90X2. It was actually a lot of cool things and is now one of my more enjoyable workouts from P90X2 thus far. You can only get this workout if you order your P90X2 through a beachbody coach (myself or someone else) or if you request to buy these separately. They aren't included in the standard P90x2 base kit.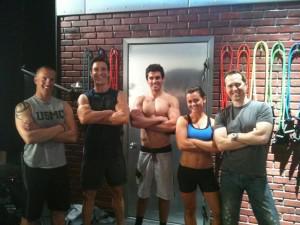 V Sculpt Cast P90X2
Equipment Needed:
Stability Ball
Weights (ranging from 10-30lbs maybe)
Bands
Chin up Bar
1 Medicine Ball
Study Chair
V Sculpt From P90X2: My Review
Effectiveness: 9/10 – So It's a day later and I still feel sore in my lower back and upper back. Likely due to the high amount of pull ups you do in this exercise. I think V Sculpt can give great effectiveness if you properly execute good form and push for your absolute best on each workout. I stuck with 20lbs on most of the balance exercises but also used 30lbs on a select few. I don't see you needing more than 30lbs on this workout unless it's for the one execise of lawnmowers.
Difficulty: 7/10 – I'm used to strength training so this v sculpt workout wasn't super hard for me but it does require upper body strength and good endurance to finish strong. Pull ups can tire you out quick and if you dont pace yourself you will run out of steam halfway through!
Variety: 8/10 – A grade that I find highly important in P90X2 is Variety and thankfully V Sculpt didn't fail too hard in that category. Unlike most other P90X2 workouts that I've been bashing on their lack of variety exercises. V Sculpt somewhat delivers here because there is 2 rounds of 22 moves. Only maybe 4-5 of the exercises are repeated which is a nice change from repeating every single exercise like most workouts are, thus far I've tried.
Overall: In the end, I think this is a very worthy workout. It reminds me of Core Synergistics from P90X classic meets the pull up bar. Making it a lot more awesome in my mind. If you lift hard and do the best you can produce. You'll see good results. This workout gets my approval so I hope you guys enjoyed my review of V Sculpt!
If you want to see a video of me doing V Sculpt and also a review of the workout then please watch the video below!
Wanting to get P90X2 yourself and the exclusive two extra workout DVDs? Click the link here to get started! Have me as your coach and reach your dreams! 
V Sculpt from P90X2