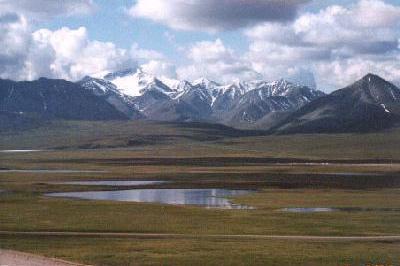 Located in the extreme northerly regions of North America, the Brooks Range is an 1100 km (683 mile) mountain range that stretches across parts of Alaska and Canada. Largely uninhabited, save for a few inuit villages, these mountains are remote, rugged and demanding in the best of times. During the winter, the extreme cold and large amounts of snow, makes them an incredibly inhospitable place that few people ever experience. Earlier this week, a pair of intrepid explorers set out on an epic journey to attempt to traverse the region during the coldest, most demanding time of year.
On Tuesday, January 7,
John Cantor
and Evan Howard began what will eventually be a two-month long expedition that will cover approximately 1700 km (1056 miles) of total distance. Traveling on dogsleds and skis, while pulling sleds filled with supplies and gear behind them, they will attempt to make the first winter traverse of the Brooks Range. They set off from the village of Kotzebue and hope to eventually wrap things up in Kaktovik, provided the weather cooperates with them over the next eight weeks.
John and Evan are posting updates to
their Facebook page
and two days in, they are already finding the expedition to be tough going. So far, strong headwinds have made it difficult to make much progress, and John has indicated that it has been even tougher than they had anticipated. Considering where they are at, I would expect they'll face similar conditions in the days ahead, but hopefully they'll get their legs under them after a week or so on the trail. Much like traveling in the polar regions, I'm sure it'll take some time to acclimate to the conditions.
Last year, the two men went on a training expedition to the Brooks Range to get an understanding of what they'd be dealing with. The video below is footage from that exploratory excursion. It looks like a beautiful place but also one that will be testing them at every step of the way.
Thanks to reader Jack McClure for sharing this great adventure.