Jan 13, 2012 by Tatianna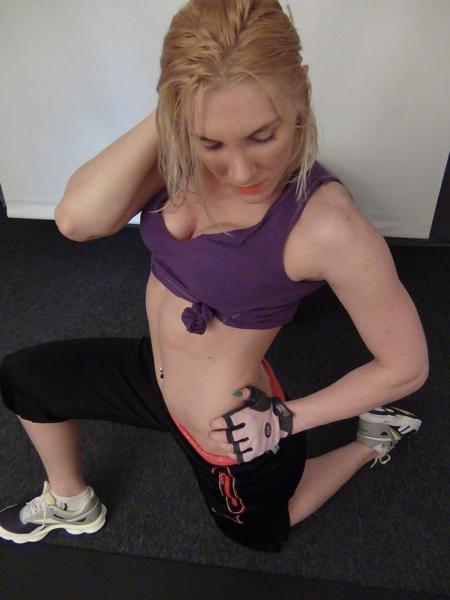 As you have already noticed I've been gone for a little while, and if you add me as a friend on Facebook you can always get the latest updates. Right after the New Year I was taking my well deserved 1 week off training, because if you read my post " How To Train For Best Results " you know why I take a week off every six weeks.
Since my knee is pretty much healed I decided to start this training cycle with an upper body circuit workout. In today's routine I was using my timer, a balance ball, a chair, and 12 lbs medicine ball and half of My Pink Lebert . I am going to post my scores at the the bottom of the post as usual

( I am pretty sure you will be able to beat me because I truly took forever to finish this ).
Tomboy Workout Video
Workout Recap & Beginner Variation
Workout Explanation
This is a timed circuit training, there are 9 exercises total and you will go through 3 rounds of the full routine. Set your timer as a stopwatch.
Side Plank Push-Up – 10 reps each side ( watch the instructional video for correct explanation )
Sit Up & Twist – 12 reps
Diagonal Two Way Pull – 14 reps per side ( each pull counts as 1 rep )
Back Lifts With A Balance Ball – 15 reps
Elevated Push-Ups – 12 reps
Balance Ball Pass – 20 reps ( each pass counts as 1 rep )
Shoulder Press – 14 reps
Dive Bomber Push-Up – 10-12 reps
Side To Side Medicine Ball Drop – 20 reps
My Time
I took me 36 minutes and 53 seconds to finish this, I'm ashamed!!! So I am sure you can easily beat me

Share Your Scores!!!