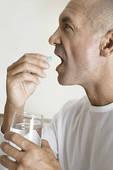 Hello all.  So I found out today, that I have to go to Tel Aviv every week to pick up my Subutex prescriptions.
Even when I am given monthly prescriptions, they are still only allowed, at the pharmacy, to give one week prescriptions out at a time.
So while I will only have to go to the clinic once per month starting 2 weeks from now,  I will still have the schlepp to Tel Aviv to pick up the prescriptions. Oy.
But it is what it is, and because it is such a controlled substance, I certainly understand that they need to keep close tabs on how much goes out, and when.
Ok, so this morning was the first morning that I have taken my entire dose in the morning.  According to the doctor, the pharmacist, and the medication's fact leaflet, this is the recommended way to take Subutex.
Why? Well, two primary reasons. A. So that the patient isn't constantly thinking about when their next dose is, and expecting withdrawal symptoms, which the mind can easily create. And, b. It apparently makes it MUCH easier to work down off of the medication when the time comes.
I will report, either later today, or tomorrow the results of the first today change in dosing.   So far I feel nothing, which I think is the point

so perhaps I am off to a better start now.
I have enough meds to last until Thursday, and then some, just in case, though I most certainly doubt that I will need them, as 12 mg seems to do the job just fine. So, G-d willing, I will have only good news to report soon!
Mordechai