My love for beauty products is well documented and is immediately apparent if you open a drawer in my bathroom

I covered my skincare routine last week, but now it's time for my makeup favorites. It takes me about 30 minutes to get ready, this includes showering, getting dressed, applying makeup and doing my hair.
The process:
Primer (Pixi, Elf or Smashbox)
Foundation Applied with brush (Mary Kay foundation brush, it's amazing!)
Eyes (see below)
Concealer (MAC)
Powder (ELF HD Powder or BareMinerals)
Warmth (bronzer)
Blush (MAC Peachykeen)
Lip Gloss
Mascara- I go between Maybelline The Falsies and L'Oreal Voluminous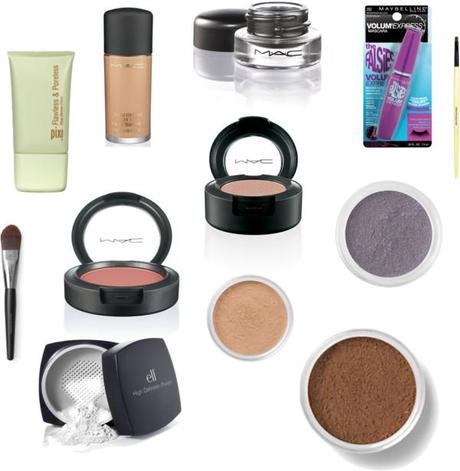 Makeup Routine by
fitnspicy
featuring a shimmer blush
MAC Cosmetics
shimmer blush
/
MAC Cosmetics eyeliner
/ MAC Cosmetics eyeshadow / Face powder / Bare Escentuals eyeshadow / Makeup / Bare Escentuals concealer / MAC Cosmetics oil free foundation / Mary Kay makeup brush / Bobbi Brown Cosmetics makeup brush / Bare Escentuals Warmth All-Over Face Color / The Falsies Volum' Express Washable Mascara
Favorite Eye Shadows:
MAC
Bronze
Contrast
Espresso
Mylar
Mythology
Phloof
Pink Venus
Rice Paper
Rule
Seedy Pearl
Sumptuous Olive
Swish
Tempting
Vex
Woodwinked
BareMinerals
The Holiday 2012 Vision in Velvet set, 20 eye shadows in great colors. I use this every morning that I get ready at home.
I use eye shadow, a pot eyeliner (I love Rich Ground & Black Track from MAC, Bobbi Brown in Sepia & Forest Shimmer) with the Bobbi Brown eyeliner brush and then a few coats of mascara to make my very blonde lashes show up!
Any great product you need to add to the list?