I have a thing for beauty products. My husband would call it more than at thing and closer to a serious addiction but I love trying new products. Now I don't go buy something new if I have product left (unless I really hate the product) but I do switch it up when it is time to replenish.
Much to my stylists dismay I don't feel the need to use expensive hair care and styling products. What I can pick up Target is more than enough, with the exception of Bumble and Bumble Thickening Spray. I have naturally blonde (I've never dyed it), very fine hair. My quest in life is to give it volume!
My current favorites: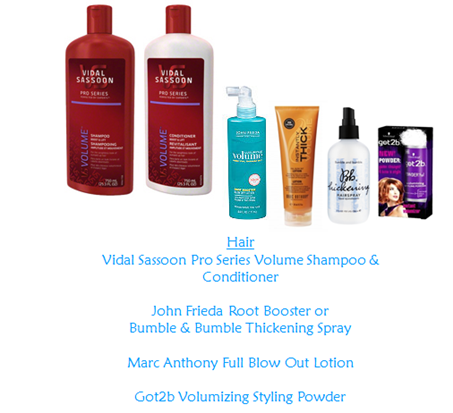 Nothing compares to the Bumble and Bumble Spray and the got2b powder is a recent addition (I bought one and was sent one as part of BzzAgent). It is a "gritty" powder that you put in after styling and massage into your roots with your fingers. It plumps up the hair and it makes it feel a lot thicker than it really is.
And the category that I love and have way too much of. A huge makeup bag full and two small baskets of eye shadows, blush and lipsticks. The lipsticks are a problem. Too many of them and I need to go through and get rid of the ones I don't wear!
But I do have a few things that I always use, I may change up my lips/eyes but the rest of my routine stays the same. My standby's that I have been using for years: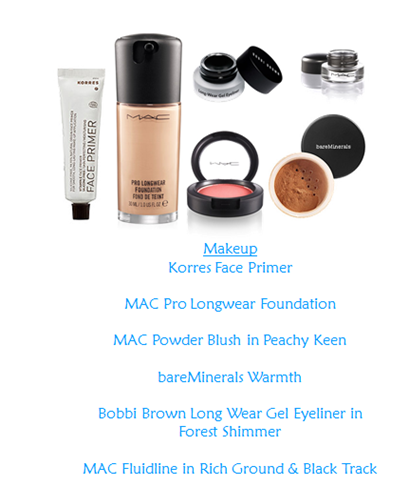 Just like hair care products, I don't always buy high end brands but there are a few things that work really well for me and match my skin perfectly. I am willing to spend a bit more to get that perfect match. I tend to save on eye shadows, mascara and lipsticks. Those are things I change up constantly and I like to use fun colors. Target is my go to place for those items. Everything else is either from Sephora or MAC. (Those stores get me every time, I love just looking at colors and fun new cosmetics).
The Korres face primer I have had for over a year and it is not even half gone yet! You need a pea sized amount and it makes your foundation last all day. Especially the MAC foundation, it matches my skin perfectly and works for me, especially sine I had tried many many brands before finding this one.
Being a fair skinned blonde who lives in a pretty cold place I have to face the truth that I am pale. Very very pale. So a little bareMinerals Warmth goes a long way but makes me look refreshed and healthy.
What are the products you always use or have you found anything new?