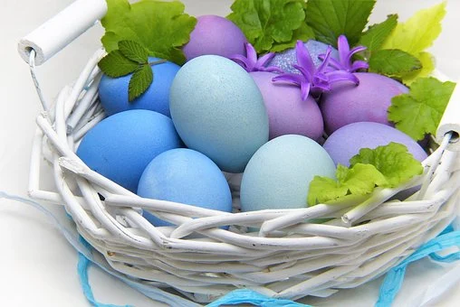 No attribution required
At different times of the year, we have traditional dishes and meals we associated with that occasion. For example, we eat Turkey at Christmas and also on Thanksgiving. At Easter, it is lamb.
It is something that we have done for many years, and a lot of us never question the reasons why. After all, we are simply used to it, and it is the way it is. However, it is certainly interesting to delve deeper and find out why these traditional meals have become staples for dates like this. 
That is what we are going to take a look at in this blog post. We will reveal why lamb is the chosen meal for Easter, as well as looking at eggs and their link with this spring celebration.
First and foremost, it is vital to take a look at the role lamb has played over the years when it comes to this celebration and Christianity in general. Let's look at a few examples!
The reference to lamb in Christianity goes way back. In fact, it stars in the work of Genesis, when Abraham was summoned to sacrifice his offspring. 
It was popular superstition that the devil could never take the shape of a lamb, despite being able to take the form of all other animals. This is because of a lamb's religious symbolization.
Lamb is a lucky omen. Many centuries ago it was considered lucky to meet a lamb. This was the case at all times of the year, but even more so during this holiday. 
A prayer for the blessing of lambs was written by the Benedictine monks in the 7th century. 
A whole roasted lamb has long been a feature of the Pope's Easter Dinner.
Availability must also be considered. This is because lambs historically came to the market around the time of Easter. 
As you can see, there are many different reasons why lamb has become the meat of choice during this period. Of course, there are two other popular symbols associated with the celebration as well – eggs and the Easter Bunny. The Easter Bunny does not have any religious symbolization. Rather, it represents the arrival of spring. 
Eggs on the other hand have a wide association with Christianity. They were decorated and exchanged as gifts before the birth of Christ. Early Christians were not allowed to eat them during Lent, so when Lent concluded they celebrated by eating eggs. They also symbolize rebirth and rejuvenation.
We often give people Easter Eggs and we partake in egg decorating activities for Easter. However, you can also incorporate eggs into your Easter meal. For example, you can serve eggs at breakfast. The eggs florentine recipe here is a delicious one!
Hopefully, you now have a better understanding of the different types of food that are served over the Easter period. Next year, you can eat your Easter meal knowing where the tradition has come from and why it is considered so important. 

Thank you for reading!