Ladle up to this flavorful and dairy-free butternut squash soup, an easy weeknight or dinner party recipe that's sure to please.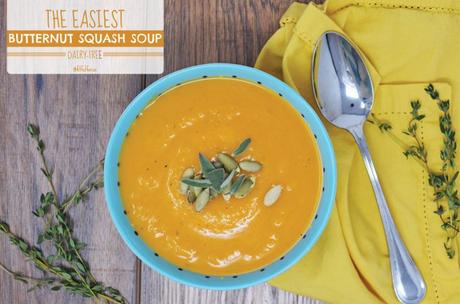 When I was putting together a menu for Thanksgiving last year, I knew I wanted to make a lot of different dishes, but I also knew I wanted them all to be fairly simple. simplicity is the key to sanity, after all.
I wanted a lot of delicious sides to go with the turkey and a pie for a dessert, but I also wanted to start the meal with a seasonal soup.
I debated between a pumpkin soup and a butternut squash soup, and when I saw the grocery had pre-peeled and chopped butternut squash, the later won out. Like I said, simplicity!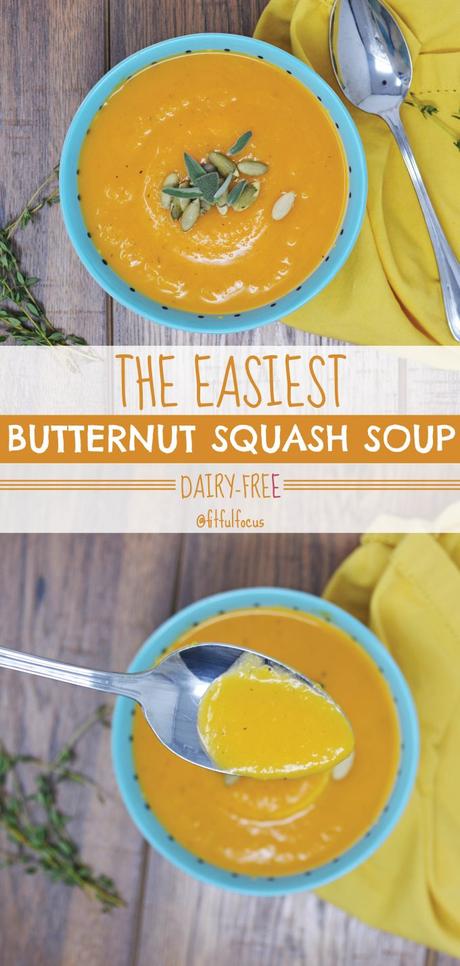 Butternut squash is so flavorful on its own, I knew my simpler-is-better approach would work in terms of how many ingredients I needed. I grabbed a handful of things (onion, thyme, rosemary, salt and pepper) and made my way home to prep a feast for the ages.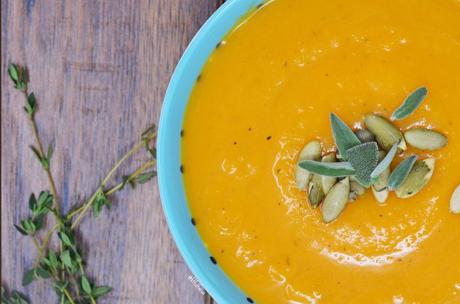 One of my favorite things about soup is how simple it can be, and this butternut squash soup is no exception. It only requires one pot. You just dump everything in, let the flavors combine and intensify and then blend it up into a creamy, dreamy consistency.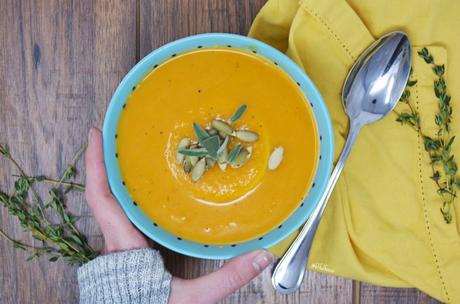 If you want to get real fancy with it, you can serve this butternut squash soup in roasted pumpkin bowls (that's what I did on Thanksgiving). You just cut the lids off of some sugar pumpkins, scoop out the seeds and roast them for 45 minutes to an hour or so until tender. That way, when you go to scoop out a bit of soup, you can also scoop out a bit of pumpkin. MMMMMMM.
The pumpkin bowls are festive and tasty, but they're not necessary. This soup is just as delicious in a regular bowl. I know because the soup was such a hit, I made it again for a weeknight meal. It was just as good the second time around.
While I don't always make a fancy roasted pumpkin bowl, I do like to top a bowl of this butternut squash soup with some pumpkin seeds and fresh sage. They're simple garnishes that add a little extra flavor and a pretty finishing touch.
Want to ladle up to a bowl? Grab your ingredients and soup it up!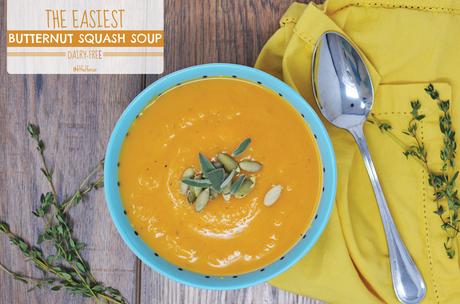 Ingredients
Instructions
Let's Chat:
What's your favorite type of soup?