If you're someone who enjoys travel-especially international travel-2020 was probably a very challenging year for you. Thanks to the onset of the COVID-19 pandemic, most of us were forced to stay close to home for months at a time. And if you did manage to travel, chances are it was to a destination within driving distance.
Thanks to the arrival of vaccines designed to combat the coronavirus, things are starting to look up for 2021 and beyond. Still, experts say that we'll need to continue to exercise caution and have patience when planning our first big post-pandemic journeys, as there are still some important challenges ahead.
As of now, this is the current state of international travel according to the CDC.

Photo Credit: Center for Disease Control
Quarantine Protocols Remain in Place
Many of us have been waiting patiently for our chance to get inoculated against COVID-19 and chances are we'll have to continue to wait for some time to come. While a few countries-including the U.S., the U.K., the U.A.E., and Israel-have been doing a good job of rolling out the vaccine, most others are still ramping up those operations. In fact, there are dozens of countries-including most of Africa-where no vaccines have been distributed at all yet. It could take well into 2022 before those places see a signifiant vaccination rate.
Even after we've received the vaccine however, we're still not cleared for travel. The Center for Disease Control recommends that we wait 14 days after receiving the second dose of the vaccine before we start to mingle with friends and family who may still be at risk. Medical professionals also say that we should continue to wear masks, maintain social distancing, and continue to follow quarantine protocols.
While the vaccine has been shown to significantly decrease the chances of contracting the virus, it doesn't eliminate it altogether. If exposed to COVID-19 is still possible to get sick or worse yet, become an asymptomatic carrier. Because of this, travelers are advised to stay close to home until more people have been inoculated.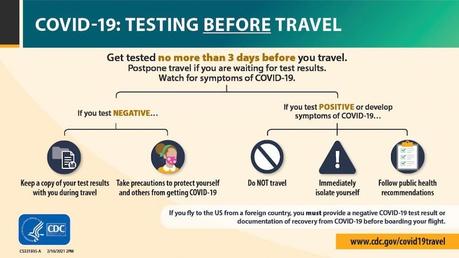 CDC Travel Recommendations by Destination
Once more people do receive the vaccine we can start to turn our attention to travel-both foreign and domestic-once again. At first, traveling in your home country will be the easiest and safest, as you'll have a better sense of vaccination rates, local rules and regulations, and the places that are safer to visit than others.
Eventually however, we'll be cleared to go abroad once again, which is when the CDC's Travel Recommendations by Destination website will come in handy. It currently provides information on every country in the world in terms of risk related to the coronavirus. Unsurprisingly, most of the planet remains in the "very high risk" category at the moment, even though infection rates are dropping and the number of vaccinated individuals is on the rise.
In an effort to keep those trends moving in the right direction, the CDC recommends that we avoid any unnecessary travel to high risk destinations. Similarly, if your travel plans originate from a location that is still considered high risk, you should postpone those plans and continue to stay close to home.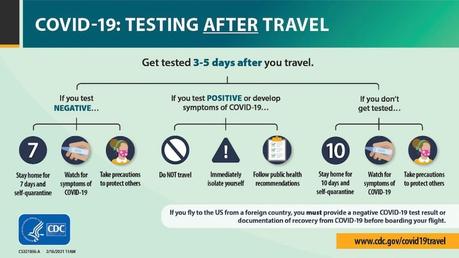 Signs of Hope
While most countries do still fall into the high risk category, there are some parts of the world that currently have the pandemic under control. For instance, China, Vietnam, Australis, New Zealand, and Greenland are all managing the COVID crisis much more efficiently than other countries, although that is in part because those places continue to limit the number of visitors allowed into their borders.
If for some reason you feel that you absolutely must travel right now, the CDC has further guidelines and recommendations that you should follow. Those include not only getting the vaccine, but also waiting 14 days until after the second dose before hitting the road. If you aren't vaccinated, you'll more than likely need to provide a negative COVID test that was administered within three days of your departure. Even then, you will likely be asked to quarantine upon arrival for 10-14 days. If you're traveling in the U.S., you'll also have to wear a mask on all flights as well. Many international destinations are enforcing those same rules as well.
As infection numbers continue to drop and more vaccines are administered, expect more countries to fall into the lower risk categories. That will likely require an 80%+ vaccination rate for those destinations, so some locations will certainly take longer to achieve that number than others. Travel to Europe, the U.S., and Canada may be safe before the end of 2021, but other parts of the world will continue to lag on in 2022 or even longer.
A Light at the End of the Tunnel
Throughout 2021 patience will continue to be needed. Even after you've received the vaccine, you'll still need to temper your expectations for travel in the near term. If you do have a specific destination in mind, it is a good idea to keep close tabs on the progress that country is making in terms of inoculations and lifting of restrictions. Some places aren't likely to open their borders until the pandemic is well under control.
While it is easy to view the arrival of the vaccine as a "free pass" to start traveling again, that simply isn't the case. Keep monitoring the CDC website for updates and information however and soon we'll all be able to give into our wanderlust once again. It may take another six months or even a year, but until then, stay safe, stay distant, and continue to wear a mask. We really are starting to turn the corner towards the finish line.
Visit the CDC Travel Hub for much more information.