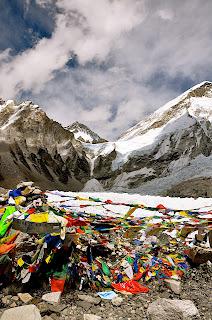 Earlier this week, Alan Arnette posted another very interesting article to his blog which breaks down the costs of climbing Everest this spring season. The story will likely be an eye-opener to some, but it does an excellent job of breaking down the options, including putting together your own expedition, joining a fully guided climb, or something in the middle. He also discusses some of the differences climbing from the North as opposed to the South and shares some important issues on logistics as well.
The bottom line from this article is that climbing Everest isn't cheap, even if you climb solo and with little support. But Alan does a good job laying out exactly what the costs should be and what the various fees deliver for your money. The expenses add up quickly when you consider that you need to get yourself, and considerable amounts of gear, to Nepal or Tibet, and that you then need to get to Base Camp on either side of the  mountain. Once there, climbers need to set up camp for six weeks or so, which requires plenty of supplies as well. Mix in climbing permits, communications to and from the mountain, and a variety of other miscellaneous expenses, and you start to understand why this is such an expensive endeavor.
Alan also points out that the North Side of Everest was always a less expensive option in the past, but that is changing somewhat. The Chinese have raised the costs of permits, which will have an impact on those traveling to that side of the mountain this year.
This article is definitely an interesting read, especially if you have dreams of doing Everest yourself in the next few years.