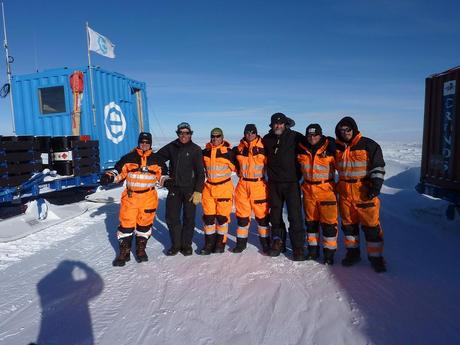 Yesterday I posted a story on the start of the Coldest Journey, the five-month long, 4000 km (2485 mile) expedition to cross Antarctica in the dead of winter. The team was suppose to get underway late in the afternoon, but a four-day blizzard dumped quite a bit of snow on the area and they ended up spending most of the day cleaning up the support vehicles and getting their gear re-organized. With that work now behind them, they are planning to set off sometime today.
According to their latest dispatch all the prep work is now out of the way and things are looking good for the start later today. They are planning on a 12:00 GMT launch, although they may shuffle their schedule some based on a new weather front moving in. At the moment, the skies are reportedly clear and conditions are good, but in the Antarctic during the winter, those conditions can change very rapidly.
Ahead of this team sits a massive challenge. They'll now endure some of the most inhospitable environments on the planet as the attempt the last great polar challenge. A winter crossing of the Antarctic will include temperatures that drop to as low as -90ºC/-130ºF. They'll also face weeks of complete darkness as the sun retreats from the Southern Hemisphere. This will be a true test of their endurance, determination and skill. Following along over the next several months should prove very interesting.
Good luck to the entire team. Godspeed and be safe.