When music just won't cut it, a good book will help the miles fly by. Build your library with this list of the best audiobooks for long runs. Plus, I'm sharing my favorite running-while-audiobook-listening headphones.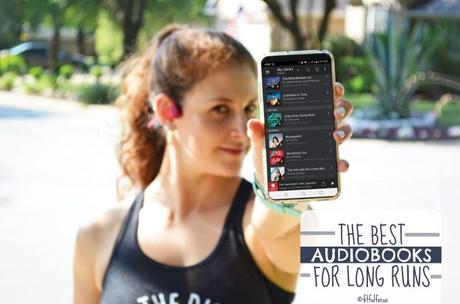 I received an Aftershokz Trekz Airs to review as part of being a BibRave Pro. Learn more about becoming a BibRave Pro (ambassador), and check out BibRave.com to review find and write race reviews!
Welcome to another great Wild Workout Wednesday Link Up where Annmarie from The Fit Foodie Mama and I bring you workout ideas, motivation, inspiration and recipes to try. Join us each week by reading along, linking up and grab the button to proudly display on your blog/in your posts!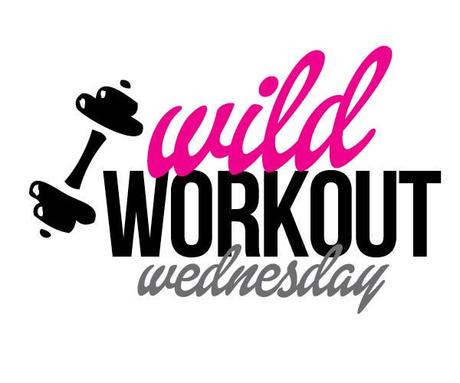 Now that my training for the Rock'n'Roll Philly half marathon is really kicking into gear, I find myself facing longer and longer runs each weekend. On short runs, I have no issue pumping the tunes, but when I know I'll be logging miles for an hour or more, I need something to focus on besides how many more miles I have left.
If I can, I try to find a friend to run with. Good conversation always makes for a better run. Unfortunately, I don't always have a running buddy to commiserate with.
A few years ago, I turned to audiobooks for solo long runs and fell in love. Not only do they make my runs go by faster, but they also make my runs feel even more like "me time." Since starting my audio book-running journey, my mental state when it comes to long runs has gone from from "Meh. I have to get up earlyyyyyyy and runnnnnn and I don't wannnnnnaaaaa" to "I can't wait to get up and log some miles with my favorite new book and see hear what happens next!"
I've logged dozens, hundreds, perhaps even thousands of miles while "reading," so I thought it was about time I shared some of the best audiobooks for long runs with you.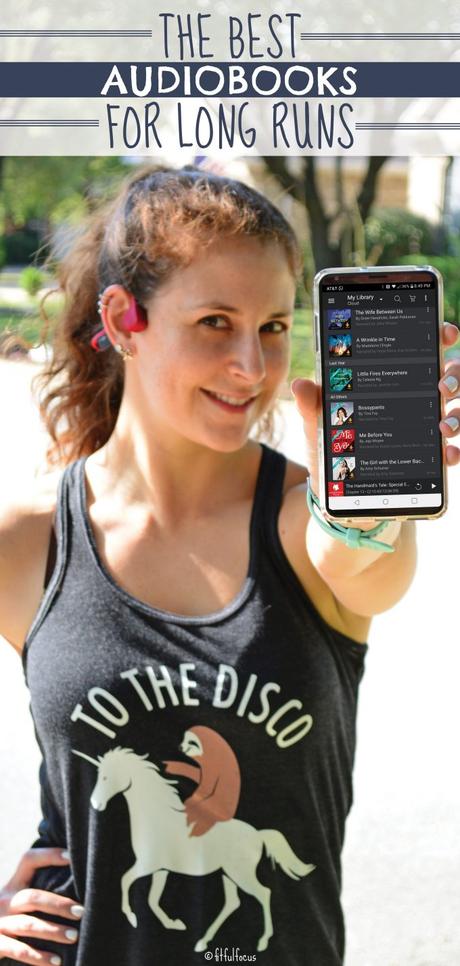 First, a little criteria
What does it take to be considered one of the best audiobooks for long runs? In my opinion you need:
A good narrator. If you give me Ben Stein I will never want to run again.
Humor. Long runs are tough, mentally and physically. If you can make me laugh and make the miles feel truly fun, I'll love you forever.
Suspense. Ok, not everyone is funny. If you aren't funny, at least give me some suspense. Keep me coming back chapter after chapter, mile after mile.
To be interesting. Audiobooks have to keep my attention. If I find my mind wandering too much, the book just isn't going to work.
With all that in mind, let's dive into:
The 5 best audiobooks for long runs
Furiously Happy by Jenny Lawson - I listened to this book while training for the 2016 NYC Marathon. Her narration style and stories had me laughing out loud. Literally. Other runners and passersby might have thought I was crazy, but I didn't care. Throughout the book, Jenny talks about her battle with mental illness and depression but does so through honest and hysterically funny true stories. This bit from the publisher's summary puts it perfectly, "This is a book about embracing everything that makes us who we are - the beautiful and the flawed - and then using it to find joy in fantastic and outrageous ways. Because as Jenny's mom says, "Maybe 'crazy' isn't so bad after all." Sometimes crazy is just right." I read the physical copy of her first book, Let's Pretend This Never Happen , so I knew Jenny's writing style would make for a great audio option.
The Girl with the Lower Back Tattoo by Amy Schumer - I always love hearing about comedians' lives. What made them want to be in comedy? Were their lives funny or do they just find the funny silver linings? Are they funny when they don't have to be funny? Throughout Amy's book, she tells stories that most of us can probably relate to, and it's apparent that she has an incredible ability to find the humor in any situation. I enjoyed learning more about the experiences that shaped who she is, mile after mile.
Little Fires Everywhere by Celeste Ng - I'm really hoping there will be a sequel to this book. The character development, plot and narration kept me craving more and more. I would sometimes run extra just to reach the end of a chapter! You can check out the full book description on Audible, but here's a peek: "Little Fires Everywhere explores the weight of secrets, the nature of art and identity, and the ferocious pull of motherhood - and the danger of believing that following the rules can avert disaster."
Me Before You by Jojo Moyes - I downloaded this book after seeing everyone reading it on the subway in New York. If you love a good romantic comedy, this audiobook should be right up your alley. A girl finds herself working for a wealthy man, who is wheelchair bound after an accident. His physical status has left him angry and down on life, but the girl is out to prove to him that he can still be happy. The narrator puts on different voices for each character, so it's easy to follow along. It's a heartwarming story, and an easy listen. Fair warning, it's a little sad (in a good way). Fortunately, you'll be sweating, so no one will be able to tell if you shed a tear or two.
A Wrinkle in Time by Madeleine L'Engle - I remember reading this book when I was 9 or 10, but I couldn't remember anything other than the fact that I definitely read it. When I saw the movie was coming, I figured I'd give it another "read." Even though I'm two decades older, the book is still a good one, and the audiobook is fantastic. There are different voices for every character. It's fascinating, slightly eery and incredibly creative.
I recently received a few other audiobook suggestions from fellow runners, so I thought I'd share those, as well: Girl, Wash Your Face , The Shining (I might be too much of a wuss for this one), Mr. Mercedes (I read this book and think it'd be a good one!), and The Black Tapes.
The best headphones for listening to audiobooks while running
PSA! It's important when you're running to keep your ears open.
Um, Nicole, how can I keep my ears open if I'm listening to one of the audiobooks you just suggested? I'll have my ears covered by or plugged with headphones.
Ah, my bookish runner, you don't have to.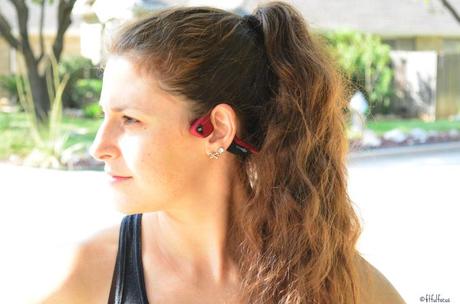 Aftershokz Trekz Air headphones wrap around your ears but don't go in or cover your ears. They use bone conduction technology which sends mini vibrations through your cheekbones to your inner ear, leaving your ear canals open. That means you can hear your audiobook and your surrounding simultaneously! In fact, on my last long run, wearing these headphones saved me from being mulled by an oncoming gaggle of cyclists (is there a technical term for a group of cyclists?).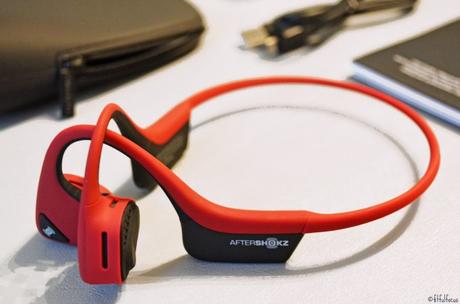 Beyond offering safety, the Trekz Airs have great sound quality and are extremely comfortable to wear (I have an older generation of Aftershokz, and have to say these have come a long way on both fronts). There's no wire. There aren't buds slipping out of your ear. They're light and super easy to use. Just connect them to your phone via bluetooth, and stash your phone away. You can control the volume, pause, skip and use voice controls right from the headphones. They make listening to my favorite audiobooks so easy, and they make sure I don't get hit by cars, cyclists or other runners. Wins all around!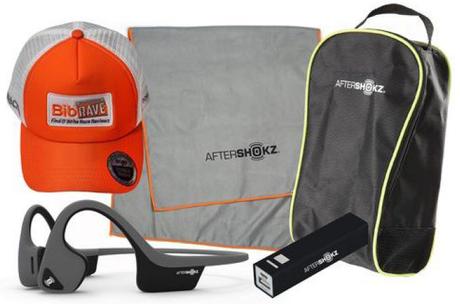 For a limited time, you can get yourself a pair of these badass sweatproof headphones plus a BibRave trucker hat, a shoe bag, a power bank for your phone and a sweat towel for $55 OFF! Just head over here and use the code BRBUNDLE at checkout.
Don't forget to join us for the Wild Workout Wednesday Link Up!

Let's Chat:
What do think are the best audiobooks for long runs?